Richard Stoker
Composer, Artist, Writer & Poet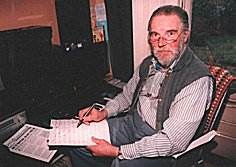 Richard Stoker in his Studio
Richard Stoker is what in the old days would have been called a polymath. Not only is he an accomplished musician involved in composing, teaching, playing and musicology, he also writes poetry, novels, short stories, articles, and reviews, and is involved in human rights issues. Furthermore Stoker is an accomplished artist – his works can be seen on the sleeves of some of his CD recordings (see Discography)
Richard Stoker was born in Castleford, in the West Riding of Yorkshire on 8th November 1938. He studied at the Huddersfield School of Music with Winifred Smith and Harold Truscott. Eric Fenby was to have an influence on the young composer. Later studies took him to the Royal Academy of Music with Lennox Berkeley and as a Mendelssohn Scholar to Paris with Nadia Boulanger.
As part of his human rights activities, he gave practical help to the composer Mikis Theodorakis who had suffered imprisonment under the Greek military regime.
Stoker has combined being a composer with teaching – he was professor of composition at the Royal Academy of Music between 1963 and 1987. His composition students have included Eleanor Alberga, Irvine Arditti, Harvey Brough, Christopher Fox, Joe Jackson, Jane Palmer, Paul Patterson and Malcolm Singer. He was editor of Composer magazine between 1969 and 1980.
Richard Stoker has composed for nearly every possible form of musical composition. There are more than a hundred works in the catalogue. He has written a Piano Concerto, two operas, symphonies, much piano music and a number of organ pieces. Much of his effort is concerned with providing music for particular commissions – often resulting in unusual and interesting combinations of instruments and vocal resources.
From the listener's point of view, Stoker's music is approachable. Much of it has serialist tendencies; however the composer is never rigidly bound by any compositional system. Much of his music is basically tonal. There are works in his catalogue and on his CDs that will appeal to a diverse variety of tastes.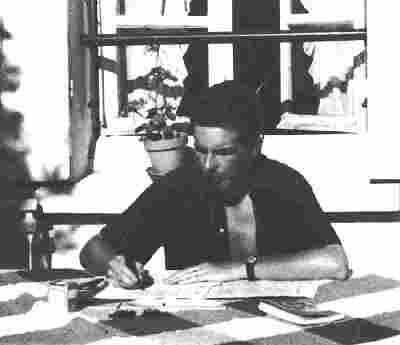 Richard Stoker working in Paris, 1962, on the 2nd String Quartet
Discography
Chronological Catalogue
Concert Review: A First Performance of I saw a fair Mayden
Richard Stoker, Janet Craxton & 'Polemics'by John France
Eight British Folk-Songs Opus 39c for voice and guitar – a review.
Lennox Berkeley: Interview with John France
A Conversation with the composer/writer Richard Stoker about Cecil Armstrong Gibbs by John France
Arthur Benjamin: An Interview between Richard Stoker & John France
Richard Stoker and Nadia Boulanger
A Few of Richard Stoker's Poems – written between 1956 & 1960
A Composer's Diary - 19th-25th July 1957
Photo-gallery
Bibliography & Links
John France April 2004