Other Links
Editorial Board
Editor - Bill Kenny
Assistant Webmaster - Stan Metzger

Founder - Len Mullenger
Google Site Search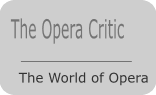 SEEN AND HEARD INTERNATIONAL OPERA REVIEW
Purcell, The Fairy Queen: Soloists of Les Arts Florisssant Choir, Les Arts Florissants Orchestra and Choir, Willaim Christie (Conductor), Brooklyn Academy of Music, Brooklyn, New York 23.3.2010 (SM)


Production
Musical Direction - William Christie
Director - Jonathan Kent
Set Design and Costume - Paul Brown
Ligthting - Mark Henderson
Choreography - Kim Bradstrup
Musical Assistant - Joel Cohen
Chorus Master - François Bazola


Juno - Lucy Crowe
Cordon /Hymen /Sleep/Winter - Andrew Foster-Williams
Night/the Plaint - Emmanuelle de Negri
Mystery/Fairy/Fairy/Nymph/Spring - Claire Debono
Adam/Secrecy - Ed Lyon
Mopsa - Robert Burt
Fairies - Miriam Allan, Anna Devin, Maud Gnidzaz
Summer - Sean Clayton
Autumn - David Webb
Phoebus - Andrew Davies
Eve - Helen Jane Howells
Bass - Callum Thorpe

Theseus -William Gaunt
Egeus - Robert East
Hermia - Alice Haig
Lysander - Nicholas Shaw
Demetrius - Gwilym Lee
Helena - Joanna Herbert
Starveling - Roger Sloman
Flute - Robert Burt
Bottom - Desmond Barrit
Quince - Paul McCleary
Snug - Brian Pettifer
Snout - Jack Chissick
Titania - Amanda Harris
Puck - Jotham Annan
Oberon - Finbar Lynch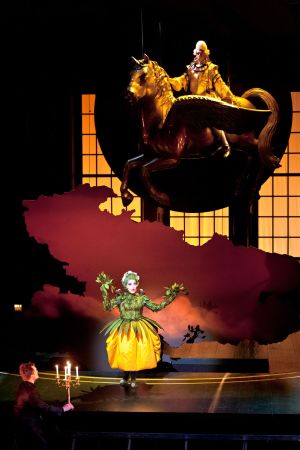 Claire Debono as Spring and Andrew Davies as Phoebus
Photo © Pierre Groisbois
Although defined in musicology as semi-opera, Purcell's The Fairy Queen, in this production at least, is anything but semi. I had wondered how the announced time of the performance, four hours and fifteen minutes, was going to be filled, considering that the music by itself only runs about two hours. William Christie certainly is no slouch when it comes to the unspoken "I can play this piece faster than you" competition that seems these days to exist among Baroque "historically informed performance'' groups. The opening First Musick -Prelude, taken at breakneck speed before the audience was completely seated, seemed to bode a shorter evening. If I had done my homework, I would have known that Christie was giving us not just what we would now call incidental music, but the whole Fairy Queen, which, it so happens, includes pretty much all of Shakespeare's A Midsummer Night's Dream. Hence we have, in the credits above, the singers' names followed by the actors. Only the inimitable Desmond Barrit as Bottom both acted and sang.

This production was as close to Gesamtkuntswerk as you could get short of Wagner. Music, dancing, comedy (high and low), drama, fantasy, elaborate machinery—the list goes on. If you want to know in which period this performance takes place, it's the 18th century, powdered wigs and all. No, wait: the comic house cleaners have a vacuum cleaner; the women in one scene are wearing outfits from the 1950s. In another scene, there's Adam and Eve, Eve tossing an apple to a character in modern dress, Eve herself then morphing into a Valley girl. All lines and times are crossed, and as for the copulating rabbits, well, I can't even begin to broach that particular scene.

It would be very easy for a production of this sort to fall apart, having in it too many pieces that would not normally fit together. Some of the cruder types of humor could have become just silly. This production avoided that possibility. The music is late Purcell (if being written at the age of 32 can be considered late), and it is ravishing. I've always found Purcell's vocal music to be of the purest kind, so that even some of the more challenging arias, if performed by a good singer, sound as if they were not really sung but rather spoken in a manner both unstrained and perfectly natural. This purity isn't just a result of the period in which Purcell lived. Not to disparage either the composers of the previous generation (Lully, Charpentier, Lawes, Locke) or his own generation (A. Scarlatti, Marais, F. Couperin), but being so steeped in tradition they lack Purcell's spontaneity. Their music, which I love, just does not flow as naturally as Purcell's. Even though his compositions clearly reflect the infuence of thr French and Italian schools of music, they at the same time, seem unsullied by any national musical style. The beauty of his vocal music shines through even the most insipid texts. This is partcularly true of several of the odes written specifically to flatter their recipients. The most beautiful music accompanies texts filled with words that are both unctious and cloying. Purcell's clean harmonic lines and catchy tunes, certainly Baroque in style, seem to transcend the period in which they were written. The way the chorus often picks up the soloist's melody at the ritornello always seems just right. Even at first hearing, you feel you've heard this music before, as if it's always been here, before your time, even before Purcell's time.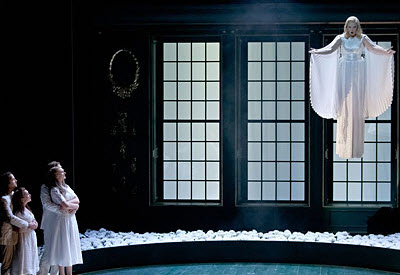 Lucy Crowe as Juno
Photo © Pierre Groisbois

The singing in this production was exceptional from both singers associated with Christie's training camp,
Le Jardin de Voix
and those who aren't. Lucy Crowe had some difficulty with
Thrice Happy Lovers
but she is to be excused, singing as she was suspended in a harness from the rafters. Similarly, Andrew Davies, as Autumn is to be excused for intonation problems, having to negotiate a haystack outfit, headpiece and mask while singing. The musical numbers segued in out of the non-musical acting with the first act being almost barren of music. By contrast, the last act was quite overloaded with arias, perhaps a few too many at that late point in the evening. One wished that the emotionally wrenching
O Let Me Weep,
in a heartfelt rendition by Emmanuelle de Negri, had been performed earlier in the evening, even if it meant betraying authenticity. Mention should be made also of the dancers, eight in all, who performed various (non-Baroque style) dances throughout the evening. Aside from the slightly irritating over-articulation of Finbar Lynch's Oberon all the actors were uniformly professional and would do justice performing in any Shakespeare play.
Considering the stature of William Christie, one of the most highly regarded musicians of our time and a true pioneer in the revival of Baroque music, one has to accord him additional accolades for his willingness to take exceptional theatrical risks for the sake of making what once was regarded as staid and pompous music listenable to the everyday opera goer. His willingness to join in and laugh at himself whether in dancing onstage at the end of Rameau's
Les Indes Galantes
or at last night's performance receiving the audience applause wearing a rabbit outfit, makes his love of this music contagious. In all respects, it was a truly enjoyable evening.
Stan Metzger