THE RAWSTHORNE ARCHIVE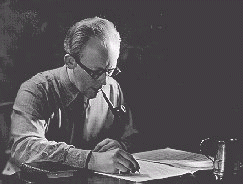 (early 1940s) © The Rawsthorne Trust
---
This is housed at the Royal Northern College of Music in Manchester (UK) and contains the composers manuscripts of most of his published works. In addition there are manuscripts of many unpublished pieces, most from early in the composer's career.
There is a set of recordings on cassette of most of the composer's output, together with the composer's own collection of discs and tapes, many of which are private, historic performances of first performances.
Among other items are to be found correspondence, writings by the composer, including items of juvenilia, and press cuttings collected over the whole of his career.
All this information is available for inspection or audition by students or researchers into the composer, his life and background. Those wishing to gain access to the material should apply to

The Archivist
The Royal Northern College of Music
124, Oxford Road
Manchester M13 9RD
0161 907 5211

Lists of the contents, manuscripts and recordings, held in the archive can be obtained from the Secretary of the Friends

Secretary: Andrew P. Knowles – 30, Florida Avenue, Hartford, Huntingdon, Cambs. PE29 1PY

Telephone 01480 456931 : e-mail apkmusicprom@ntlworld.com