The Comedy Harmonists – "Whistle While You Work"
1. Whistle while you work
2. Marie, Marie
3. Musketiermarsch
4. Puppethochzeit
5. Die Liebe kommt
6. Creole Love Call
7. Liebling, mein Herz lässt dich grűssen
8. Ach, wie ist's möglich dann?
9. Muss i'denn zum Städtele hinaus?
10. Schőne Nacht (Barcarolle)
11. Love me a little today
12. Congo lullaby
13. The Donkey Serenade
14. Ein Freund, ein guter Freund
15. Ti-Pin-Tin
16. Dwarfs' Yodel Song
17. Eine kleine Frűhlingsweise
18. Night and Day
19. The Barber of Seville Overture
The Comedy Harmonists
Recorded at various venues in Berlin, London and Copenhagen, between 1929 and 1938
NAXOS Nostalgia 8.120613 [59:49]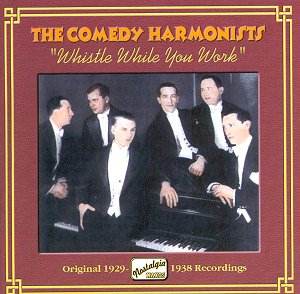 Loads of harmless fun here! As the booklet points out, the Comedy Harmonists were Germany's first Boy-Group - or Boy-Band, to use more current terminology! Harry Frommermann, founder and first tenor in the ensemble, heard the famous American group The Revelers when he was in the US in 1927, assimilated their style, commissioned arrangements, and got together the necessary singers when he returned to Germany. That, of course, was not easy; all kinds of criteria needed to be satisfied in making the choice of members. Yet things moved rapidly, and the new group made its first recordings as early as 1928 and 1929.
The numbers included on this sublimely entertaining compilation run from some of those early 1928 recordings all the way through to 1938, including songs which were big contemporary hits in the UK and America, such as the two items from Disney's Snow White, Whistle While You Work and the Dwarfs' Yodel Song, and of course the celebrated Donkey Serenade. The performances are polished, professional and full of humorous 'novelty' touches. In particular, the imitation of instrumental sounds was one of their trademarks, and these are often uncannily accurate. The best example of this is the fabulous version of Creole Love Call, complete with trombone, saxophones, pizzicato bass, and, best of all, muted trumpet.
There are actually three ensembles represented here, as the personnel shifted somewhat over the years, and the name changed accordingly. Thus tracks 2 – 10, 14, and 17-18 are The Comedian Harmonists, tracks 1, 11-13, 15-16 are The Comedy Harmonists, while for track 19 alone we have Das Meistersextett. The style, though remains the same, as does the impeccable ensemble singing. This is a delightful miscellany of love-songs, traditional numbers, and the more popular items mentioned above. For my money, the most irresistible ones are in the group's first incarnation as The Comedian Harmonists. If you want to hear a definition of top-notch Schmaltz, just sit back and listen to Die Liebe Kommt, die Liebe Geht, otherwise known as Kreisler's Liebesleid, or 'Love's Pain'. The rich, resonant bass voice of Robert Biberti is really very beautiful – so gentle and sensitive, and the ancient recording picks its character up without any serious deficit.
In its field, I'm sure this group has never been bettered. There's ample nostalgia here, but plenty of rare musical pleasures too.
Gwyn Parry-Jones
Sublimely entertaining … see Full Review