THE SINGING COWBOYS IN THE MOVIES
Gene Autry: Cowboy's Heaven (Autry/Marvin). New York 1933
Dust (Marvin). Los Angeles 1937
Roy Rogers: A Gay Ranchero (Tuvim/Luban/Espinosa). Chicago 1947
I'm a Rollin' (Trad). Hollywood 1947
The Sons of the Pioneers: Song of the Bandit (Nolan). Los Angeles 1937
Ray Whitely: Come on boys, we're riding into town (Whitley). New York 1938
Jimmy Wakely: Song of the Sierras (Dillon). Hollywood 1947
Bill Boyd: Goin' back to my Texas home (Robison). San Antonio 1935
Ken Maynard: Cowboy's Lament (Trad). Hollywood 1930
Tex Williams: That's what I like about the West (McGimsey/Bergdahl). Hollywood 1949
Bob Wills: Dusty Skies (Walker). Hollywood 1941
Merle Travis: Ridin' down to Santa Fé (Bond). Hollywood 1945
Eddie Dean: Sleepy time in Caroline (Moore). Los Angeles 1942
Frankie Marvin There's gold in them thar hills (Marvin). Details unknown
Spade Cooley: Hillbilly Fever (Vaughn). Date unknown
Gene Autry Smiley Burnette : Ridin' down the canyon (Autry/Burnette). Chicago 1935
Pee Wee King: Texas Toni Lee (Rose). Chicago 1946
Johnny Bond: Fat Gal (Travis). Hollywood 1947
John "Dusty" King: Deep in the heart of Texas (Hershey/Swander). Hollywood 1942
Jimmy Davis: On the sunny side of the Rockies (Ingraham/Tobias). New York 1940
Wesley Tuttle: Rainin' on the Mountain (Delmore). Hollywood 1940
Carson Robison: There's a bridle hangin' on the wall (Robison). New York 1936
Rex Allen: Texas Tornado (Rivers/Wakely). 1946
Tex Ritter: Sing, Cowboy, Sing (Ritter/Choate). Los Angeles 1937
We'll rest at the end of the trail (Rose/Poulton). New York 1936


ASV Living Era CD AJA 5338 [72.07]
Crotchet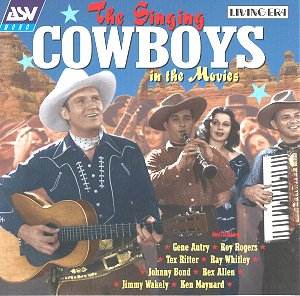 Space forbids me to list more than brief details of singer, song, composer(s)and recording date, but enthusiasts are assured that they will find, as is customary in ASV's Living Era series, all that is known of the supporting artists, original disc numbers and thumbnail sketches of the singers. Particular mention should be made of Frankie Marvin, whose steel guitar is a welcome presence on many of the tracks.
Despite the title these are not soundtrack recordings but 78s cut by actor/singers who appeared regularly in the Westerns of the '30s and '40s. If the public image of the Western is of violent shoot-outs between rivals and thunderous charges against the Indians, the singing cowboy shows his gentler side (Just one artist here, Spade Cooley, finished his days inside for bumping off the wife). Basically this is Country, where the lazy plink of the steel guitar accompanies sweet hymns to the pleasures of rural and domestic happiness, or where some brilliant fiddle-playing (a testimony to the Irish roots of so many of the settlers) invites to the dance. A general feel-good factor pervades the whole collection and the overall standard is very high. There is a certain sameness about it all since the singers approach their task in a similar way - clear on the words and a grainy, natural tone, not "trained" in a classical sense but well-tuned and always musical. The songs, too, have a certain family resemblance to each other and to various others that one remembers hearing at one time or another. "Rainin' on the mountain" sounds almighty like "She'll be comin' round the mountain when she comes" but I have no idea which came first.
I would like to single out just three singers. Eddie Dean perhaps points to what is ultimately missing from most of the others - an ability not just to sing the song but to put it over and make you listen to it. At the other extreme, Ken Maynard's nasal, rather whining delivery gave me less pleasure than the rest. The disc's highest point seems to me the first item sung by Tex Ritter (he who sang in "High Noon"), "Sing Cowboy, Sing". This is a powerful delivery of an unusual and impressive song. While his other piece, from less than a year earlier, finds him using the same relaxed, slightly off-the-voice production favoured by his colleagues. Had he received some vocal training in the intervening months?
The excellent transfers make for an unreserved recommendation to those who wish to fill a gap in their period knowledge and to those with a taste for Country music in the '30s and '40s.
Christopher Howell