THE ESSENTIAL PAUL ROBESON
Ol' Man River, from Show Boat (Kern), 1932 (1)
Spirituals:
Steal Away, Joshua Fit de Battle ob Jericho, Water Boy, Swing Low, Sweet Chariot, Deep River, 1925-7 (2)
Songs:
Lonesome Road (Austin), 1929 (3), Mighty Lak' a Rose (Nevin), 1929 (3), River, Stay 'Way from my Door Woods), 1931 (3), Rockin' Chair (Carmichael), 1931 (3), When it's Sleepy-time down South (René), 1931 (3), Mah Lindy Lou (Strickland), 1932 (3), My Curly Headed Baby (Clutsam), 1932 (3), Carry Me Back to Green Pastures (Pepper), 1933 (3), Lazy Bones (Carmichael) 1933 (3), St. Louis Blues (Handy), 1934 (3), Congo Lullaby and Canoe Song, from Sanders of the River (Spoliansky), 1935 (4), Shenandoah (trad), 1935 or 1936 (2), I Still Suits Me, from Show Boat (Kern), 1936 (5), Summertime and It Ain't Necessarily So, from Porgy and Bess (Gershwin), 1938 (5), Just a-Wearyin' for You (Jacobs-Bond), 1938 (5), Song of the Volga Boatmen (Schindler), 1938 (5), Little Man, You've Had a Busy Day (Wayne), 1934 (3)
Spirituals:
Sometimes I Feel Like a Motherless Child/Minstrel Man, Git on Board, Li'l Children/Dere's No Hidin' Place, Go Down, Moses, Bear de Burden/All God's Chillun Got Wings, Nobody Knows the Trouble I've Seen, 1928-1947 (2)
Songs:
Got the South in My Soul (Washington), 1932 (3), Blue Prelude (Bishop), 1933 (3), Fat Li'l Feller Wid His Mammy's Eyes (Stanton)/Shortnin' Bread (Wood), 1933 (3), Wagon Wheels (Hill), 1934 (3), The Banjo Song (Homer), 1934 (3), Love Song, from Sanders of the River (Spoliansky), 1935 (4), Climbing Up, from King Solomon's Mines (Spoliansky), 1937 (5), All Through the Night (trad. arr. Somervell), 1937 (5), Mood Indigo (Ellington), 1937 (5), At Dawning (Cadman), 1938 (5), An Eriskay Love Lilt (trad. arr. Kennedy-Fraser), 1938 (5), Trees (Rasbach), 1938 (5), Jerusalem (Parry), 1939 (5), The Cobbler's Song, from Chu Chin Chow (Asche), 1939 (5), A Perfect Day (Jacobs-Bond), 1939 (5), Sylvia (Speaks), 1939 (5), Sea Fever (Ireland), 1939 (2), King Joe (Basie), 1941 (6), The Old Folks at Home (Foster), 1930 (5), My Old Kentucky Home (Foster), 1930 (5)


Paul Robeson (bass), with Victor Young & The Brunswick Concert Orchestra (1), Lawrence Brown (pianoforte) (2), Ray Noble & The New Mayfair Orchestra (3), Muir Mathieson & choir and orchestra (4), Clifford Greenwood and the New Mayfair Orchestra (5), Count Basie & his Orchestra (6).

Ol' Man River, the first group of spirituals, Nobody Knows and the Basie item were recorded in New York and New Jersey, all the others in London and Hayes


ASV LIVING ERA CD AJS 244 [2 CDs, 76.15+75.31]

Crotchet AmazonUK AmazonUS Amazon recommendations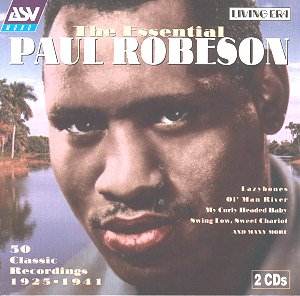 Paul Robeson was something of an icon, the black singer par excellence, an artist who earned the respect of lovers of serious music and light music alike. At the time these recordings came out, most people with any time for music at all had some of them, but how many? One? Two? Even four or five? The first thing to be said, as you prepare to put this innocent little package in your CD player and have a happy evening is, here there are 50 tracks, that means 25 78s. Just imagine them all, stacked up ready to play. Imagine the sheer weight of them. Only a die-hard enthusiast would ever have had so many by the same singer, and even he would have savoured them a few at a time.
Listening through all this over two evenings, I'm inclined to think they appreciated their Paul Robeson better in those days. Yes, he had a glorious voice, well-produced and steady, with rounded vowels, clear pronunciation and an innate musicality. There's some pretty soppy stuff here but everything is resolved with a simple nobility that can be genuinely affecting. He gained a respect for his race which was a mighty achievement (and brought upon his head the ire of the McCarthyites). And yet, as one exquisitely turned song succeeds another, can it be that he is just a little boring? If only he would just for once bark through his tone, do a comic turn, really let fly. But no, simple dignity was the name of his game and he held by it. "Ol' Man River" itself flows above all smoothly without any attempt to knock you for six as William Warfield was to do in the film starring Ava Gardner.
Just a few items require particular comment. "The Banjo Song" has that sense of real commitment that I found missing from most of the rest; so too, perhaps, has Ellington's "Mood Indigo", while of the "soppy" ones "Sylvia" convinces with its exquisitely honeyed tones. Despite the appalling orchestral arrangement of "Jerusalem" Robeson somehow rides over this to give a majestic interpretation fully attuned to both Parry and Blake while "Sea Fever" is worth the price of the two CDs for itself, Ireland's and Masefield's sad, proud message given an interpretation equal to any. The item with Count Basie has the real sting that the more palm-court English bands can't quite match.
But as for the "Essential Paul Robeson", take any of these tracks and the "Essential Paul Robeson" will be there in all its noble perfection. Take two of them, or three or four and you might feel you're not getting anything that you didn't get with just one. But still, as I suggested, there are hints that when the musical level rose he rose with it, and that he could interpret sympathetically a wider range of music than we get here. Perhaps a further volume will expand our knowledge.
Excellent notes and transfers, with full details of all the original 78s.
Christopher Howell