Compilation: Fancy Meeting You Here CROSBY-CLOONEY


Rosemary Clooney and Bing Crosby with Billy May and his Orchestra


BLUEBIRD/BMG 09026-63859-2 [49:47] Midprice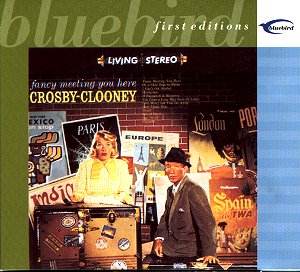 Everybody remembers the laid back and personal style of the great Bing Crosby but I wonder how many of today's generation have heard of Rosemary Clooney? I will readily admit that I was a big fan of hers way back in the 1950s when she made two memorable movie musicals: the western spoof Red Garters, criticised by some for its stylised scenery, and White Christmas with Bing, Danny Kaye and Vera-Ellen. But Rosemary remains mainly in my memory as the 'Come on 'a my house, to my house c'm on – and I will give you candy…' girl – what an irresistible invitation, and what a lovely cheeky song delivered with much wit and mock innocence. Rosemary married actor José Ferrer and mothered Miguel Ferrer. She had (or rather has for I understand she has been busy as a jazz singer since the 1980s) a most engaging breezy personality reflected in her distinctive smoky voice. I surely need not add any notes about Bing Crosby? The blend of his relaxed silky smooth delivery with the happy sensuality of Clooney (together with their speaking interjections that smack of adlibs) is glorious. Add the inspired backing of Billy May's Orchestra and you have sheer magic.
Their duets (that take the listener on a world tour) are : Fancy Meeting You Here, (I'd Like to Be) On a Slow Boat to China, I Can't Get Started, Hindustan, It Happened in Monterey, You Came a Long Way From St Louis, Love Won't Let You Get Away, How About You, Brazil, Isle of Capri, Say "Si Si" (Para Vigo Me Voy), and Calcutta.
In addition there are several tracks with different pairings. Rosemary sings Ain't A-Hankerin', and Protection, with Bing's pal, comedian Bob Hope while Bing sings some of the numbers above plus Ol' Man River and When It's Twilight on the Trail with Jo Stafford in four previously unreleased numbers.
The booklet has full details about the production of this album together with some fascinating details about the two stars and it reveals that the friendship and collaboration between Clooney and Crosby lasted 25 years. There's a personal message from Bing too that was included in the original RCA album.
Sheer gold dust and an ideal stocking filler for sentimentalists
Ian Lace