When She Smiles
RnP
B-Y-You
By Heart

Inmost

Azur

Ballade Pour Une Pâquerette

A Mon Amour

Berceuse Pour Maëlise
Pierre-François Blanchard – piano
Rogier Schneemann – guitar
Eric Heijnsdijk – bass
Antonio Pisano – drums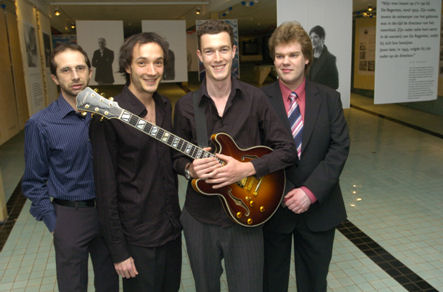 I normally avoid writing reviews for musicians I know, but having had a copy of Azure's debut CD When She Smiles pressed into my hand by pianist Pierre-François Blanchard it would seem less than grateful to help this excellent quartet on their way the best I can – especially since they're helped me out often enough. These four musicians are all students or former students at the Royal Conservatoire in The Hague, and as manager for external bookings I'm the one that has frequently sent them out to do the kind of gigs all musicians hope eventually to leave behind them. Enthusiastic and uncomplaining, they have long been highly professional musical ambassadors for the Royal Conservatoire, as well as having the drive and business acumen to work hard on their own creative projects. Releasing this commercially available CD while still completing an education in music is no mean achievement, and with such quality music making it's easy to be complementary about such a nice bunch of guys, maintain my meagre reviewer's credibility, and stay friends with everyone at the same time.
All of the titles on this disc are original compositions, either from pianist Pierre-François Blanchard, guitarist Rogier Schneemann, or a collaboration between the two. The guitar/piano combination sometimes creates an Abercrombie/Beirach feel, though Schneemann goes in for a sparer, less rounded guitar sound: T.S. Eliot to John Abercrombie's William S. Burroughs. He can take a distortion solo with the best of them, as in By Heart and Azure, provide neat rhythm backing and expressive melodic lines. Schneemann and Blanchard are well-attuned to each other's playing, and don't get in each other's way – which might seem a bit of a glib thing to say but I've hear guitar piano combos where the truth is less appealing. As is the tradition for this kind of music, the drums are pretty much a constant presence in the up-tempo numbers, and while this is exciting for live performance it can become a little wearing on the ears for recorded purposes. This is my own personal taste however, and I could make the same remarks about numerous other albums – some indeed even of classic status. Antonio Pisano is one of the top drummers I've heard going through the Royal Conservatoire, and his inventiveness and sense of colour is well represented here. The soft-stick playing in the slow Ballade Pour Une Pâquerette is a delight in this regard. Pâquerette is French for daisy by the way.          
I'm less of a jazz specialist than a 'classical' one when it comes to reviewing, but to my ears there are no weak numbers on this excellent debut disc. The title track When She Smiles has 'standard' quality, and has in the past and no doubt will continue to provide a great vehicle for strong performances. I particularly like the relaxed, slow moving harmonic development in this and other numbers on this album: a bit like Oscar Peterson's Wave and almost identical in length, but without the strings'n maracas laid-backness. The hard-hitting opening of RnP loses a bit of puff further on, and might deserve some structural tweaks, building up rather than opening full-steam and then doing what a house of cards does, but there is plenty of cracking playing throughout and this is again a point of personal taste. B-Y-You is another strong number, coming close to the ECM qualities of some pretty big names. The pace takes another turn with By Heart, the drum setting up the kind of dancing march which Peter Erskine does so well. Inmost is the soft centre of the album, winding bitter-sweet chords around a small pocketful of notes, and proving that less can be more.  

With many of the compositions coming from the pianist, there is no great surprise in the harmonic richness which many of these numbers have. As well as punchy octaves, Blanchard likes close intervals and added notes but keeps these for an inner strength and sparkle for his chords, rather than for introducing over-effusive sentimentality. The chorale-like sequences in numbers like A Mon Amour have a fine feeling of lofty apotheosis, and the gorgeous extended solo of the final track, Berceuse Pour Maëlise works out some fascinating ideas over its eight minute span, revealing some influences way beyond those of a typical jazz idiom. Bassist Eric Heijnsdijk comes off least well in the recording, his secure backing and artistically elegant lines being rendered rather boomy and one-note. This is no reflection on his playing, but might have been given a better Eq on this disc.
I've been highly impressed by this opening broadside from the musical guns of some people whose faces I now realise I've known far better than their music. This omission is now to a certain extent rectified. I'm sure Azure would agree that they will be progressing from this fine start to even better things, and like the 'lifelong learning' emphasis in education these days will already be developing from this relatively early snapshot. This 'work in progress' aspect takes nothing away from their present achievements however, and I would certainly recommend this fine debut album to all comers.
Dominy Clements