ARTIE SHAW
SELF PORTRAIT
Bluebird 09026 63808 2
Crotchet midprice £45
Disc One
Nightmare
Cream puff
Streamline
The Blues-A
The Blues-B
Shoot the Likker to me John Boy
Free Wheeling
Monsoon
Begin the Beguine
Any Old Time
Yesterday's
It Had to Be You
Star Dust
Shine On, Harvest Moon
Back Bay Shuffle
Softly As in a Morning Sunrise
Rosalie
Traffic Jam
Prosschai
Carioca
Rose Room
I Surrender Dear
Everything is Jumpin'
Disc 2
At Sundown
Sweet Sue
Man from Mars
Diga Diga Doo
Frenesi
Gloomy Sunday
Temptation
Stardust
Blues Part 1
Blues Part 2
Prelude in C Major
Summit Ridge Drive
Dr Livingstone, I presume
Concerto for Clarinet
Nobody Knows the Trouble I've Seen.
Dancing In the Dark
I Cover the Waterfront
Nocturne
Blues in the Night
Disk 3
Is It Taboo
There'll Be Some Changes Made
Take Your Shoes Off Baby
Just Kiddin'Around
To A Broadway Rose
Suite No8
Two In One Blues
Lady Day
'S Wonderful
Bedford Drive
The Grabtown
Grapple
The Sad Sack
Summertime
Tabu
Lucky Number
The Man I Love
The Hornet
The Maid with the Flaccid Air
The Glider
Disc 4
Begin the Beguine
My Heart Belongs to Daddy
What Is This Thing Called Love?
Get Out of Town
Love for Sale
Anniversary Song
Smooth and Easy
Star Dust
Aesop's Foibles
I Get a Kick Out of You
'S Wonderful
So easy
Krazy Kat
Orinoco
Fred's Delight
Similau
Afro Cubana
These Foolish Things
I've Got a Crush on You
Someone to Watch Over Me
Autumn Leaves
Disc 5
Don't Take Your Love from Me
The Chaser
Star Dust
Summit Ridge Drive
I Can't Get Started
Too Marvellous for Words
Yesterdays
Bewitched, Bothered and Bewildered
S'Posin'
My Funny Valentine
Dancing on the Ceiling
Scuttlebutt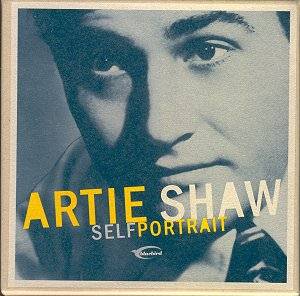 This boxed set of 5 CD's covers the whole of Artie Shaw's band leading career from 1936 to 1954, during which he was always at the forefront of musical artistry. Although he gave up playing the clarinet to pursue a career as a writer in 1954, Shaw is still alive and was responsible for selecting which of his recordings would be included in this collection of his work. The booklet included with the discs gives a delightful commentary from Shaw, who is without doubt one of the finest clarinettists that the world has ever produced. His tone, technique, agility and ability to play in the high register have probably never been equalled. Some things he plays that sound easy, are absolute finger breakers when attempted by lesser mortals on the clarinet!
Before leading his own band Shaw had already established himself as a top class Lead Alto Saxophone player and Clarinet soloist in other people's bands. He also had the ability to improvise on any theme and a huge stage presence. He was constantly seeking new approaches, which is probably why a lot of his bands were short lived. He had thought of a better way! The bands were filled with other great jazz soloists, Artie wanted to have the best men in his bands, but none outshone him. A certain amount of this was due to the fact that he played the lion's share of the solos; but that said, his up to eight hours a day of practice on the clarinet, combined with great natural musical ability, was too much for his competitors.
In the booklet Shaw says that he only included the records he wanted to make and of those, only the ones he felt had achieved his musical objective.
My personal favourite is the 1949 band with Don Fagerquist on Trumpet, Sonny Russo on Trombone and two aspiring young tenor sax players called Zoot Sims and Al Cohn. The arrangers for these two sessions included Tadd Dameron, Johnny Mandel and Ray Conniff. Shaw's playing fits in well with this more modern approach, it is almost as though he was waiting for this bebop inspired music to come along!
Disc Five is devoted to two versions of the Gramercy 5, recorded in 1954; Hank Jones is on piano and Tal Farlow on guitar. Once again Shaw fits in well with these younger musicians and produces some memorable music, this time all from head arrangements.
Bluebird has produced a most valuable musical document in this Artie Shaw self-portrait. It is a unique sketch of the popular music of the period, as well as being a most appropriate tribute to one of the very finest clarinet players the world has produced. Shaw's influence as a bandleader should not be undervalued either, constantly seeking perfection and striving for new and different sounds, without ever resorting to the weird.
It is fascinating to think of what he might have gone on to, had he not turned to writing, but that would be another story!
Don Mather
see also highlights disc