Film Music on the Web
Music Webmaster Len Mullenger: Len@musicweb.force9.co.uk
---
Book Review:-
A Heart at Fire's Center - The Life and Music of Bernard Herrmann
by Steven C. Smith; [416 pages] University of California Press 1991.
You may purchase this book from Amazon now saving 30%
Other Book Reviews: George Gershwin by Rodney Greenberg
Leonard Bernstein by Paul Myers
---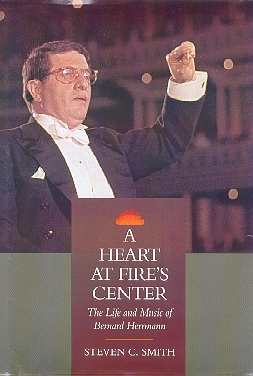 First of all, I should say that this is not a new book. Since Film Music on the Web has been carrying many reviews of Bernard Herrmann's music over the last several months, it was thought appropriate to include a review of this important biographical study. Steven C. Smith has produced a very readable book which gives a very detailed portrait, "warts and all", of a great but difficult artist.
As Smith perceptively states in his Prelude/Introduction, "Before Herrmann's first film score, for Citizen Kane, in 1940, film music in Hollywood was mostly homogenous in style and orchestration. Perhaps Herrmann's greatest achievement in film was his remarkable use of orchestration to reinforce theme and character psychology: each Herrmann instrumentation was uniquely tailored to the subject matter of the film it accompanied..."
The book commences with Herrmann's early life in New York (he was born there in 1911); his friendship with Jerome Moross (who would go on to write the magnificent score for The Big Country) and of their studying at New York University where they gained something of a notorious reputation for being abusive, insolent and downright crude; indeed Herrmann's acerbic, volatile nature would increasingly alienate him from colleagues and friends as the years went by (although those that were close to him often remarked on his kindness and sensitivity). His brusqueness too often upset players in recording studios and at concert rehearsals, and it only served to inhibit his career as a conductor, which he was passionate to pursue. (Many did not rate his somewhat erratic conducting too highly - John Williams, for instance, remarked: "...Herrmann was probably not a good conductor. He took things too slowly, generally, but he was good in that even if a piece were too slow he would approach it with genuine conviction; he had a definite point of view...Even if you didn't agree with him, his interpretation had conviction. I think that for anybody, that's a very attractive quality. Benny was sure of himself, secure in his opinions, and in some sense almost fatherly.") His abrasive nature did not help him to secure performances of his own works. He was particularly saddened that he never saw a staged performance of his opera Wuthering Heights. (He recorded it late in life for Unicorn Kanchana.)
Smith tells us that, in his youth, Herrmann absorbed himself in biographies of artists and composers. Berlioz's Treatise on Orchestration... "became Benny's secret Koran - the book, he claimed that convinced him to become a composer...Berlioz was in many ways his nineteenth century counterpart - explosive, intuitive, musically and personally adventurous. His work and ideology would be major influences on Herrmann for the rest of his life." Early on, too, Herrmann developed a passion for English literature (Dickens, Hardy, the Brontës, Byron, A.E. Housman etc) and for English music, his knowledge of which was prodigious. He was a friend of Sir John Barbirolli; he loved Elgar, and Delius, Bax and, especially, Gerald Finzi with whom he developed a close friendship. Herrmann became something of an Anglophile and visited England frequently, and, towards the end of his life, settling there.
Smith covers Herrmann's early years in radio composing theme music for many CBS productions and introducing and conducting many new works. He was an early champion of Charles Ives.
The collaboration with Orson Welles is detailed and there are full accounts of the backgrounds to the composition of Citizen Kane and The Magnificent Ambersons with perceptive analyses of these two scores. In fact all the film scores are shrewdly assessed working through all the 1950s 20th Century Fox Cinemascope scores such as Beneath the Twelve Mile Reef and White Witch Doctor, both of which were very highly regarded by Alfred Newman and Darryl Zanuck who said of the former: "I thought (it) was one of the most original scores I have ever heard. It really gave me a thrill. The manner in which Bernard handled the underwater sequence(s) was simply thrilling."
We learn that "Herrmann considered The Ghost and Mrs Muir his finest film score: poetic, unique and highly personal. It contained the essence of his Romantic ideology - his fascination with death, romantic ecstasy, and the beautiful loneliness of solitude". These themes would be explored again in Vertigo which was, of course, one of the highly successful Herrmann/Hitchcock collaborations that are all fully documented including the famous falling-out over Herrmann's disobedient scoring for Torn Curtain (see our review of the new Varèse Sarabande recording). Vertigo "was Herrmann's own favourite of his Hitchcock collaborations, although he felt Hitch had made two mistakes: 'They should never have made it in San Francisco, and not with Jimmy Stewart...I don't believe he would be that wild about any woman. It should have been an actor like Charles Boyer. It should have been left in New Orleans, or in a hot sultry climate. When I wrote the picture, I thought of that'."
This articulate comment by Herrmann about his music for Psycho demonstrates his keen professional insight: "The real function of a main title, of course, should be to set the pulse of what is to follow. I wrote the main title to Psycho before Saul Bass even did the animation. They animated to the music...After the main title, nothing much happens in the picture, apparently, for 20 minutes or so. Appearances, of course, are deceiving, for in fact the drama starts immediately with the titles... I am convinced, and so is Hitchcock, that after the main titles you know that something terrible must happen. The main title sequence tells you so, and that is its function: to set the drama. You don't need cymbal crashes or records that never sell."
Herrmann's rift with Hollywood, his exile in England, his temporary lapse from favour and then his rediscovery by and collaborations with François Truffaut and the new generation of film directors: Brian De Palma and Martin Scorsese are again fully documented and analysed. Of Herrmann's score for De Palma's Obsession, Smith writes, "Obsession is Bernard Herrmann's cinema requiem, a summation of his film skills and an affirmation of the human spirit. More than any other Herrmann film, Obsession's power and narrative focus come almost entirely from the composer's score, ' a marvellously evocative choral work,' wrote critic Alexander Walker, 'on which the story floats wordlessly like a picture in a river's reflection.' In fact, Obsession owes more to Herrmann than its score alone; like Sisters, its story construction and script benefited from Herrmann's suggestions."
Smith includes quotations from many people who knew Herrmann including Oscar Levant, Alex North, David Raksin, John Williams, Jerry Goldsmith and many, many others. His three marriages are detailed and how his volatility broke the first two (and his rudeness and difficult behaviour must have exasperated his third wife). On the other hand we are told about how he baby-talked to his cats and hated leaving his pets in Hollywood - he refused to settle in England until quarantine for pets was reduced from 12 to 6 months - and he chased away exterminators who threatened to purge one of his cars which had been commandered as a home by a bunch of squirrels.
Interestingly, apart from the lovely romantic melody from Vertigo, tunes did not figure prominently in Herrmann's music. As Smith says: "...while his melodic facility was limited, Herrmann could write themes of lyric poignancy and unpretentious charm. (A dissenting opinion came from David Raksin: 'If Benny ever started a tune, as in the case of the 'Memory Waltz' (The Snows of Kilimanjoro), he would obliterate it in no time at all.'"
Herrmann, as stated above, was a very eloquent speaker and writer when he chose to be so. This is part of a 1957 Review cover story on the Hallé orchestra - a skillful overview of twentieth-century conducting and Barbirolli's place as "one of the few remaining.poet-conductors":
" ... Today the orchestras of the world are beginning to assume a monochromatic greyness of sound. It is considered unfashionable for orchestras to have resplendent tonal sound - for climaxes to be brilliant and thrilling - for strings to sing - for woodwinds to be principal actors on the stage. Today all is resolved into a uniformity and conformity of sound that makes the orchestra perform as though it were an organ with one set of registers pulled out for the entire evening....But partly to blame for this paucity of imaginative playing, is the fact that present-day orchestras have perpetual guest conductors; they are no longer led - they in reality, lead, and the guest for a few days must accept overcooked or undercooked playing, as the case may be. For an orchestra without a permanent conductor cannot become a really great orchestra. Someone must give it style, a tonal palette, and a source of vitality."
Speaking of film music, in 1967, Herrmann said, "My only real complaint is that cinema music is not reviewed in the press, yet it reaches the greatest audience inthe world. A film score will live longer than any other kind of music. I predict the 21-22nd centuries may not be interested in our art but will be interested in our cinema. Wouldn't you like to see a movie made in 1860?..."
This excellent book is rounded off with lists of films that Herrmann scored, his concert works, television music (for programmes like The Twilight Zone, The Alfred Hitchcock Hour, Gunsmoke and The Virginian), and his recordings for Pye, Decca, Unicorn and Lyrita (Cyril Scott's Piano Concerto No 2).
Very strongly recommended to all Herrmann admirers.
Ian Lace
---
Return to: Classical Music on the Web Film Music Page
---