Classical Music on the Web
Music Webmaster Len Mullenger
---
WALTON O'DONNELL.
by Philip Scowcroft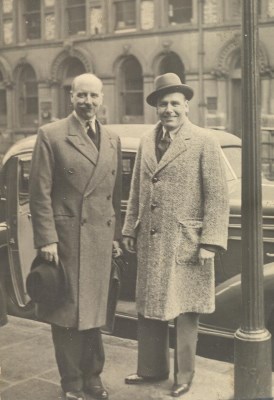 Bertram Walton O'Donnell, Irish by descent, was one of three brothers who were all, at one time or another service bandmasters; each of them in fact served at least some time in the Royal Marines. Percy S G. O'Donnell (1882-1945), after service as an Army bandmaster with the Black Watch and the Royal Artillery at Gibraltar, became Musical Director of the R M. Plymouth Division (1916-28), then of the Chatham Division (1928-37) and the Senior Director of Music to the R M. from 1937. He succeeded his brother Walton as Conductor of the BBC Military Band in 1937 and remained with the Corporation after BBCMB was dissolved in 1943. Rudolph, the third brother, was Bandmaster to the 7th Hussars (in which Walton served for a short period as a young man), then directed the Royal Marine Artillery Band and the Portsmouth Division between 1919 and 1931 before finally transferring to the R.A.F. (He is thought to be a unique example of a Bandmaster/Musical Director serving in all three services). Both Percy and Rudolph composed; as examples we may note the former's Empire Fanfare, for trumpet, cornet, two trombones and timpani and from the latter the Celtic waltz and a Fanfare on the RAF March Past. But it was Walton who achieved most and who is remembered, albeit somewhat tenuously, today.
Born in Madras in 1887 (his father was Bandmaster of the 2nd South Wales Borderers - it is interesting to see how military banding runs in families and one thinks of the Godfreys and the Winterbottoms and there are other examples), he trained at the Royal Academy of Music, one John Barbirolli being a contemporary of his there. Walton's service in the Royal Marines, after a short time in the Army, was as Musical Director of the Portsmouth Division from 1917 (where he was commissioned in 1921) and then, from 1923, at Deal. His band at Deal accompanied the Prince of Wales on a tour of Africa with such success that Walton was made a Member of the Victorian Order (he taught the Prince to play the ukulele, apparently). Walton then retired from the Marines to go to the BBC and from the Wireless Military Band (the "Wireless" was later dropped in favour of "BBC") in August 1927. This quickly became a fine ensemble (its first concert was in September 1927) and it did much to raise standards in the military, or concert, band world. Its repertoire excluded musical comedy and other light selections and "novelty" items. It was exclusively a studio ensemble and apparently never appeared in public -Walton is on record as saying that the microphone was the sternest possible taskmaster - but its basic strength of 26 players, which could be augmented as required, and its instrumental distribution was similar to service bands of the day.
A typical programme from December 1929 (normally, programmes were one hour in length) comprised a fantasy from the ballet Victoria and Merrie England (Sullivan), a suite from the opera The Miracle (Humperdinck), a selection from Turandot (Puccini), the "Wedding Procession" from Rimsky -Korsakov's opera Le Coq d'Or, Mock Morris (Grainger) and The Flight of the Bumble Bee (from Tsar Saltan, another Rimsky opera), interlaced with vocal solos from Norman Allen and Kate Winter. The Band recorded over 40 separate 78 r.p.m. discs: overtures, including less well known examples such as Suppé's The Jolly Robbers and - arranged by O'Donnell himself - Gounod's Mirella, marches, folk tunes and classical arrangements, brilliant, unique ones made especially for the Band. It inspired one of the first works ever composed for the military band medium, Gustav Holst's Prelude and Scherzo, Hammersmith. This was first performed in 1930; it was also orchestrated and, so I understand from a lady who was a pupil at the time, was first tried out in a two piano version at St. Paul's Girls School, Hammersmith, where Holst taught. Unfortunately Hammersmith was not recorded by O'Donnell with the BBCMB; nor was any of his own music except (in 1935) the Crusader March. The Band's relation with the BBC Symphony Orchestra after the latter was formed in 1930 were excellent, to the extent that the same pieces were often broadcast within a short time of each other by both Band and Orchestra. The Band's programmes were greatly admired and enjoyed, not least by King George V . Walton left it (and his Professorship of Harmony, Composition and Military Music at the Royal Academy) in 1937 to take up a position as Head of the BBC's Northern Ireland Orchestra. Walton was familiarly known at the BBC as "Bandy" and he took part in many Children's Hour Programmes during the 1930s. The BBCMB was, as we have said, taken over by Percy O'Donnell who conducted it until its demise as a wartime economy measure in 1943, a move regretted by many both at the time and since. Walton was not around to see it for he died, of pneumonia , aged only 52, on 20 August 1939.
Walton O'Donnell composed much for military band, One work I heard again fairly recently with renewed pleasure was his Three Humoresques, brilliantly inventive, harmonically adventurous for its time and superbly scored. The titles of its three movements, "Pride and Prejudice", "Prevarication" and "Petulance and Persuasion" apparently derived from the novels of Jane Austen. The RAF Central Band played it on a record issued in 1986 and it has also been recorded in recent years by the Coldstream Guards Band. Other band classics by him were Theme and Variations, Two Irish Tone Sketches, Woodland Sketches and Songs of the Gael (the latter three were also arranged for orchestra). The Royal Marines Music Library at Deal still has the first two at least, along with the Humoresques and various orchestral works, Songs of the Gaels, which I heard fairly recently in Doncaster, conducted by Captain Peter Sumner, one of O'Donnell's successors as a RM Director of Music, is an extended selection of Irish melodies and remains a big test for a military concert band. Walton by no means confined himself to writing for band or even to writing for wind instruments. For piano he published Two Lyric Poems, for viola and piano A Slumber Song. His orchestral output, which includes works arranged from band originals and others, showed an understanding of stringed instruments to rival his virtuosity in scoring for woodwind and brass. The very lively, modestly astringent Miniature Suite, for strings, was popular for many years (I recall a Doncaster amateur orchestra bravely tackling it in 1966) and the Fragment for strings. It would be pleasant to revive these sometime, especially the Miniature Suite; but we should perhaps remember Walton O'Donnell primarily for his attempts to raise the status of military band music. Lieutenant Colonel Sir Vivian Dunn (to which I am deeply obliged for his recollections of O'Donnell) has no doubt that the BBC Band was the finest in the world in the 1930s, made up as it was of the best professional wind and brass players in London. In a private communication Sir Vivian recalls Walter as "a kindly man, a good sportsman, a gentleman to his fingertips, a paragon among British musicians". Dunn learned much from him both at the RAM and in being privileged to attend rehearsals of the BBC Military Band at Broadcasting House. He ranks O'Donnell's own music for band with that of Holst and Vaughan Williams, which is high praise indeed.
© Philip L Scowcroft.
You may like to put the attached sample of The BBC Military Band as an example of the brilliant musicianship of Bertram Walton O'Donnell and the Band.
It is called: La Tarantelle de Belphegor composed by Roch Albert.
George Pollen
Photograph with Adrian Boult courtesy of reader George Pollen.
Enquiries to Philip at
8 Rowan Mount
DONCASTER
S YORKS DN2 5PJ
Philip's book 'British Light Music Composers' (ISBN 0903413 88 4) is currently out of print.
E-mail enquiries (but NOT orders) can be directed to Rob Barnett at rob.barnett1@btinternet.com
---

Return to: index page
Classical Music on the Web
---