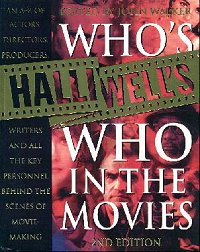 This second edition of the trusty Halliwell's Filmgoer's Companion is the latest revision updated and rearranged to make its contents easily accessible, and with more than 1,000 new entries to extend its range. A preliminary gripe: look at the synopsis above in bold italics – see any mention of film music? Look at the Movie Resources on the Internet information at the back of the book. No mention of Film Music on the Web – not a mention of film music even. I was also rather bemused to read that this is the 2nd edition on the front cover but that it had suddenly jumped to the 14th edition on the title page. However, these slight quibbles aside, aside, there are entries on most leading film composers and I have to say that this marvellous book, together with Halliwell's Film and Video Guide, is a treasure of information for all movie fans; and, incidentally an indispensable tool for journalists like myself.
There are details not only about composers, but also of the stars of today, yesterday and tomorrow, about the bit players and the character actors, the producers, the writers, the cinematographers and all the other talents involved in the making of motion pictures.
In this new book, there are year-by-year listings of Oscar-winners, of leading festivals and of critic's awards. There is a brief history of the movies. There are lists of top movies, and of movie books and periodicals; and a glossary of technical terms.
Turning to our interest, the careers of all the major Golden and Silver Age composers are included, with reasonably comprehensive lists of their compositions although one might argue with the selections of films scored by Max Steiner for instance. The work of today's composers is included too. Looking up Thomas Newman, for instance, I notice his career is covered up to Erin Brokovich his year 2000 score; and Danny Elfman up to Proof of Life. There are omissions however, there is still no entry for John Ottman, for instance (The Usual Suspects, Lake Placid etc).
Sections in this edition are:
Who's Who in the Movies: An A –Z of personalities 477 pages
Movie Remakes, Series, Themes and Genres
Alphabetical list of Remakes, Series, Themes & Genres
Movie Studios and Production Companies
Movie Talk: An A-Z of Technical and Critical Terms
World Movies
Movie Lists (American Film Institute'sBest American Movies)
Top 20 Box-Office Films in America
The Guardian'sTop100 Contemporary films 1980/93
Royal Film Performances
The Longest Feature Films
Movie Awards Academy Awards, BAFTA Awards, Cannes, Golden Bear, Golden Lion,
European etc.
Movie Books and Periodicals
Movie Guides on CD-ROM
Movie Resources on the Internet
A Brief History of the Cinema
An essential companion to the film fan and film music enthusiast.
Ian Lace