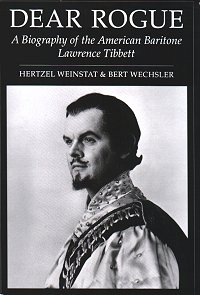 Largely forgotten today except by keen opera fans, Lawrence Tibbett rose from obscurity in 1923 to unprecedented success in opera, film and radio in the 1930s.
This book, published to commemorate the 100th anniversary of Tibbett's birth, traces his life from the obscure poverty of his youth in the American Wild West, taking in his years of wealth and fame in New York and Hollywood, up to his tragic vocal decline and alcoholism, and to his death, in July 1960 at the age of 63, resulting in a fall while under the influence of alcohol.
The authors tell a story that would make a Hollywood script seem far-fetched. His father was killed in a western-style gun battle leaving his mother to bring him up. He married a possessive woman and largely ignored her and her children as his career took off in New York. His second marriage to a New York socialite led him into a whirl of non-stop parties and alcohol dependence. Although he was egotistical and easily forgot those who helped him on the way up, he was nevertheless kind to up-and -coming artists and was a diligent founder and President of the American musicians union. Yet, he was an inveterate womaniser chasing his film co-stars and embarking on numerous affairs. Sex, drug overdoses, stabbings and shootings were all part of his world. Coupled with a fabulous singing voice, was a marvellous acting talent. He threw himself with gusto into all of his roles so much so that he often caused injury to his colleagues. In one production, he drew blood with a prop sword. Although the wound was superficial the victim died from ensuing complications.
The book details all Tibbett's singing achievements (and the embarrassing defeats as his career faded). They include a full description of the performance as Ford in Verdi's Falstaff that brought him to fame. "The time had come for Larry, and what occurred was one of those extraordinary moments that can only take place in an opera house…Larry began, and in the words of veteran critic Oscar Thompson, he 'took fire. He sang like a demon possessed. He hammered the table angrily and threw a cup so hard that it smashed into a multitude of pieces. Unlike most singers, Tibbett did not look at the conductor or prompter for directions. Instead, his gestures and his singing had a freedom that only veterans acquire. His passionate voice startled the audience and held it spellbound." Afterwards Tibbett retired to his room blissfully unaware that the audience was calling for him, demanding him. Taken aback themselves, the management thrust him onto the stage and the huge audience rose to its feet and, with a roar, applauded even louder. The incident was reported in the national press, and Tibbett became a celebrity overnight.
The book incorporates exclusive interviews with members of Tibbett's family, friends and colleagues and it includes short critical analyses of existing Tibbett recordings, the commercial releases and privately recorded operas and his films. There are numerous photographs and the volume also includes the impressive list of Tibbett's Second World War benefit appearances; a bibliography and a compact discography. (One or two of the CDs listed are no longer available. For instance, I would like to have had a copy of the Nimbus collection 'Lawrence Tibbett from Broadway to Hollywood' to review for Film Music on the Web but this collection had been deleted.)
A good read about a fascinating character and a wonderful singer/actor.
Reviewer
Ian Lace
Reviewer
Ian Lace