Coventry University Music Web Site
Music Webmaster Len Mullenger
---
LINKED BOOK & CD REVIEW:-
Book Review
Leonard Bernstein by Paul Myers Phaidon Press £14:99 (Price in US: $19:95. Distributed by Chronicle Books, 275 Fifth Street, San Francisco 94103)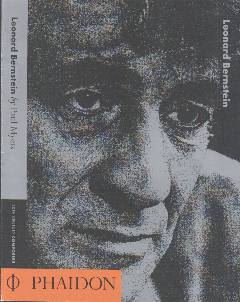 This is the latest in Phaidon's 20th Century Composers series - all the books are produced in the award winning format of 240 pages in semi-hard back covers with an outline coverage of the composer's life and a non-technical analysis of the works with bibliography, discography and list of works. This new book concentrates on "Lenny" as a composer and the list of his works is quite surprising in its scope and volume, including three symphonies and other orchestral works, operas, musicals, and church and chamber music. Of course Bernstein made his mark as a complete all round musician - as composer, conductor, pianist and teacher. I always remember him with affection in the latter capacity having been bowled over and much influenced by his remarkable series of lectures entitled "The Unanswered Question".
The author of this new study is Paul Myers who is a freelance classical record producer who has worked for Decca, Columbia (now Sony) and Naxos record companies. As such he first met Bernstein in 1962 and then frequently in recording studios over the next eighteen years so he was able to form a strong impression of the man and his music-making. As he says in his introduction..."Bernstein personified the romance, the drama, the passion and, in his own words, the joy of music....His public and private lives reveal a series of contradictions that reflect the complexities and pressure of twentieth century life. Almost a lifelong occupant of the psychiatrist's couch...he was a complicated, sensitive yet flamboyant and passionately creative man of dazzling intellectual powers who lived in a perennial spotlight that he both loved and resented." He was adored by an international public and rose to become the first American-born conductor of the New York Philharmonic Orchestra which he revitalised. He went on to conduct some of the world's finest orchestras and to conduct inspired Mahler but a critically ravaged and eccentric Elgar "Enigma" Variations. His private life was ambivalent; he was a bisexual who adored his wife and children but who engaged constantly in homosexual liaisons. Brilliant, articulate, witty and charming, he could be equally vain, egocentric and demanding, sometimes distressing his loyal supporters with his drunken and wilful behaviour.
The only film for which Bernstein composed an original score was On The Waterfront. But of course much of his work as a conductor of opera or concert works is available on video. More specifically his major stage works have been filmed: On The Town in 1949, with Frank Sinatra, Gene Kelly and Jules Munchin (from which a substantial amount of Bernstein's original music was dropped); and, of course, in 1961, West Side Story starring Natalie Wood, Richard Beymer (the voices of both were dubbed), Rita Moreno and George Chakiris. Myers describes the production of both stage and film versions in fascinating detail.
This volume forms a valuable and very readable introduction to this fascinating subject. I would like to have seen a list of recommended recordings of Lenny as a conductor though.
Ian Lace
CD Review
Leonard BERNSTEIN West Side Story Kiri Te Kanawa; José Carreras; Tatiana Troyanos; Kurt Ollmann; Marilyn Horne; Orchestra and Chorus conducted by Leonard Bernstein DG 457 199-2 [76'36]


This recording was originally released in 1985 as a 2CD set, coupling the powerfully evocative Symphonic Suite from On The Waterfront which is clearly of interest to film music enthusiasts. This incarnation is shorn of On The Waterfront to accommodate West Side Story on to one CD with the obvious price saving.
Paul Myers, in his book reviewed above, gives a fascinating account of the turbulence that was the recording sessions for this set - in fact many readers will remember that the rehearsals were filmed and subsequently shown on television. The showing of the film had an enormous beneficial influence on the marketing of the recording and the album became one of DG's all-time best sellers.
It is an excellent recording with outstanding playing and first-class chorus work (just listen to the extraordinary vitality of "America" for instance) and some fine singing. The critics, myself included, were concerned about the casting of the leads particularly Te Kanawa who sounds too matronly and Careeras middle-aged and paunchy, Te Kanawa just does not have the voice of a young girl discovering love and pain. But that aside, West Side Story has so much to offer with evergreen songs like "Tonight", "Something's Coming", "Maria", "I Fell Pretty", "One Hand, One Heart" and "I Have A Love", not to mention the more dramatic numbers like "The Rumble" the Gym dance numbers and the wicked irony and social comment of "Gee, Officer Krupke." Let's hope that the lower price tempts a new generation to discover this wonderful musical.

Ian Lace
In passing I recommend readers to sample another Bernstein masterpiece - his opera Candide, based on the book by Voltaire, the production of which emerged through many changes and over many years as Myers describes in detail in his book. Candide is an enjoyable and exotic fantasy very accessible with many good tunes. Highlights from the DG recording starring Christa Ludwig, Adolph Green, Nicolai Gedda and Della Jones is available on a single CD - DG 435 487 -2

---
Return to: