Music Webmaster Len Mullenger
---
Book Review:
Halliwells Film & Video Guide 2002 Edited by John Walker
Harper Collins Entertainment. 976 pages £19:99; $22:50 ISBN 0-00-712265-9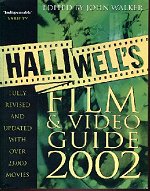 For the year 2000 edition of Halliwell I wrote a review that is very much like the following which I have updated to include remarks about the new 2002 edition. I am delighted to report that my many compliments still remain valid. Moreover the price still remains the same!
For an editor like myself, life would be hard without this treasure of a reference book.
I am always relieved when a new version of Halliwell's Film and Video Guide arrives because the one that it supersedes is invariably tattered and falling apart from constant use. I guess I must refer to it, at least, to the equivalent of once per day.
It is amazing to think that this is the 17th edition of the Guide. The bulk of the present edition makes it a large, hefty tone (although not overweight and it has a strong paperback cover).
Clearly, a great deal of thought has gone into the format of this edition to make it as user-friendly as possible. The entries carry very helpful annotations in the form of small graphic icons that indicate:
Film suitable for family viewing
VHS video-cassette for the British PAL system
VHS video-cassette for the British PAL system in wide screen-format
Video-cassette in a computer-coloured version
American NTSC video-cassette (not compatible with the British PAL system)
Laser Disc
Soundtrack released on compact disc
Digital Video Disc (Regions 1 and 2)
Cast in approximate order of importance
Points of interest
Notable songs
Academy Award
Academy Award Nomination
BAFTA
Moreover, and intelligently, all these symbols are shown in the context of a typical page, printed on the inside cover of the volume for quick, easy, fail-safe reference.
As in previous editions there are lists of four-star and three-star films by title and year. It is salutary to note that there are very few four-star film entries for the years 1993 to 2000 -- only one for 1998 (After Life) and one for 1999 (American Beauty) and none for the year 2000. The number of three-star films through this period was more impressive. The 2000 three-star list includes: Erin Brokovich, Gladiator, and Chicken Run. Not one of the scores for these 2000 three-star films impressed Halliwell and it must be said that they did not exactly overwhelm Film Music on the Web critics either. We are indeed in a period of dire music for new films.
The 1000s of entries of established films indicate whether there is a recording available of the score - a very useful feature.
For every film and film music fan this book is essential.
Ian Lace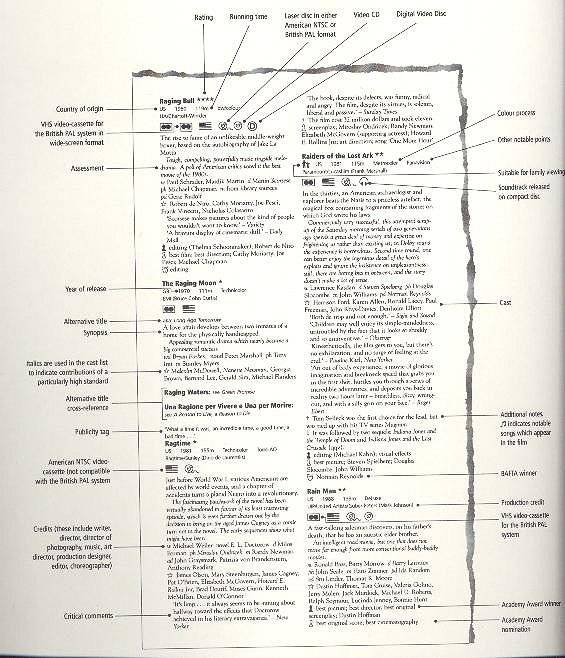 ---