Film Music on the Web Web Site
Music Webmaster Len Mullenger
---
LINKED BOOK & CD REVIEW:-
The Book:-
George Gershwin by Rodney Greenberg published by PHAIDON PRESS (20th Century Composers Series) £14:99 [$19:95 US distributed by Chronicle Books, San Francisco)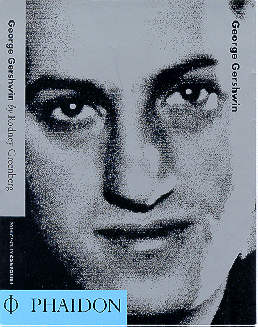 This new biography of George Gershwin, timed to coincide with the centenary of his birth is one of the latest books in the growing series of Phaidon's 20th Century Composers titles (another book on Leonard Bernstein is also released this Spring). All the books share the same format; the same award-winning design, number of pages and the strong paperback covers. The author Rodney Greenberg has produced and directed over 300 television music programmes in Europe and America. Formerly executive producer of the BBC Masterclass series and of the televised Promenade Concerts, he has directed the Last Night of the Proms eight times. Among many other honours, he has won Emmy awards for live NBC telecasts in New York. Greenberg brings a clarity and loving insight to his subject - George Gershwin.
As Greenberg reminds us in his introduction, Gershwin's entire professional career spanned just two decades. The book is of course primarily about George but Greenberg illuminates very well the unique creative partnership and the deep bond between the thrusting, extrovert George and his shy, introverted lyricist brother Ira Gershwin. We read continually about the contradictions in George's personality and of his insecurities (he had difficulty forming relationships with women and he never married), "..he would be the first to admit how much he didn't know about music, yet he carried on reaching people's hearts with it..." In fact he was always trying to persuade his classical music peers to give him lessons. One of these masters was - 'Ravel [who] did not conceal his admiration for Gershwin's fusion of jazz with symphonic procedures, and greatly admired his improvisatory wizardry at the piano.'
The book takes us through George's life beginning with his father, an immigrant Russian furrier, Morris Gershovitz from St Petersburg, who arrived in New York in the 1890s. George was the second of four children (Ira was the eldest). We proceed to learn of George's early beginnings pounding a piano in New York's Tin Pan Alley plugging songs. He recalled: "Some of the customers treated me like dirt." One who did not was Fred Astaire who appeared in Gershwin's cubicle one day to try out song and dance material for the touring vaudeville act he performed with his sister Adele. It was the start of a friendship that ended only with the composer's death. The early song and Broadway successes are covered in detail and Greenberg offers many interesting insights into their unique construction, including Gershwin's enthusiasm for the pentatonic scale, and the songs' Jewish derivations.
The composition of Rhapsody in Blue and Porgy and Bess are described in detail and discussed with illuminating insights. DuBose Heyward who wrote the book for Porgy observed Gershwin at work on Porgy isolated on an island in the Carolina sunshine. He said: "..the quality in Gershwin that produced Rhapsody in Blue in New York, America's most sophisticated city, found its counterpart in the impulse behind the music and bodily rhythms of the simple Negro peasant of the South." As Gershwin had mastered orchestration after the Rhapsody (which Ferde Groffé had orchestrated) for his Piano Concerto and other orchestral works, so he mastered writing for the chorus, brilliantly, in Porgy and Bess. Interestingly, Greenberg points up parallels between Porgy and Bess and Delius's Appalachia and Hassan. From the film music fan's point of view, the interesting point about Porgy and Bess is that the first stage and opera versions of Porgy and Bess were directed by Rouben Mamoulian. Also of interest is the fact that when the opera was filmed in 1959 by Samuel Goldwyn (who had given George a hard time in Hollywood in the 1930s) with Sidney Poitier and Dorothy Dandridge. André Previn was hired to 'arrange' the score. Previn 'won an Academy Award for doing so - a typical Hollywood irony.'
Gershwin's fling with Hollywood was non too happy. The first film he worked on was called Delicious (Fox). He enjoyed a large remuneration and the balmy Californian sunshine but all they used were four songs, a 'dream sequence' and one minute from a six-minute orchestral sequence That six-minute sequence later grew into the Second Rhapsody. Gershwin returned to Hollywood again later, this time to RKO to write for the Fred Astaire and Ginger Rogers film Shall We Dance (released in 1937) which included such wonderful Gershwin songs as: "Let's Call the Whole Thing Off" and "They Can't Take that Away from Me", together with some very effective sequences such as Walking the Dog - 'Hermes Pan, the film's choreographer, remembered how easily Gershwin's acute observation could translate action into music. While Fred and Ginger rehearsed the walk, 'he watched them and wrote this wonderful ditty. He sort of caught the tempo of the way they walked, and the way the dog was trotting along. And he did it right there on the set. Just like that. Pure inspiration. He was very dance-wise you might say.'
RKO followed up quickly with another assignment for the Gershwins - Damsel in Distress (again released in 1937) but this time the special magic was missing from the screenplay and it was not as successful (it starred Fred Astaire again but this time without Ginger - replaced by Joan Fontaine). However its English setting gave George the chance to try his hand at parody in his two pastiches in the English madrigal style, "The Jolly Tar and the Milkmaid" and "Sing of Spring" in addition to two superb songs: "Nice Work if You Can Get It" and "A Foggy Day in London Town." By the time George came to work on his final film Goldwyn Follies in the spring of 1937, the composer was becoming more and more disillusioned with Hollywood yet he again rose to the occasion and wrote two more wonderful songs: "Love Walked In" and "Love is Here to Stay."
Greenberg's story of the life ends in Hollywood with a harrowing account of the last agonies and death of Gershwin. Had X-Ray technology been more advanced in the 1930s it is possible that Gershwin might have been saved from the brain tumour which overcame him at the tragically early age of 38. As Greenberg points out Gershwin might have given us so much more. George said he had so many tunes in his head that it would take him a hundred years to write them down; and at the time of his death, he was aching to return to New York to start work on a string quartet. He was also considering other works including a symphony and another collaboration with DuBose Hayward.
The book also includes a full classified list of works including all the songs, a suggested Further Reading list and a selected discography which includes the following CD which was produced in association with this biography:- **** Ian Lace
The CD:
George GERSHWIN 'The Very Best of George Gershwin' 28 Gershwin Greats Various artists Decca 2CD 460 002-2 [140:35]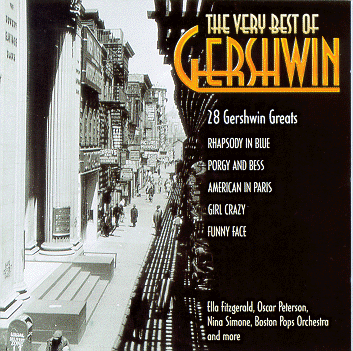 The title of this compilation is clearly over-stated because the selections are from one recording company - Polygram so it is worth bearing in mind that there are equally good if not better versions available of the items in this compilation. Nevertheless, the quality of every one of the 28 selections is at the least very good, and they have the caché of being included in Greenberg's selected discography so they do form an excellent introduction to the work of Gershwin.
There is no question about the worthiness of the first CD which is devoted to the songs - many of them in classical renderings. Consider the artist line-up: Oscar Peterson playing "Strike Up the Band"; Ella Fitzgerald and Louis Armstrong with "Summertime"; Sarah Vaughan in "The Man I Love"; Fred Astaire singing "Funny Face" and Audrey Hepburn intoning "How Long Has This Been Going On?" These are just five of 17 fabulous tracks.
The second CD is devoted to orchestral music - and there are some are tantalisingly incomplete items: An American in Paris, the Second Rhapsody, Cuban Overture and the Piano Concerto in F. The compilation opens with a gutsy, vibrant Rhapsody in Blue with Ivan Davies and the Cleveland Orchestra conducted by Lorin Maazel (who also conducts An American in Paris with the same orchestra). Arthur Fiedler conducts the Boston Pops Orchestra in a Suite from Girl Crazy, the Funny Face and Oh Kay Overtures and the Second Rhapsody. Frank Chacksfield and his orchestra paly an arrangement by Roland Shaw of a Suite from Porgy and Bess (but it is not nearly so effective as Richard Rodney Bennett's Symphonic Portrait). As stated above the quality is never less than very good.

Ian Lace
---
Return to: