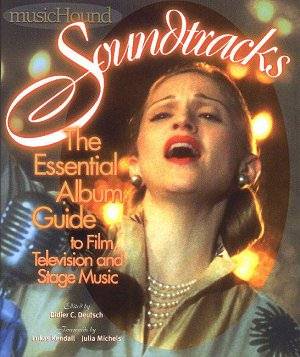 I opened the book. Generally speaking, this is what most people tend to do when they wish to read one. But, Oh! the thrills, chills, and spills within this specimen... Educating and entertaining, containing nearly 900 pages of succinct, elucidative reviews and juicy tidbits, with a few lacunae, the new edition of 1997's VideoHound book is worthy of recommendation.
Taking a simple format best popularized by Leonard Maltin's Movie & Video Guides, applying it to soundtrack albums, and changing rating 'stars' to 'bones' (witty?) does not distinguish the book; however, the subject itself does. Ranging from the earliest of available soundtracks to those of mid-1999, this is the most complete systematic overview of soundtrack albums in stores now. The reviews provide critical analysis, as well as the year of composition, the year of album release, the existence of other releases, the composers, the conductors, and featured musicians. A humorous and direct forward by Film Score Monthly editor Lukas Kendall starts the trek. A second forward (is it technically a forward if it follows another?), by former Capital Records Director of Soundtracks Julia Michels, jabbers on about 'songtracks,' which receive equal footing as score albums in the guide. MusicHound Soundtracks also contains several sidebars listing the arguable '10 Essential Scores' by composer, and select quotes from FSM interviews, lists of film music compilations (some reviewed in detail), other publications, web sites and record labels, and additional indexing. These are the thrills. All are worth the investment.
The chills and spills are occasional discrepancies in ratings and the reviews. That is, a soundtrack is made out to hail from the darkest chasms of the netherworld, yet receives a 'three bone' rating. Or reviews contradict each other. For example, Jeff Bond calls John Williams' "Jaws" "classic" and gives it five bones, a perfect score. Meanwhile, Didier C. Deutsch takes a look at "Jaws 2," saying, "In truth, Williams surpassed himself, writing a score that had the effectiveness of the first, and then some." Yet he gives it four bones.
So, who to trust? There are instances of the same critics reviewing the same composers on different scores, giving variations on, "This is the composer's best." The need for an editorial overhaul is particularly obvious when 'the best' gets below five bones, yet a half-dozen 'lessers' receive full praise. Which to choose? With a team of 16 reviewers the inconsistency is not only understandable, it is expected, but it also means the guide is only useful on a disc-by-disc basis, as opposed to literal comparison.
MusicHound Soundtracks is largely solid as a reference book for soundtrack addicts. For all that, it is an exceptional gift for those merely beginning their filmusic journey.
Reviewer
Jeffrey Wheeler


Reviewer
Jeffrey Wheeler

---
---
Reviews carry sales links
but you can also purchase
from: