Music Webmaster Len Mullenger

FILM MUSIC RECORDINGS REVIEWS

DECEMBER 1998
---

COMPETITION WIN a CD of your Choice from Crotchet

| | | |
| --- | --- | --- |
| Edward SHEARMUR The Wings of the Dove OST MILAN 73138 35833-2 [48:56] | | |
| | | |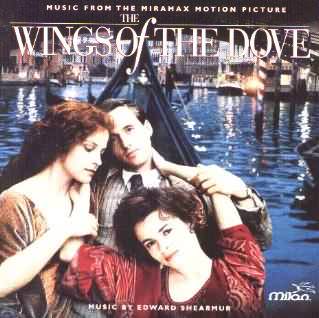 The adulation directed towards this score last year really was entirely deserved. Despite a reasonable grounding in the film world this was effectively the (then) 30 year old's first major release. His age and the maturity of the score are an impressive sum to equate.
Henry James' tale of deception set in the early part of this century was always going to require understated treatment. With the opening "Underground", that subtlety is set. A harp plays alongside some very yearning strings; a main theme of extreme tenderness. A livelier tone picks up for the remainder of this small suite, then with a minor sense or urgency a couple of cymbal rolls restore the calm.
A secondary motif is introduced at the beginning of "Rendezvous", and the wind instrument we are apparently treated to is an Egyptian Flute according to the booklet. Also credited, and appearing in various guises with the theme throughout are a lute, bazouki, and acoustic bass. Hardly atypical period instrumentation, this exotic ambience really lends itself to the portions of the film set in Venice. The Romantic style of the music remains, and has been compared to the likes of Vaughan Williams, Frederick Delius, Frank Bridge, and Gerald Finzi. The London Metropolitan Orchestra were ideally suited.
There are many instances of sustained notes from small ensembles, giving an effective sense of free floating - a travelling sensation in accordance with the character's movements and/or travails of allegiance ("Venice"). Knowing Shearmur to be the 'protégé' of Michael Kamen it has been a pleasure to note none of the tutor's own style within his scores. On studying this particular album, these prolonged moments are truly about the only vague stylistic comparison to be made. Kamen's title theme to The Dead Zone is an ideal example.
With "Carnival Masque" the unexpected instrumentation is brought to the fore for a snake charming surprise. The cue is really in two halves, with the belly dance followed by an ethnic rhythm bridging a segue into a reprise of one of the main themes. Some tambourine rolls round out the delightfully intimate cue. The following "Tryst" performs the same trick by starting with the former's style taken at an upbeat lick; an Egyptian dance working to an accelerating beat. Then it too returns to the orchestral romance of swirling string movements.
Making a rare change for a soundtrack release is the fact that there isn't a single cue of less than 4 minutes length. The effect is of individual movements to a concert work. Shearmur performed a suite of the score at this year's Flanders Film Festival, where his extremely intimate conducting style elicited a beautiful performance from the Belgian National Orchestra and a sincere ovation from the audience.
The film studio took a chance on the young composer's music for this film - so should you.
Reviewer
Paul Tonks

---
| | | |
| --- | --- | --- |
| Bernard HERRMANN The Trouble With Harry Joel McNeely conducting the Royal Scottish National Orchestra VARÈSE SARABANDE VSD-5971 [43:07] | | |
| | | |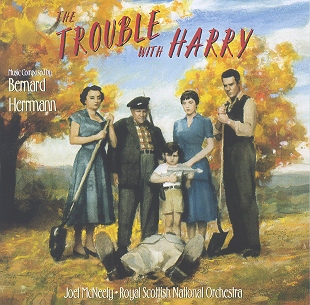 The Trouble With Harry was of course that he was dead but he was not allowed to lie down - or at least to lie down in the same place for very long, for this Hitchcock black comedy was all about a collection of mostly delightfully bumbling people who for various reasons needed to hide and bury the same body - Harry!
The film has been the least understood and the least admired of Hitchcock's films from his Hollywood period of the 1950s. (It was made in 1955 the same year as Hitchcock's To Catch A Thief and before his masterpieces Vertigo (1958) and Psycho (1960). Part of the reason might have been that there was no real murder and the cast list was composed of character actors: the delightful, cherubic Edmund Gwenn partnered with the equally charmingly madcap Mildred Natwick as, respectively, the elderly sea Captain and the older woman he fancies, with the younger couple played by John Forsythe and the delectable Shirly MacLaine who was making her film debut. It was also the beginning of the partnership between Hitch and Bernard Herrmann. Herrmann was always fond of this score. It certainly received his greatest attention when he was preparing the first commercial recording (for Decca/London in 1968), more so than the music for the other Hitchcock film scores that were also included on that album (which is highly recommended and still available - London 443 895-2): i.e. - North by Northwest, Psycho, Marnie and Vertigo. As Christopher Husted says in the booklet notes that go with this new Varèse Sarabande release, "Seeing The Trouble With Harry as an expression of Hitchcock's dry and diabolical humour, he arranged partially reorchestrated music into a short concert piece which he called Portrait of Hitch. It has since been published and enjoys regular performances."
This present album represents the world premiere of the complete score as it was originally written. I should say at the outset that McNeely follows the precedent set by his two earlier recordings of the Vertigo and Psycho in delivering an outstanding performance in splendidly clear, detailed and impressively-perspectived sound. He catches the clever, sardonic, diabolic humour of the score wonderfully well. Listening to the music in total one can play spotting post and pre-echoes of other Herrmann scores: there are the deep, swirling harp ripples of Beneath the Twelve Mile Reef, for instance, and the theme for The Doctor reminds one of the cocky perkiness of the music from The Magnificent Ambersons; while looking ahead, one recognises snatches of the dark string figures of Psycho and the beginnings of Vertigo's big romantic theme, but treated more wistfully in this context in cues like "The Cup", "The Walk", "The Wish", and "The Proposal"
The arresting, short, sinister brass fanfare that opens the score in cue 1, is quickly followed by a few creepy low string chords and both are strongly contrasted by buffoonish bassoons which quickly deflate the pomposity and quieten the terror. In fact, in the main, it is the woodwinds that are assigned most of the comic parts while braying, rasping brass and lower strings are given more threatening, darkish material. A major feature of the film was the exquisite colour photography of the New England location, dressed in all its ravishing Fall tints. Herrmann's pastoral evocations have an appropriate Autumnal glow. The cue Autumn is warm, gentle and nostalgic. So, too, are the cues "Harvest Eve" and "The Phantomn Coach" with gentle harp arpeggios, the prevailing serenity threatened only by a few passing shadows. The theme assigned to "The Captain", which is very lyrical, is reminiscent of Vaughan Williams (Herrmann was a very keen Anglophile and very keen on British music); it has, too, a hint of sea shanties and deep mysterious waters. RVW's influence is very prevalent in the pastoral-like "Tea Time". It is interesting that this melody, the most lyrical in the whole score, is given to the Captain rather than to Jennifer (the Shirley MacLaine character) The "Jennifer" cue is rather furtive and it anticipates a theme from Psycho. There is a collection of contrasting waltzes that make up three consecutive cues: "Waltz Macabre" that really lives up to its title, a lovely "Waltz Reprise" which has that Edwardian cosiness of The Magnificent Ambersons score, and "Valse Lent" which is a jerky, comically grotesque piece that is barely a waltz - and it has a heavily ironic cuckoo figure. Child-like figures for the little boy are effectively counterpointed with some of the most malicious music in the score, in "The Burial" but that cuckoo figure triumphs reminding us that it is all in fun.
The album has 40 cues many very short and all shorter than two minutes. Many will make you smile. One of Herrmann's most delightful scores.
Reviewer
Ian Lace

---
| | | |
| --- | --- | --- |
| John WILLIAMS Midway Rick Wentworth conducting the Royal Scottish National Orchestra VARÈSE SARABANDE VSD-5940 [35:48] | | |
| | | |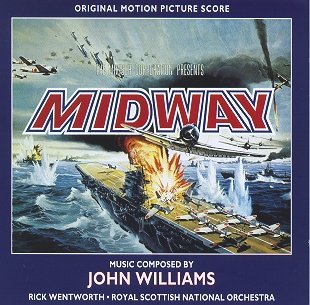 There couldn't be a more fascinating time to look at the career and style of Williams. Midway came right after the hullabaloo of Jaws' success, and just before the milestone of Star Wars. It has not been possible before now, since no recording was made available at the time of the film (1976). Instead the main theme - that of "The Midway March" - has teased us in concert repertoires and on collection albums. Here it is in its full glory and it provides some telling pre-echoes of the later music that has popularised the man so much.
The decisive Battle of Midway was pretty potent material - cinematically speaking, and a stellar cast always seems to raise the stakes for the creative talent involved. To Williams it spoke of patriotic pride about the heroics leading to victory. It shines through in the fanfares for brass that have become the composer's 'trademark'. If you want to swell the chests of a crowd with pride, who else do you turn to ?
After the brief "Prologue" which is essentially a bugle call rendition of the March, "Main Title" features some very interesting piano figures over snare drumming. It is a disarmingly different voice from Williams since it does not re-appear in the rest of the score, which like the remainder of the cue instead plays upon our familiarity with later works. A quieter moment of reflection from "Yamamoto's Choice" is a red herring with "Signal Corps Con" picking up the drama. In both, a lighter piano touch demonstrates just how subtle a master of underscore Williams can be. That is even more evident in "Haruko's Dilemma", where a flute and harp are as gentle as a sea breeze.
What tends to happen with the chronological sequencing of the album, is a series of lulls and crescendos. For every quiet interlude such as "Missing The Flatlands", there is the militaristic suspense and cymbal crash filled drama of "Morning Of The Battle". The peaks and troughs do not dilute the enjoyment of the music. Whereas with another composer's style it might tire of such choppy swaying, with Williams it as a prolonged teasing - in expectation of the inevitable March.
Alluded to above were forecasts of music to come contained within this score. It would be extremely picky to latch onto more than a few specific examples. I would cite an early part of "Men Of The Yorktown March" as calling up an image of the Rebellion's Throne Room from the end of Star Wars. "Hiroshima Harbour" smacks of upcoming hero Indiana Jones before some subtle oriental flavours take over. In many places, the style of both those trilogies is evoked. Like the sequencing, this isn't something detrimental to the music itself but merely a welcome insight to the frame of mind within which Williams was obviously in during the mid '70s to mid '80s.
The two Marches naturally finish the disc in some style, although strictly speaking "Men of the Yorktown" isn't a March in the truest sense. Originally, it came as a bonus B-side to a Japanese single release of the main theme. "Midway" itself is the real toe-tapping feel-good jingoistic jaunt. With a pipe at counterpoint to the snare rumbling and of course the theme itself picked out on trumpet, it is quintessential Williams.
Reviewer
Paul Tonks

---
| | | |
| --- | --- | --- |
| Basil POLEDOURIS Lonesome Dove Music conducted by Bail Poledouris SONIC IMAGES SID-8816 [56:09] | | |
| | | |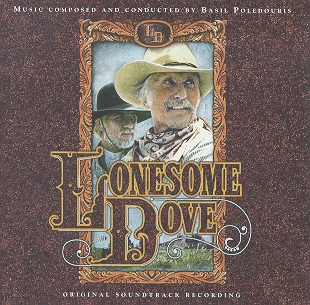 Lonesome Dove is a television Western. It was written and produced against the spirit of the 1980s. The Western, while never quite dead, was at least largely moribund so far as TV/silver screen were concerned by the 1980s when this mini-series appeared. The auguries were not good. Director Simon Wincer produced an eight hour epic and looked to Poledouris to provide 3 hours and 45 minutes of music. Wincer had heard Poledouris's music for Farewell to the King and considers it his most underrated score. Poledouris did not want to use Copland style Americana preferring to evade many of the clichés and latch onto folk music rather than build on the distortions and patina of decades of cliché. In that aim I am not sure that he totally succeeded. There is much here which seems to rest with the mainstream of open air Western music. Nevertheless the score is strong and especially in the pastoral and elegiac. As the excellent notes by Randall Larson point out, the end result was an adaptation of the Larry McMurtry novel which won seven Emmys and one of these was for best score.
The main theme is wide and slowly unfolding, evoking a great sluggish river - epic and remorseless. The theme recurs extensively. Track 2 is a sleepy vignette. In fact there the whole score has steady exhausted pace. The third track opens with hectic chuntering from the strings and recall of concert music by Bill Schuman. The Dallas theme seems momentarily to be about to put in an appearance. We also get river-side idyll music alternating with leathery epic cattle range atmosphere. There is the occasional splash of 'South of the Border down Mexico Way' with burnished high fiesta trumpets and castanets.
A banjo dance [4] provides some variety before the threat meets elegy of the Death of Deets [5]. Track 6 is haunted with a shadowed downward reflective curve epitomised by the clarinet at 1:03. Arkansas Pilgrim introduces fiddle music from the high mountain plains and a honky-tonk piano. Soon the reflective serenade returns. In track 7 the solo clarinet recalls the sunny slopes of yesterday in a feast of nostalgic. Track 8's sleepy oboe curves and falls continuing the mood of track 7. This is interrupted by a slow blowsy polacca and recollections of Civil War or 'Nigger Minstrel' songs.
On the Trail has slow motion romanticism and a quick-silver-smooth string theme resolving lovingly back into main Lonesome Dove theme. Then follows (Murderous Horse Thieves) the quiet implacable threat of maracas and acoustic guitar and a country fiddle suggesting gentle Irishry. The Search has yet more fiddle music melting into a grand hoe-down heard through a myriad layers of gauze and a sense of a great uncontrollable force. This is one of the highlight tracks of the disc.
There are more quiet elegies for Gus Dies. At track 13 (Capt Call's Journey) the long blooming theme returns with a sense of satisfied lassitude. Horns echo satisfyingly around the main theme like which is taken up by supple air-borne strings and the long lines of clarinet and oboe. This is an eloquent hymn to a bygone age and delivered with glistening eyes. The has more of the wide open theme and a burst of dynamism in the last few pages.
So ends a score distinguished by its curvaceous but chaste, elegiac and solitary tone implicit in the title. Instrumental features stand out: the roles for banjo, fiddle, bass, honky-tonk piano and acoustic guitar impart a sepia-tone alongside references to hymns and Western trail songs.
There are fourteen tracks on this disc of which four appear on CD for the first time. I am sure that a CD was issued when the series first came out but this seems to be the most complete authorised edition.
Recommended then for some extremely fine music but I only wish that Poledouris had been able to magic up some more dynamic material to match the sleepy-sad gloriously slow elegy that this score offers.
Reviewer
Robert Barnett

And Ian Lace adds:-
This is film music writing of a very high standard. You are captivated from the very start with the trumpet clarion calls, then the fine broad sweping melody recalling the old west - its grandeur, its nobility, its violence and its grief. Poledouris's music is rich in contrapuntal and polytonal design, it might be likened to a beautiful plant continually sprouting a myriad shoots all in perfect balance and harmony. All the obvious western music clichés are avoided and the music has a ring of sincerity, and it is in complete accord with the screenplay. Take one small example, in the cue Arkansas Pilgrim, there is a section of quiet romantic music, but notice its effective underpinning with gentle rocking clip-clop figures.
I remember the television series with much affection. Clearly with so many hours runing time and so many characters it is very difficult to remember the details of the plot. Instead of so many pictures in the CD booklet, surely it would have been more sensible to have reminded us what the cue titles represent; a description of the scenes to which the music cues related, would have added another dimension to our enjoyment. (For instance cue 2 is called "Jake's fate", now I remember one young cowhand dying of multiple-snake bites when the cattle drovers cross a river swollen after a storm, the opening bars of the cue seem to suggest a malignant turbulence and the coldness of sudden death but it would have been nice to have had that assumption confirmed or otherwise). I understand that there has been considerable demand for this release from presumably a discriminating public (which strenthens this argument even more) so they need not have been fobbed off with the usual picture gallery. Notes like those that Varèse Sarabande and Ryko offer to accompany their classic film scores would have been much appreciated. But I must not overstate this criticism because this score stands proud of its associated images as very satisfying music in its own right.
Reviewer
Ian Lace

---
Songs from ALLY McBEAL featuring Vonda Shepard EPIC/SONY 491124 2 [43:07]
Searchin' My Soul; Ask the Lonely; Walk Away Rence; Hooked on a Feeling; You Belong to Me; The Wildest Times of the World; Someone You Use; The End of the World; Tell Him; Neighborhood; Will You Marry Me; It's In His Kiss; I Only Want to be With You; Maryland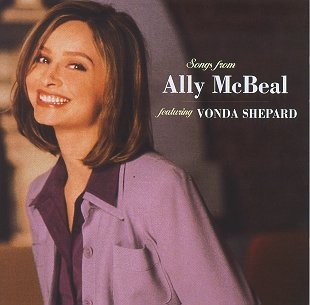 I am breaking my own rule here not to include "Pop" material. But since I am such an ardent fan of Ally (in accord with the programme's zany cartoonisms my tongue drops to the floor and my eyes bulge when she appears on my TV screen each week but why did she and Georgia have to change their hair lengths/styles?), and so I am exercising my editor's prerogative.
Ally McBeal is a huge success in the U.S. with an average audience of 15-20 million every week. The stories of Miss McBeal, a neurotic, earnest lawyer who endures various professional and romantic misadventures, have become the show that the critics love to hate. Indeed, it is amazing how much anti-Ally material has been written by feminist journalists, in the UK, but, as the lady, with whom I shared a train journey recently, admitted: "All you men like her [her little girl lost quality appeals to our protective instincts] and so all we women are jealous of her".
Anyway before I get shot down in flames by my lady readers, I'll hurry on to the songs; these are attractively sung by smokey-voiced Vonda Shepherd who is featured singing in the nightclub setting in the show most weeks. This is a nice collection of songs old and new; familiar and not so familiar. The song which opens the TV show each week, "Searchin' My Soul", written by Vonda Shepherd kicks off the programme. An ideal collection for a party, relaxed listening or for whiling away an hour in the car. And now that Miss McBeal has temporarily left our screens, here in the UK, this album is my only relief from withdrawal symptoms
Reviewer
Ian Lace

[In passing readers may have noticed that Varèse Sarabande utilised the singing voice of Jane Krakowski, on their recent Bacharach release. Jane, who plays the know-all secretary, Eileen in Ally McBeal, is a multi-talented Broadway star who could go further herself. Keen Ally fans will remember that Jane, herself, sang in one recent McBeal episode]
---
JUDY GARLAND in Hollywood OST performances (1936-1963) TURNER/RHINO R275292 [78:55]
Searchin' My Soul; Ask the Lonely; Walk Away Rence; Hooked on a Feeling; You Belong to Me; The Wildest Times of the World; Someone You Use; The End of the World; Tell Him; Neighborhood; Will You Marry Me; It's In His Kiss; I Only Want to be With You; Maryland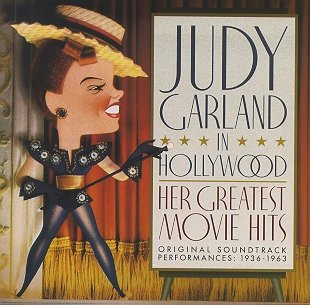 The Texas Tornado (Pigskin Parade); Dear Mr. Gable /You Made Me Love You (Broadway Melody of 1938); Over the Rainbow (The Wizard of Oz); I'm Nobody's Baby (Andy Hardy Meets Debutante); F.D.R. Jones (Babes on Broadway); For Me and My Girl (For Me and My Girl); The Trolley Song (Meet Me in St Louis); The Boy Next Door (Meet Me in St Louis); On the Atchison, Topeka and the Santa Fe (The Harvey Girls); Look for the Silver Lining (Till The Clouds Roll By); Mack the Black (The Pirate); Easter Parade (Easter Parade); Johnny One Note (Words and Music); Last Night When We Were Young (The Good Old Sumertime); Happy Harvest (Summer Stock); Friendly Star (Summer Stock); Gotta Have Me Go With You (A Star is Born); The Man that Got Away (A Star is Born); Little Drops of Rain (Gay Purree); Hello Bluebird (I Could Go On Singing); By Myself (I Could Go On Singing); I Could Go on Singing (I Could Go On Singing).
The incomparable Judy. This comprehensive collection represents nearly thirty years in her motion picture career beginning with the rousing "The Texas Tornado" from 1936's Pigskin Parade and ending with her ultimate semi-autobiographical performance in 1963's I Could Go On Singing. It contains most of her famous film musical performances, along with a few choice rarities, many of which have not been commercially available for years. An interesting, rare inclusion is "Last Night When We Were Young", an outake from In The Good Old Summertime (1949). The list of songs above is testament enough to the value of this generously filled collection which is beyond criticism for Judy has passed into legend. The accompanying 20 page booklet with excellent notes by Will Fiedwald (author of "Sinatra! The Song Is You") and many pictures from Judy's films is a great bonus
Reviewer
Ian Lace

---
---
| | | |
| --- | --- | --- |
| Burt BACHARACH What's New Pussycat? OST RYKO RCD10740 [29:45] | | |
| | | |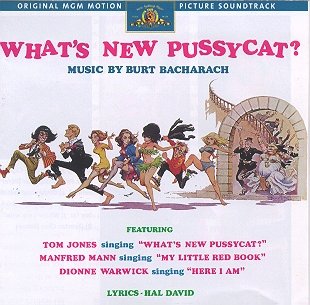 The film What's New Pussycat marked several firsts: it was Bacharach's first major movie score and it was Woody Allen's introduction as both actor and screenwriter and it showed, after Peter O'Toole's more serious roles in Becket and Lawrence of Arabia that he had a considerable flair for comedy. O'Toole played Michael James who is instantly adored by every beautiful woman who sees him (what a lovely problem to have). Peter Sellers (dys)functioned as James's sexually obsessed psychiatrist who was really more in need of help than his patient while Woody was a totally incompetent would-be womaniser. The beauties were led by Capucine, Romy Schneider and Paula Prentice. Such a farcical comedy cried out for a score that not only included romantic material and Paris scene-setting stuff à la accordians, but also music that was as anarchic as the events of this improbable story.
Burt Bacharach cames up with the ideal mix. The CD includes the three songs that all made the charts: husky-toned Tom Jones singing the brassy, raunchy title song complete with raspberry-blowing trombones and "beer-stained" saloon piano; Dionne Warwick rendering "Here I Am" more romantic yet seamed with a somewhat sleazy accompaniment; and the frenetic up-beat "My Little Red Book" sung by Manfred Mann. The score was liberally peppered with wacky material to underscore the wilder slapstick moments of the film. It employed almost everything but the kitchen sink, from polka-style oompah-pah tuba-playing to squawking kazoos.
As usual Ryko include a ROM element as a nice reminder of the wildness of the screenplay and the foldout booklet has the original striking poster design and very good informative notes by David Konjoyan. Amusing and enjoyable - mainly for fans of the film.
Reviewer
Ian Lace

---
---
| | | |
| --- | --- | --- |
| Henry MANCINI The Pink Panther Strikes Again OST RYKO RCD 10739 [47:31] | | |
| | | |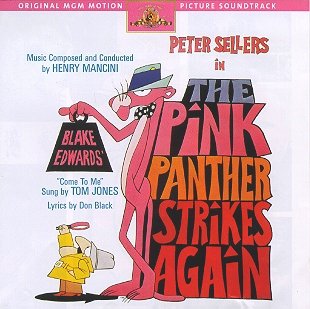 This particular reviewer has always considered the fifth entry in the Pink Panther series to be the very finest. Sellers was neither too assured as Clouseau nor bored (as he almost seemed in the next and final of his performances [Revenge of]). It has the most carefully choreographed fight sequence with Cato. Herbert Lom gets to ham up his role of Dreyfuss gloriously. Plus it features one of the most successful comedy scores from Mancini.
We already knew these movies to be tongue-in-cheek, but with the fabulous animated opening credits a wonderful montage of images and sounds comes purloined from very recognisable sources. Led by the infamous "Pink Panther Theme" the on-screen cinema plays: "Funeral March Of A Marionette" (the Hitchcock 'Theme'), "Batman" (Neil Hefti's '60s classic), "The Sound of Music", "Singin' In The Rain", and "Big Spender". It sets the tone superbly.
Immediately after comes the exquisite "Inspector Clouseau Theme" opening with what sounds like mandolin, keyboard, and glockenspiel. Gentle flute notes take up the lackadaisical tempo - a pace in perfect synch with the thought processes on display. Reprised later on the album, either cue could be from a hilarious sequence of Clouseau attempting entry into the castle across the surrounding moat. Each successive method is more ridiculous than the last, and the music's suggested dimwittedness is pure genius.
When not beating up poor Cato, the Inspector loves to show off new disguises. In "The Great Quasimodo Disguise" Mancini carries us off with the inflating "hermp" until he is floating obliviously over the Seine. Some beautiful harp glissandos float him ever higher, before the inevitable drop into the drink.
The exuberance of "Bier Fest Polka" is as much at odds with the surrounding cues as the events on screen. A collection of the world's most highly skilled assassins are sent Clouseau's way. The increasingly ridiculous 'hit' attempts are all underscored by this bouncing number. It works for the scene by being as contrapuntal as the moat sequence's use of 'Clouseau's Theme'. We are carried by the ludicrous melodies which make the bumbling even funnier. These really are showcases for Mancini's gift for comedy timing and underscoring. Yet this should not ignore such subtleties as "Along Came Omar" (for Mr Sharif's uncredited cameo), which tiptoes the hitman along on Egyptian harmonies and guitar.
The album generously presents 6 bonus cues of material, which are welcome despite messing with the chronological order. Here we get the brief Asylum flute happiness that opened the film. Then a terrific example of Mancini at his most dramatic with "The Plan / The Snatch", which is initially urgent on its strings. This leads in to some sustained high pitched effects that are fortunately not as grating on the teeth as when Dreyfuss runs a clawed gauntlet down a chalkboard ! The urgency returns for "The Doomsday Machine", and moves in and out as we see Clouseau attempting to thwart the mad ex-Chief Inspector's plans. The brass-built crescendo is sadly spoiled by an obvious edit (at about 2:44) - perhaps this is just my copy.
There is also an "Alternate Instrumental Version" of "Until You Love Me". The original 'Instrumental' precedes it, as does one of the film's comic highlights with a showstopping drag turn from Michael Robbins as "The Incomparable Ainsley Jarvis". His voice really isn't all that bad either (!). "Come To Me" also features saucy lyrics by Don Black, but was the Oscar® nominated of the two. Possibly Tom Jones' vocals decided that. We are 'treated' here to a segue from the Welsh Wonder's warbling straight into Clouseau's own. A moment for the tone deaf to sympathise with.
Still in Bonus territory is the thankfully brief "Organ Interlude" which is as cheesy as possible for Dreyfuss suited in black cape playing chateau phantom. The all-too short "End Titles" are a reminder that we didn't always have to sit through 7 minutes of credited assistants and trainees. With a succession of 'Panther Theme' variations interrupted by what sounds suspiciously like the Jaws theme, the album ends with the traditional musical breakdown signalled by a dying horn wail.
Saving the best for last I now turn to "The Evil Theme". An almost subterranean chime reverberates an echo beneath the lightly treading guitar of Dick Abell. The classic exaggerated cartoon steps of the Inspector's creeping around is perfectly encapsulated by the first half of the cue. It is then stepped up by flute, percussion, and the most innovative use of put of tune pizzicato violin. It is as important an invention as either the Pink Panther or Clouseau themes, or indeed the original A Shot In The Dark theme (which is sadly absent).
Rykodisc spoil us as ever with a CD-ROM trailer and a fold out booklet with great notes and photographs. Out with the bad music - in with the good!
Reviewer
Paul Tonks

---
| | | |
| --- | --- | --- |
| Ernest GOLD Judgment at Nuremburg OSTRYKO RCD 10723 [44:26] | | |
| | | |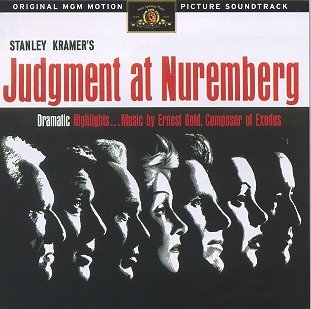 Stanley Kramer's Judgment at Nuremburg (1961) was set during the Nuremburg War Crimes Trials of 1948. The film was nominated for 12 Academy Awards. It starred Spencer Tracy as an American district court judge sent to Germany to act as chief judge for a tribunal against four German judges accused of war crimes during World War II - the story provoking an interesting irony; judges judging judges. Burt Lancaster co-starred as Ernst Jannings, one of the accused, defiant, until he eventually relents and admits their mutual culpability. The film also starred Marlene Dietrich, Richard Widmark, Maximilian Schell, Judy Garland and Montgomery Clift.
Ernest Gold, enjoyed a successful collaboration with Stanley Kramer over a period of more than 20 years and included scores for: The Defiant Ones, On the Beach, Inherit the Wind, and It's A Mad, Mad, Mad, Mad World (the Ryko score for that film was reviewed on this site earlier this year); proving his versatility in writing for such different screenplays. Gold was always careful to absorb local colour and musical styles into his scores. Interestingly, Gold was born in Vienna in 1921 and escaped to the United States from the Nazi threat and eventually arrived in Hollywood in 1946. Clearly, then, his early experiences were eminently suitable for writing the score for this film.
The music for the three-hour Judgment at Nuremburg is relatively sparse and Gold chose to underscore those scenes outside the courtroom underlining character interactions, locale painting and giving warmth to the deliberations of the judges.
The opening "Overture" introduces the main themes. After snare drums, the opening heraldic trumpet figure, stunningly recorded with off stage echoing trumpet calls, suggests both past military victories and the present importance of the trial. This motif moves straight into a rousing German folk song, brutalised to suit the ends of the Third Reich. This brutalisation of the opening folk material reaches its twisted, vicious extreme in the cue "Entr'acte". "Ghostly ruins" accompanies the American judge, Haywood's tour of the ruined Nuremburg with eerie high woodwinds and mocking twisted fragments of the bumptious introductory march. In "Sights and Sounds of Nuremburg" we have warmer friendlier music associated with the people Hayward meets in the streets. We hear street organs and a folksy tune in the market place but when Hayward reaches the stadium ghostly strains of the Third Reich impinge once more. "Schwalbenwinkel" is attractive, melodious restaurant music. For the cue "Madam Bertholt's Story" Gold works poignant variations around the song "Lili Marlene". Equally poignant is the "Liebeslied", a typical operetta aria sung in the style of Richard Tauber of Nicolai Geda, in a restaurant as Haywood dines with Bertholt (Dietrich). "Du Du" is a more upbeat beer cellar song with stamping feet rhythms; while the breezy, and, in part, almost ballet-like music for the cue, "Tea time in Berlin" emanates from a hotel lobby radio which has just announced news of a Russian blockade between Berlin and Western Germany. "Colonel Lawson's Mission" begins with Wagnerian, noble/heroic overtones but proceeds with more personal emotional intensity emphasisied by strings and woodwind as the Judy Garland character is persuaded to testify.
There has been some debate about the inclusion of dialogue in these Ryko releases. But in this case I totally defend the inclusion of the two speeches by Burt Lancaster and Spencer Tracy about the causes of the Holocaust and the guilt and culpability of those involved; it's lesson is worth regular revisiting. As usual we have the ROM content, poster material and intelligent, eminently readable notes by Randall D. Larson, Senior Editor of Soundtrack Magazine.
And Jeffrey Wheeler adds -
My brother, who has a genetic affection for all good things German, shall probably abscond with "Judgment at Nuremberg" - a truly fascinating listen. The use of traditional German songs is effective and symbiotic with the underscore, although used a bit too often. The underscore itself makes nice use of period sensibilities and works flawlessly. The narration is chilling, and I cannot think of hearing the score without its presence. It belongs alongside the score as a powerful recollection of film and international history as well as a wonder for the ears.
Reviewer
Ian Lace

---
| | | |
| --- | --- | --- |
| Elmer BERNSTEIN The Magnificent Seven OSTRYKO RCD 10741 [67:41] | | |
| | | |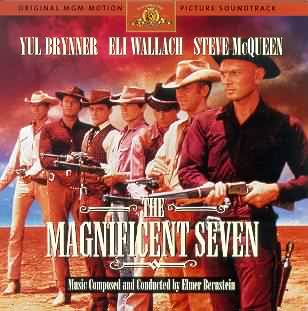 This is an important album in the firmament of film music: the first ever release of the original soundtrack of the most famous Western ever (perhaps vying with High Noon - which centres rather around a song than this score which has some very fine music). Elmer Bernstein's music, or more accurately the big theme, has been recorded and presented in concert many times. The complete music, of which I would guess pretty well every substantial segment has been presented here, was, astoundingly, never issued on LP. Of course there may have been the odd pirate LP but certainly nothing commercial or approved. The closest you get to a contemporary commercial release is the LP of The Return of the Magnificent Seven which contains much of the original score in a (then) freshly recorded version.
The film is a classic and had a classic cast. Eli Wallach was suitably villainous (more so than his successor) villain in the first sequel. 'The Seven' are lead by the indomitable and murderously cool Chris - which in turn made Yul Brynner a natural role in the Michael Crichton technology-gone-berserk film 'Westworld'. Steve McQueen, Robert Vaughan, Charles Bronson, James Coburn are all foremost names and Brad Dexter with Horst Buchholz are only slightly less celebrated. By the way I do hope that people will not forget the original grittier and certainly less commercial (and more amoral) Akira Kurosawa film which was the template for Magnificent Seven (I am sorry but I do not recall the music at all - no doubt my fault). Kurosawa offers the story with rough edges and without the faint commercial sheen offered by Hollywood and director John Sturges.
The main theme jumps and kicks like a stallion. If age has roughened the edges of the sound it has not robbed it of its visceral charge. The high mountains, desert plains, dusty streets are all here - together with an geographically asynchronous dash of Copland - after all this is Mexico not Montana or Texas or Appalachia. Never mind - Copland did write several devastatingly effective Latino pieces - El Salon Mexico being the best known and the best. Extensive use is made of the famous theme both in direct quotation and as a basis for various variations. Galloping barking figures stride through the 23 tracks contrasted with Mexican-style fiestas, honky-tonk saloon pianos (track 5) and the occasional romantic guitar serenades. The stylistic cross-references include Ponce (Concierto del Sur and Violin Concerto), Joaqin Rodrigo, Copland (of course), Piston, Randall Thompson and Manuel de Falla (track 11). The drum toccata in track 7 sounds as if it escaped from everyone's cliché of 'darkest Africa'. Track 9 uses metal drums in something which sounds very much like a Caribbean tin metal band. Later tracks gallop and storm and that blessedly famous theme is never far away. The Mexican romance element finally slumbers quietly into a warm twilight elegy (track 23).
Having played the disc through several times I have to contradict myself in my other review (included in this batch) of the Return of the Magnificent Seven album. There is too much music here and Bernstein's inspiration while often burning strongly coasts along repetitively at low voltage (track 22 is an example) for at least ten minutes in the complement offered here. Attention is not held consistently. The Return album, which is in better, but less atmospheric, sound leaves you wanting more. The trick may be to avoid playing the present album all in one go.
The notes are by Jeff Bond who writes enticingly mixing fact and observation. There are a couple of paragraphs from Elmer's daughter Emilie (since 1990 the orchestrator for his film scores) who was one of the moving forces for the disc. Great stills from the film, location shots and a rather crude looking poster copyrighted 1980 - it must be for a re-release of the film.
The sound is grainy and we are warned as much by Emilie who refers to the original soundtrack being recorded 'without the benefits of modern day recording techniques'. With the rider mentioned above I can recommend this disc to the aficionado of Western scores, enthusiasts for the film itself and for Brynner mavens and also for collectors of Bernstein's scores. Warm thanks must go to Rykodisc and MGM/United Artists for making this CD possible.
While I have my reservations about some of the music (about 55 minutes would have been just about ideal) this is a very significant disc, generous in timing (not given on the sleeve) and handsome in presentation. Incidentally this disc (unlike The Return disc) fills its 67:40 without resorting to dialogue clips from the film.
Reviewer
Rob Barnett

---
| | | |
| --- | --- | --- |
| Elmer BERNSTEIN The Return of the Magnificent Seven OSTRYKODISC RCD10714 [34:54] | | |
| | | |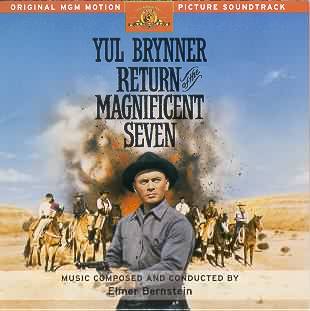 The 1960 film The Magnificent Seven was a great success. It was a remake of Akiro Kurasawa's Seven Samurai translated into the Wild West. Elmer Bernstein's score was devastatingly apt - dynamic, open-air, masculine music. Scores like this create a genre. The score, quite properly, attracted an Academy Award nomination. The music gained an even wider and longer-sustained currency during the 1960s in advertising for cigarettes. In the sequel film (there were three sequels all suffering, if I remember correctly, from the usual law relating to sequels and quality degradation). For Return of the Magnificent Seven, Bernstein re-used the original score. In addition he re-recorded it for an album. The present, fairly brief, CD (for which timings are not given on the leaflet) is a reissue for the first time on CD, of that album plus three atmospheric tracks of OST dialogue.
The score has all the zing and freshness you will expect from a receptive pupil of Copland. Also there is a probably unconscious influence to be found in Bohuslav Martinu's glorious Fourth Symphony. Sceptical? Well, listen to the last five minutes of the last movement of the symphony. You should also note that Martinu's six symphonies all date from his years (1950s) in the USA. I dare to say that the hallmark track (main theme) is more instantly and enduringly appealing than anything his teacher (Copland) wrote - powerful and heavens-striding music. The theme, quite properly, returns throughout the disc. There are other elements, of course. Bernstein suggests the Mexican locale with the usual stock references but used in a non-cliché-ed way. Track 5 paints in an Hispanic evening with guitar and a warm open air feeling. Track 10 again uses the solo guitar in a Mexican Concierto de Aranjuez. Succulent High Sierra Mexican trumpets register confidently and with high voltage in track 7. Track 4 is a string elegy of great and uncloying power. Bernstein has a great empathy for the brass. He is not above the influence of Randall Thompson's Second Symphony and Walter Piston's Second, Third and Sixth Symphonies. These works of the 1940s were the quarry from which much Western film music was mined. In turn the Magnificent Seven music must have been the inspiration for such punchy TV Western themes as The Virginian and The High Chapparal as well as providing an easy mark for the Blazing Saddles music.
Excellent notes again by Jeff Bond. The notes include original poster art, the cover of the LP, stills and location shots. Mr Bond explains the complex relationship between the music on the original album of the film and the music of the film itself. I wish we could be told about the orchestra, recording venue etc and the conductor who made this recording. Sound quality is healthy with an infrequent hint of edge when the sound is loud and saturated. The tracks date from 1967, after all!. Nothing to worry about.
This is a classic album, although it offers rather short measure. Could nothing be done to rescue some tracks from the OST, I wonder? It is only this aspect which forces the star rating down. The music is up there with the best. Just a pity that there is not more of it.
Reviewer
Rob Barnett

---
| | | |
| --- | --- | --- |
| Michel LEGRAND The Thomas Crown Affair OSTRYKO RCD 10719 | | |
| | | |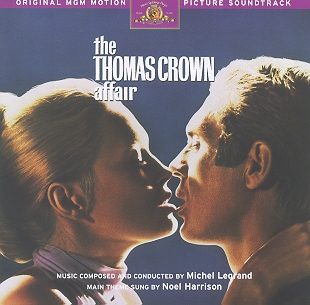 This classic film of the 1960s will for ever be associated with two of its elements: the song 'Windmills of Your Mind' and the suggestive chess scene between Steve McQueen and Faye Dunaway. The song is sung distinctively by Noel Harrison. He does not have much of a voice but he is indelibly memorable and distinctive. From the beginning you are struck by what a fine song it is and by the ear-catching orchestration. Listen for example to the deep brass chord under the word 'round' from 'Round like a circle in a spiral.' So many popular song accompaniments are brainless. This one has a profusion of fine details to entertain and stimulate.
The style of the score is two-fold. The big symphonic score for the two songs is approachable and comparatively easy to assimilate without being boring. A similar style reappears only briefly on this disc: for the song His Eyes, Her Eyes (sung by Legrand) at track 9 and in the orchestral only Windmills track at 17. The music is sharply evocative of many French films of the 1960s: a cool, sophisticated romanticism with jazz inflections.
The remainder of the score (circa ten tracks) is a jazz-melts-into-orchestra concoction. The notes suggest that it is a sort of jazz influenced 'symphony'. Jazz is a strong influence but is fused into a myriad orchestral details which would not be out of place on a major impressionist orchestral score. There is jazz sleaze [3] it is true but in [5] a fluttering and spinning flute, cross-cut with strings introduces an oboe serenade reminiscent of Malcolm Arnold. The music is thoroughly engaging and inventive even if (like me) you do not warm to jazz. Rich plush strings strike across the texture. A softly shuffling drum kit could ruin the atmosphere but Legrand avoids that with great skill. Vibraphone (always associated with Lionel Hampton) adds anpther dimension. Once in a while you feel wafted back in time to a 'sophisticated' 1970s hotel lobby but this is rare enough not to put you off the score. The erotic chess game music deploys maracas and various other items of Latin American percussion with dessicated chipping and zipping noises. The vibraphone reappears with a moaning trumpet accompaniment. There is an Arnoldian swoon to the strings which glowing gently. The approach is like the aural equivalent of a mosaic. A tinkling harpsichord contributes another pointilliste effect soon swept away with a brief recollection of Rhapsody in Blue. There are shrieks and bird calls. Track 8 opens with an upbeat Latino rhythm and dissolves into trumpets counterpointed with hanging bells, brash brazen trombones and briefly (but horrifically) a 'dabbadoo' vocal in Swingle style.
Legrand sings His Eyes Her Eyes - with nice and presumably authentic French accent. There is a little jazziness in the accompaniment but the piano which is made to make some startling harp-like effects offer splashily engaging music. Track 10 reintroduces light scampering vibraphone and trumpet punctuation over the top. Track 13 opens unpromisingly with some bland commercial jazz but soon too a welter of detail rushes in like some complex of undertows, tidal currents and whirlpools. The vibraphone reappears and even the Hammond (get thee back to the infernal regions!) does not sound too bad - a close call though!
Track 14 might just as easily suggest a portrait of the streets of Paris early in the morning with a hero/anti-hero relaxed, at ease and warmly confident in tune with the world. The possibilities seem limitless and confidence is high in a rain-freshened world. Malcolm Arnold's sophistication is suggested in the strings and by a tortured high trumpet skating razor sharp across the top of the music. I wonder if Malcolm knows and enjoys this score? It would not surprise me.
The recording quality is fine for such old tapes. There is first class stereo separation and the sound does not come across as over-processed. John Bender is the author of the useful notes. Again plenty of stills although they would have looked better without the tinting.
It would have been good to be able to identify the fabulous soloists who grace every gem and fragment of this mosaic score. The score is more of a giant set of panels made of a mosaic of small episodes jazz and classic in style. Each little tile is perfect and floating free.
Legrand's other American scores include Ice Station Zebra (1968), Wuthering Heights (1970), The Go-Between (1971), The Three Musketeers (1974) and The Picasso Summer (1969).
I warmly recommend this release and not only for nostalgiacs.
Reviewer
Rob Barnett

Ian Lace adds -
Rob Barnett has just about said it all, but I would like to add that I found this score irresistable. This polished and sophisticated jazz-dominated score is very approachable as easy listening music and you will find your ear is continually captivated by so many unusual sonic images, so many interesting instrumental dialogues and juxtapositionings. Take the smoochy conversation piece between clarinet and trumpet in the "Doubting Thomas" cue; the superb multi-layered "Chess" with its sexual innuendo and its rattle-snake sounds warning that danger lurks behind Dunaway's sheen of elegant sophistication; or the intoxicating latin rhythms of "Cash and Carry." An album that will surely make repeated visits to many CD trays.
Reviewer
Ian Lace

---
| | | |
| --- | --- | --- |
| Pino DONAGGIO Carrie OST with two songs by Katie Irving RYKODISC RCD10701 [38:04] | | |
| | | |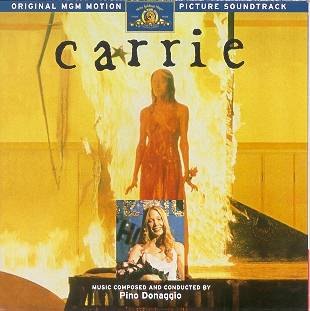 Another handsome production from Rykodisc who seem to have their run of film scores through their valued association with MGM/United Artists. I am sure there are yet more riches to come. Rykodisc also do everything so well. Design, music and information are almost all you could ask for.
Carrie is an impressive shocker of a film. I did not see it at the cinema. I saw it on a portable black and white TV and yet can remember even now the shock and frisson of the climax in the closing dream scene. Sissy Spacek and Piper Laurie radiated quirky devotion, innocence abused, religious mania and gloating horror. The film by the ever-gory Brian de Palma deserved all the praise it received and receives.
Pino Donaggio's score is dominated by the strings. It is by no means as striking when it is out of its visual context. The Carrie theme softly throbs with an undulating innocence and much of the score shares this inward quality. If you are looking for parallels then thinks of Barber's Adagio, Richard Clayderman and Gabriel Fauré. Track four continues the innocence theme but injects shudders of deeper strings and harp alongside the ever-so folksy lines of the first song from Track 2. Track 7 spins a sumptuous Semprini or James Last type reflective string theme interrupted by darker interjections. The strings are borne along by harp and solo piano. The music on track 9 judders forward with little cross-currents and texture-rips paralleling the moment of transition from teen romantic dream (all self-absorbed) to the bucket of pigs' blood dumped all over the tragic and then vengeful Carrie. Track 11 has the music for School in Flames but it is all very quiet - electronic noises over deep string chords. Track 15 sounds a little like Sibelius' Rakastava leavened with a light dusting of Bernard Herrmann until the electronic effects appear. Track 16 gives us the main theme again sounding as if it is about to launch into 'Close to You'.
There are two songs which are slight little creations but which worked well in the film but register feebly when separated from the visuals. Notes are of the usual high standard. Whoever chose Jeff Bond again chose well. He writes in detail and informatively, addressing both plot and music. Splendid stills, locations shots and posters. The latter is the French language version 'Carrie au bal du diable'! Again I would have liked to have known something about the orchestra which recorded the music, date and location of recording sessions and name of conductor.
Short value in terms of playing length. The music is pleasant but I feel ambivalent about it. Sometimes it leaves me with the impression of being very flimsy and ever so commercial. Then again I listen to the main theme on the final track and I think to myself that this is definitely worth knowing. The theme would certainly go well in an anthology. This is a safer recommendation for horror film fans and especially for those who love the film Carrie and perhaps those who are fans of Piper Laurie (much underestimated in my view) and Sissy Spacek.
Reviewer
Rob Barnett
---
| | | |
| --- | --- | --- |
| MONSTER MANIA Music from the Classic Godzilla Films (1945-1995)VARÈSE SARABANDE VSD5969 [64:23] | | |
| | | |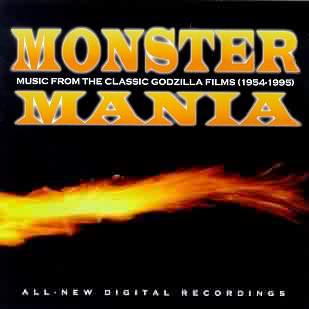 Godzilla has been enjoying a revival for the last 12 months or so. The bubble will burst no doubt but for now you can still find boxes of videos of the original Japanese Godzilla movies in video shops. Then again we also get albums like this.
Fourteen of the 22 tracks are by Akira Ifukube who wrote the famous bubbly slightly brainless (suitable for dinosaurs) march which has overtones of Prokofiev and Sousa. Much of the music is in a similar 'fun' style even when other composers deputise for Maestro Ifukube.
There is, by the way, nothing which I recognise as typically Japanese in these tracks.
There are dollops of rattlingly golden fanfares from the trumpets and rough-edged raspberries from threatening trombones. In track 6 (King Kong vs Godzilla) Grieg's In the Hall of the Mountain King was clearly in the compser's mind at the time. Track 3 has a touching (and tinkling) picture which reminded me of the Russian steppes. Koroku's romantic love theme from the 1984 Godzilla is extremely successful and must be doomed to appeal to Richard Clayderman's arrangers. The original suggests the composer had learnt from John Barry. Sugiyama in track 16 (1989, Godzilla vs Biollante) takes John Williams' Superman music as an exportable model. The last track (22), mysteriously, has a dismally commercial 'rap' song by a guttural male vocalist some minutes after the end of Ifukube's march from Godzilla King Of The Monsters (1954). Can anyone identify the song and the singer? It is not listed on the disc contents.
This collection of new recordings is fine for souvenir collectors and is fun. It delivers great sound and depth. The purists will want the exhaustive 2CD Silva Screen collection of OST extracts. For more general collectors who want to sample the genre there is Silva Screen's rip-roaring Monster collection.
Reviewer
Rob Barnett

---
---
| | | |
| --- | --- | --- |
| John BEAL Coming Soon! Music from Movie Trailers CD1 [62:04], 34 tracks; CD2 35 tracks [67:03] SONIC IMAGES SID2 8815 | | |
| | | |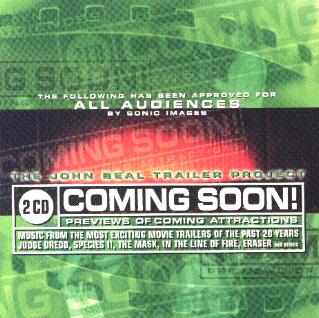 Hats off for the most surprising concept album in ages. This is a true soundtrack collector's gem find. I wish I had a penny for every time I've been asked or seen it asked as to what music was used for a film trailer. On two discs you get 69 answers. Half of each answer is the name John Beal, who has recorded over 500 in the last 14 years. It must have been quite a job determining which cues to go with, but 7.5% is still a worthy result.
In approximately 2 minutes, Beal has the tall order of selling a picture as the must see event of your life. Most of the time he also has to do it within the style of a pre-selected temp score. It is therefore fully appreciated that the composer should include this dedication: "To the composers whose work I am hired to emulate, I am awed by what you create, and am blessed to have the opportunity to study your work. I hope you always feel I have treated your inspiration with respect and dignity." In fact, the CD's booklet is brimming with thanks and acknowledgements.
"The Cutthroat" thanks Joseph LoDuca for Army of Darkness in the Cutthroat Island trailer. Robert Folk gets a nod for the re-working of Toy Soldiers into "Schooltie" (for School Ties). The cue for Heathers thanks the composer of Beetle Juice in a slightly more amusing fashion, by calling the cue "Three Blind Elfmen".
Humour is really the key to 'getting' this album. Everything about it maintains that it is put together with a fun outcome in mind. So many of the cue titles raise a smile: "Beal's Con Theory" (Conspiracy Theory), "Lyle / Ennio / I'm Not Hoffa" (Quiz Show), "Unmarried White Woman" (Single White Female), "Beal's Volcanic" (Volcano), "Ocean Song" (Titanic). With that last cue, an interesting part of the album is raised. Inside the booklet the actual 'Used For' credit reads "Demo for a film trailer about a shipboard romance". On the CD's back cover, 52 of the features are listed alphabetically. Some of them are alluded to in the same way as Titanic is inside, but why is unclear. It all adds to an enjoyable game of determining the origins of many of the cues, and because there are so many, I have decided to present something a little different. What follows is a list of the stand-out elaborations. (I would welcome being contacted with additions.)
DISC ONE:
1 BLACK BEAUTY - GETTYSBURG / CLIFFHANGER
5 BLACK RAIN - THE ABYSS
8 CHAPLIN - THE ROCKETEER
9 CONSPIRACY THEORY - SE7EN (Nine Inch Nails)
12 CUTTHROAT ISLAND - ARMY OF DARKNESS
14 DEADLY BLESSING - THE OMEN / NEEDFUL THINGS
20 HAM'S PROLOGUE & EPILOGUE - BORN ON THE 4TH OF JULY
21 HEATHERS - BEETLE JUICE
22 HUNT FOR RED OCTOBER - ROBOCOP
32 LAST OF THE DOGMEN - DANCES WITH WOLVES / HUNT FOR RED OCTOBER
DISC TWO:
5 MIRACLE ON 34TH STREET - EDWARD SCISSORHANDS
10 I'LL ALWAYS FALL IN LOVE WITH LOVE (Haven't worked out title !) - ENYA (Caribbean Blue)
11 PAGEMASTER - THE ROCKETEER / FAR AND AWAY
13 POLICE ACADEMY - THE GREAT ESCAPE
14 QUIZ SHOW - THE UNTOUCHABLES
16 SCHOOL TIES - TOY SOLDIERS
17 SINGLE WHITE FEMALE - COMMANDO
22 SPECIES II - CLOSE ENCOUNTERS OF THE THIRD KIND
27 THE MASK - PEE-WEE'S BIG ADVENTURE
30 TITANIC - ENYA (Book of Days used in FAR & AWAY)
32 UNDER SIEGE II - THE USUAL SUSPECTS / HUNT FOR RED OCTOBER
33 V I WARSHAWSKI - BEVERLY HILLS COP
34 VOLCANO - ALIENS
35 WHITE WATER SUMMER - STREETHAWK (TV)
Not wishing this review to merely function as a re-worked credits list, I must mention what I assume to be Beal's own material -a quite beautiful orchestral piece called "Karen's Love Theme" which graces the second disc. One assumes this to be the same lady Beal dedicates the album to, and who sadly passed on earlier this year. There is also a funky disco groove to be found in "Skatetown USA Trailer / End Title", which apparently had glitter balls spinning with Carolyn Dennis' vocals.
Pretty much every conceivable musical genre is covered by the original and re-worked pieces. In all the scales must swing more toward synths having been used to save on time and money. Yet many of the temps used stem from electronic scores anyway. What a task it must be to find the appropriate samples. Although presumable for the re-recordings of Goldsmith's Judge Dredd trailer music and the Basic Instinct theme Beal would have had access to the scores.
There are some interesting conclusions to be drawn about the art of trailer making from what is on evidence. For example, the cue used for Ghost does not sound anything like a love story. It shows how a film can be pitched as one thing, only to be perceived as something else.
Another observation is how action trailers in the last few years have followed a format of pausing for the credits at the end then coming back for an explosion or shock visual (think of Twister and the flying truck). Several of Beal's cues here seem to have finished, then come back for a tail-end 'sting'. It is as predictable for those types of film now as either of the Mr Voice-over's dulcet tones
Since there is something of a randomness to the sequencing, it is conceivable that the constant shifting of styles may put some listeners off. The two options are either to re-programme, or select to played randomly. That would certainly add to the fun of the guessing game.
Reviewer
Paul Tonks

However Rob Barnett was not so impressed
This must surely be the equivalent of a vanity production. I would have never have thought that a 2 CD set of music written/adapted especially for movie trailers would have been issued. Next thing you know we will be getting boxed sets of music written especially for supermarkets, lifts and Sony Playstations (whoops too late - they are here already!). There can be little doubting the skills of John Beal which, if the blurb is anything to go by, are in great demand in the industry. The skill is in delivering many moods without noticeably disruptive gear changes all in the compass of two or three minutes or a lot shorter for TV promotions. The music, which I confess only to have sampled, comes at you thick and fast. Beal's command of styles is impressive. As to the music I am afraid I was not moved. At best this is for the avid (and I mean avid) collector or film memorabilia. That, I am afraid, is about it.
Reviewer
Robert Barnett

This review has given rise to some controversy. Our response may be read on the Bulletin Board
---
---
| | | |
| --- | --- | --- |
| John BEAL Zork Grand Inquisitor (1998) Music from the CCD-Interactive Adventure composed and performed by John Beal Opus Pocus Records OPM1004 30:44 | | |
| | | Promotional |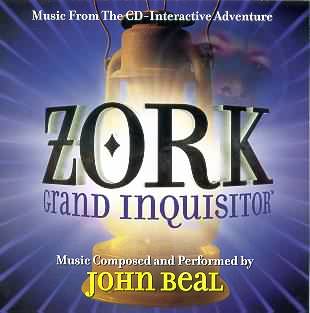 There seems to be a whole genre of music emerging from the buoyant market for computer games. As computer sound systems have become more capable so games and other programmes have taken up the challenge. Not so long ago I reviewed a specially written sound track for a PC game themed around The Lost World (Jurassic Park II). This one is the latest generation of the Zork games which have been around for a long time. In fact the original Zork must have been very primitive indeed by today's standards. It is however a classic game by all accounts.
I have not seen the present game but the music is not half bad. It is produced electonically using sampled sound although this was not immediately apparent to me such is the quality of synthesised sounds these days. Beal (whose collection of music for movie trailers left me feelingly decidedly depressed) here turns in a score which oozes sly humour. Pompous marches strut across the scene. Tribute is paid to John Williams' adventure scores - principally Indiana Jones. This score is a frolic through fantasy land. The music might just as easily suit a Terry Pratchett fantasy; just the right combination of dumb-monster humour and sword and sorcery. Worth hearing if you get a chance. The disc I have is marked 'for promotional use only'.
Reviewer
Rob Barnett

---
Debbie WISEMAN Every Note Paints A Picture The Locrian Ensemble GRAMOPHONE PUBLICATIONS LTD GCD1298B [60:04]
Only available on purchase of the December 1998 Gramophone £3.95. Gramophone Publications, 135 Greenford Road, Sudbury Hill, Harrow, HA1 3YD. Tel +44 (0)181 422 4562 Fax +44 (0)181 869 8400 e-mail: info@gramophone.co.uk
September 19th of this year was a rather special date in the calendar of UK film music enthusiasts. At the Purcell Room of The Royal Festival Hall, Debbie Wiseman conducted an evening of her music for film and television which demonstrated her skills as a composer on so many levels. Most appreciable was the fact that each piece had been re-orchestrated for the 16 piece Ensemble, many of whom had played on the original recordings. It is quite rare for a film music concert to be recorded, and so the efforts of Tony Faulkner and the Gramophone team (particularly Mark Walker) are to be applauded.
The resulting disc is a limited edition presented with the December issue of Gramophone magazine, which also features an in-depth interview with the composer as well as an extended focus on film music. Since the disc is doubled with a separate disc of classical tracks the all round package is a very respectable collectible.
Just to be different, this review will comment on the cues in reverse order. So first but last comes "Ballet Lemur"; an exclusive presentation of a theme from the BBC's Born To Be Wild: Operation Lemur which aired earlier in the year. This was a personal project for actor / comedian John Cleese who has a particular fondness for the Lemur. He makes a highly comical trek to seek out some of the animals introduced to the wild of Madagascar. In one memorable sequence, he explains nature's shortcomings by demonstrating how the animals move. In the trees they have a remarkable accuracy for jumping and landing between trunks. Man's encroachment into their habitat has cut great tracks through the forest, which means they often have to move at ground level. Here they have adopted an upright, sideways leaping gait. Following a group comes Cleese dressed as an English butler. The bizarre spectacle is accompanied by Debbie's ballet; an accelerating piece which plays to both their grace and undeniable cuteness. It propels dizzyingly to a crescendo that comes to a dramatic halt. The point of the programme being the hope that the animals will not do the same.
A short change of pace came penultimately in "Wild West" from the score to Wilde. At the opening of the film, we see Oscar giving a lecture about the music of Beethoven to some American miners. The scene sets a comic tone as an introduction to the great man's wit and eloquence, but is more comical for seeing his own amusement. When he announces that the composer is dead, one miner's response is "who shot him ?" The dusty outback is conveyed as much by the solo violin strains within Debbie's music as the sunset and scrub scenery. This stand-alone piece is appropriately light-hearted without being twee about our cousins across 'the pond'.
The extended suite from Haunted was one of the evening's brightest surprises, opening as it does with some quite unsettling effects from piano, solo violin, and a sustained suspenseful line from the remaining strings. It then leads in to a beautiful solo piano rendition of the film's main theme. By the time the remaining instruments have followed a solo violin's segue, the amassed emotion accumulated from the theme is as heartbreaking as music gets. If you are familiar with the film, the effect is yet more devastating. A sceptical supernatural investigator discovers a very personal truth which reverses all of his beliefs. The theme encapsulates the word 'loss' perfectly.
Should you find yourself in Tel Aviv for any reason, be sure to visit the Beth Hatefutsoth Museum. Their "Chronosphere" exhibit chronicles the history of the Jewish people, and features an extremely diverse score from Wiseman ("The Museum of the Diaspora"). The seven and a half minute extract here will have to suffice if you can't make it (!). An interesting observation occurred to this reviewer at the 1:10 mark, which is in a remarkable similarity to Jarre's Lawrence of Arabia. Knowing of the Jews mammoth trek across the desert to reach the promised land, one wonders if this was a subtle musical reference ?
A few chapters in the life of poet T.S. Eliot are covered by the film Tom & Viv; specifically the years of emotional upheaval with his wife "Vivvie" (a remarkable Miranda Richardson). The composer's score reflects the "moral insanity" she projects into the artist's life. Its strong leaning toward strings likewise project a very soulful mood. It is arguable that actor Willem Dafoe cannot help but present a long face, but somehow the music manages to stretch it even further ! (Sony Classical's release is all but impossible to find incidentally)
With The Dynasty: The Nehru-Ghandi Story, the aforementioned re-orchestration skills are most prominent. Original parts for tablas and Shenai are taken between the Ensemble, and yet still retain an appropriate ethnicity. India's first Prime Minister is followed by the series, intertwining his life with key figures such as Mahatma Ghandi. A brief main title theme on solo trumpet opens the (all too brief) cue, and reprises for a final touch of nobility as well.
Making this disc particularly collectible, is almost 19 minutes of music from the as yet unreleased Tom's Midnight Garden. This is an adaptation of Philippa Pearce's children's book about a very bored Tom Long entering and exploring a magical yet mysterious garden which appears whenever a grandfather clock strikes thirteen. This generous suite presents all the film's thematic material, including orchestral versions of the song "After Always" (sung by Barbara Dickson, lyrics by Don Black). Near everything suggests a bouncing childlike wonder, but there are also some pleasingly ambiguous phrases which are at the stage when we are uncertain whether the events are for good or bad. Already awarded a catalogue number (MPRCD011), an album on the MCI label will coincide with film's Easter 1999 release.
Lastly for this review, but opening the disc is Wilde. Released in the UK in October '97, it made it across the pond to the States for the Summer. Significant success and interest there led to Sonic Images repackaging a disc already made available on the British MCI label. Both are exquisite to look at, but feature the same track listing. I wanted to make this about face review to mention "Ballet Lemur" first, but mainly to wax lyrical about the phenomenal Wilde in summation.
Quite simply this is one of the most affecting film scores ever. A bold statement, but the music really does speak for itself. What is so wonderful is that after exposure to either of the full releases mentioned above, this Gramophone disc is so much more intimate for its pared down make up of instrumentation. The melancholy of Oscar's "love that dare not speak its name" is communicated on a very immediate level. If any one score (thus far) blatantly exhibits Wiseman's own poetical soul it is this.
A little inside trivia is imparted in telling you that the sequence of cues has been 'fudged' from the concert running order. A smoother play list has been created perhaps, but it is precisely the sort of collection for which the 'Random' button was invented. It matters not a bit. A slight shame is that financial concerns necessitated the exclusion of suites from The Good Guys and The Missing Postman - both British TV productions.
Reviewer Paul Tonks

---

COMPETITION WIN a CD of your Choice from Crotchet

Return to :
---