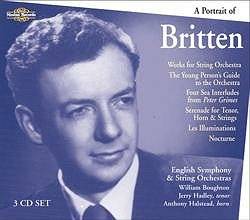 Purchase from MusicWeb for £16 postage paid World-wide
This is a useful Britten compendium. I would even go as far as saying that at its price, it could be the ideal starter pack for anyone ready to discover Britten in honest-to-goodness performances recorded with typical Nimbus spontaneity. My personal favorite is the disc devoted to string works, especially the performance of the Bridge Variations. Whilst not so luscious as Karajan's thrillingly sleek account with the Philharmonia (EMI/1953), Boughton's players delve deep into the heart of the matter and produce a wonderfully clear, crisp and clean sound. The somber Adagio is winningly done whilst the terrifying chants of the Funeral March are very well portrayed indeed.
The delightful 'Simple Symphony' is also quite disarming with playing that recalls the composers' own record with Decca so many years back. Particularly charming is the Sentimental Sarabande, seven minutes of pure romantic bliss, a winner every way. The short work on John Dowland's 'Lachrymae is also deeply felt and played and it is welcome as a first rate version of this rarely recorded work. Not so rare as the Prelude and Fugue for 18-part orchestra, a 'charming multi-personal birthday gift' as the dedicatee, Boyd Neel was want to describe it. William Boughton is a perfectly competent interpreter and he brings much beauty to the various solo parts, obviously the result of hard work to achieve the desired effects.
On we go to the orchestral works. The famous 'Four Sea Interludes' are full of fire and brimstone with a coldly evocative 'Dawn' and a thrillingly furious 'Storm', one can almost smell the salt water of the North Sea! Reminiscent beauty is the singular quality that affects the suite of English folksongs, A Time there Was'. Boughton's 'Cake and Ale' is remarkably pungent, a good Yorkshire mixture although the other movements suffer from occasional under-characterization.
Pomp and pageantry inform the Courtly dances from Gloriana, this is a good portrait of Britten's skill in creating ceremonious music of the highest order. Purcell's tune is completely transformed in those delightful variations of the 'Young Person's Guide to the Orchestra'. This remains a perennial favorite amongst all music lovers and it will suffice to state that Boughton and his players are remarkably persuasive advocates of an occasionally overplayed composition.
The third CD is dedicated to the famous vocal works. 'Les Illuminations' is positively impressionistic in concept but distinctly English in atmosphere. Jerry Hadley is capable enough but he does not bring the pathos and incomparable authority of Peter Pears to my mind. Of course, that would be a rather hard nut to crack, one cannot forget that Pears and Britten were like chalk and cheese. Boughton's accompaniments are occasionally foursquare but adequate nonetheless.
The same goes for the wonderful poetic beauty of the Serenade, I have recently heard Ian Bostridge in this work and he must be the best all round recommendation. This is not to say that Hadley is outclassed, rather his brasher way provides for an alternative view to an evergreen score. However one shudders to think of the authority that the legendary Dennis Brain brought to the horn part, although Anthony Halstead is a perfect exponent of the difficult horn role.
Finally, another rarity, the Nocturne, a work which Nicholas Williams calls the most Mahlerian of Britten's scores. Certainly there is a dark underlying tragic sense of intensity running through the work although this only appears fitfully, it is really true Britten. All seven soloists provide personally characteristic performances and this makes for a wonderful conclusion to this varied set. Indeed it takes its place alongside the Vaughan Williams and Elgar issues of late as the ideal low-budget introduction to Britten's outstanding and mystifying music.
Reviewer
Gerald Fenech
Performance:

Sound: