Two record companies dominate the UK market for Indian classical music. Navras has built up its extensive catalogue from live concert recordings, whereas Nimbus favours studio recordings, always presented with excellent documentation.
Nimbus has now produced an important book, The Raga Guide, its covers strengthened by the attachment of four full length CDs which survey 74 Hindustani ragas. It is an elegant and enormously attractive production, to which has been brought a wealth of scholarship and expertise in a project which dates back for one and a half decades before coming to fruition. Here you can find all the ragas you are ever likely to encounter in miniature performances on flute (Hariprasad Chaurasia, King of Indian masters of the keyless Indian flute), sarod (Buddadev DasGupta) and voice, the ascent-descent and melodic outlines of each rag transcribed in both western and Indian notation.



For me, the core of the enterprise is the raga Alhaiya bilavi, winningly sung by Shruti Sadolikar-Katkar in a four minute version and fully transcribed in its entirety; I have played it over many times with increasing pleasure and appreciation. For more complete edification, one might wish that others of the miniature performances had been transcribed similarly, rather than devoting so much space to the more esoteric background and to 40 (admittedly attractive) colour plates illustrating different rags.
Had the project been reviewed recently during its long gestation, a CD-Rom might well have been considered, to include help with the rhythmic basis of the compositions (talas) which in performance are accompanied by claps and waves of the right hand, without which they are hard to follow. If there is to be a second edition of The Raga Guide it may be hoped that the needs of ordinary music loving Westerners will be addressed more fully. Despite these reservations, it is excellent value and bound to give great pleasure and satisfaction.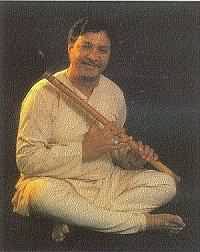 Hariprasad Chaurasia is the ideal exemplar of the derivation of Indian classical instrumental performance from its vocal basis. It is unbelievable what subtlety of expression can be obtained from so seemingly primitive an instrument as the key-less bamboo flute (bansuri),
Nimbus NI 5298 Rag Bhimpalasi

Buy through MusicWeb
for £12 postage paid World-wide.



& NI5527 Four Dhuns

Buy through MusicWeb
for £12 postage paid World-wide.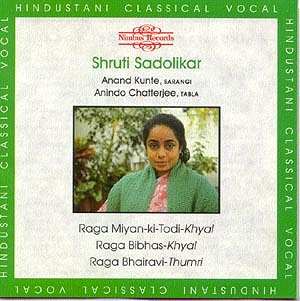 Shruti Sadolikar-Katkar's CD of three ragas in khyal and thumri styles is a delight, her fresh young voice conveying love and enthusiasm for the music
Nimbus NI 5346


Buy through MusicWeb
for £12 postage paid World-wide.
Peter Grahame Woolf
<!- 1 paste above here ->