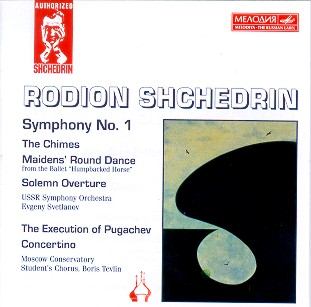 1. Symphony No. 1 (1958) 2. Concerto No. 2 for full orchestra The Chimes (1968) 3. Maidens' Round Dance from 'The Humpbacked Horse' (1956) 4. Solemn Overture (1982) 5. The Execution of Pugachov (1981) 6. Concertino (1982)1-4 USSRSO/Evgeny Svetlanov 5-6 Moscow Conservatory Students' Chorus/Boris Tevlin 6 Boys' Choir Moscow Chorus College/Lev Kantorovic recorded 1-2, 5 May 1975 Moscow Conservatory; 3-4 Moscow 1987; 5-6 Moscow 18 October 1983 BMG Melodiya 74321 60121 2 [71:14]
Shchedrin's international reputation was founded on the success of his arrangement of Bizet's music for Carmen as a 40 minute ballet (1967). The style is supercharged and the orchestra is made up of a massed body of virtuoso strings with a generous percussion section. Since this was first recorded by Rozhdestvensky for Melodiya it has been repeated by other Western orchestras. The ballet was written for his wife, the ballerina Maya Plisetskaya. He also wrote for her The Hump-Backed Horse (1960), Anna Karenina (1972 after Tolstoy), The Seagull (1980 after Chekhov) and The Lady With the Lapdog (1985 after Chekhov). Including the two operas Not Love Alone (1961 rev 1972 after Sergei Antonov) and Dead Souls (1977 after Gogol - recorded as part of BMG's Russian Opera series) this makes seven of his works which have been premiered at the Bolshoi.

His latest opera is Lolita (after Vladimir Nabokov) which was premiered in Stockholm conducted by Mstislav Rostropovich.

Shchedrin is a Muscovite by birth, born into religious family. His grandfather was a priest. Rodion's father was a composer and a professional violinist. Rodion attended the Moscow Conservatory where he studied with Yuri Shaporin (now there's another composer whose music I would like to hear - wasn't there a cantata recorded once - something about the defence of the Russian homeland?) and pianist Yakov Flier. From 1973 to 1990 he was chairman of the Russian Union of Composers founded by Shostakovich. This union was a counterpoise to the other union which was effectively the 'house' union for Soviet composers.

The Symphony No. 1 is a glowingly accomplished work of his student years. It opens with a heartbeat rhythm on cymbals. The first movement is dark and sour-toned, modernish but basically tonal. It presents far less of a listening challenge than, say, Hartmann or Frankel. There is a loftienss about the music which suggests a Symphony of the stratosphere. The occasional chesty cough indicates a concert performance. The pessimism is offset by a recurrent theme which sounds like a phrase from Lehár's 'You are My Heart's Delight'. There is a touch of Sibelius 5 in the magnificently blaring horn section. Beefy sound throughout and a gem of a finale - a confidently unleashed, gloriously sustained long melody which grows in stature with every pace it takes. The work ends with a reminiscence of the 'Lehár' tune. If you were looking for a British counterpart for this wonderful work then think about Malcolm Arnold's fifth symphony. Well worth exploring.

The Chimes is his Second Concerto for full orchestra. It was written for, commissioned and premiered by Leonard Bernstein with the New York PO. It's a work not merely of 1960s modernistic tendencies but of complete commitment to modernism. It is a work of cacophonous noise or chasmal silence. It cackles, snaps, slams and barks, howls and shouts like the very best Penderecki or Ligeti of the 1960s or 1970s. It is deeply unappealing to my ears. This is a concert performance complete with some coughing but no applause (presumably edited out).

The Maiden's Round Dance is a quiet and tender brief pavane. One can almost see the corps de ballet in circles of six dancing elegantly in small circles. This and the somewhat vapid clamorous Solemn Overture (obviously an occasional piece written in an accessible style) contrast with the exuberant avant-garde techniques of The Chimes.

The two choral pieces each play for about ten minutes. The first is a varied and enjoyable piece (taken purely as sound) much shaped by Russian Orthodox chants. The grim text (describing an execution) is set out in full in the booklet. The four movement Concertino is a work of similar attractions. I caught myself several times thinking of the Swingle Singers recordings from 1979 of French and British choral pieces. The singing is precise and powerful and the final movement bell evocations are memorable and the 'jet take off' finale is a testament to the power and virtuosity of this choir.

If you cannot run to all three discs do buy this one.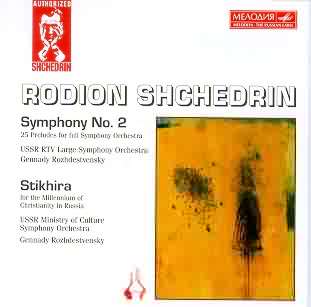 Symphony No. 2 25 Preludes for full symphony orchestra * Stikhira (1987) ** USSR RTV Large SO/Gennadi Rozhdestvensky * USSR Ministry of Culture SO/Gennadi Rozhdestvensky ** recorded Moscow * 1965 ** 1989 BMG Melodiya 74321 60122 2 [77:15]
The 55 minute symphony is a determinedly modernistic work with a Bergian approach to lyricism blended with a typically Russian style of clamant brass writing in moments of high climax. The structure is unusual and comprises, as the title suggests, 25 preludes. The notes point out that that many of these begin before the previous prelude has finished.

The work is banded into five tracks. Each track offers a group of preludes. Preludes 1-6 explore the extremes of the dynamic range but the impression left is somewhat arid and washed out. The second sequence (7-9) is difficult and opens with an episode which sounds genuinely like tuning up though fragments of themes do emerge from the chaos. The Third movement (preludes 10-14) has dynamism and is more approachable with the sounds of flocks of birds at 10.30 and becomes assertively tuneful. Track 4 (preludes 15-18) opens with a high whistle and warbling old-style horns. This is very haunting, superimposing Sibelian rustling strings over a flute bleakly calling and the french horn's watery warbling. The strings turn and revolve in a way similar to observing a hurricane from high above the earth. Track 5 at 5:20 has Chopin-lke pianistic moments alternating with with crashing chords. The work ends in echoing peace and shrieks from the horns finally resolving into long-held chords and the tinkle of the triangle piacevole.

A Stikhira is a religious poem set to music. This 25-minute 1987 piece has a soul relationship to Arvo Pärt's Cantus but rises to more passionate heights while at all times remaining rooted in the clouds of Orthodox chant. The piece is relatively easy to come to appreciate. It also features the breathiest flute playing I have ever heard (presumably notated as such in the score?). Bell tolling meets brass choirs calling out in Scriabinesque turmoil. There is even a touch of Hovhaness. The vacant hand-stilled bell noises at 18:00 add a pre-historic aura to a strange and mersmerising work.

In my copy of the disc there were two momentary breaks in the recording within the first five minutes of the piece.

As you will have noticed these two works are conducted by Rozhdestvensky, a man who during his all too brief tenure of the BBC Symphony Orchestra during the 1980s injected unpredictability into the repertoire (his Delius Song of the High Hills and Lokshin Symphony No 3 Kipling settings were highlights) and the performance style. The look of innocent joy in his eyes during a TV relay of Prokofiev's Chout spoke volumes for his priorities in music - a commitment to communication, born of his own absorbed unself-conscious pleasure in music and its sharing.

For many years there was a rift between the composer and the conductor. There are signs that this rift may be healed. I hope so.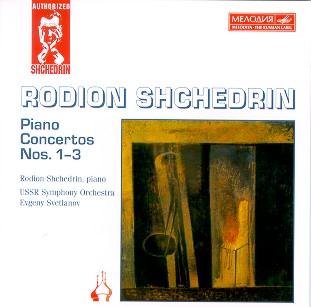 Piano Concerto No. 1 (1954) 23:16 Piano Concerto No. 2 (1966) 22:56 Piano Concerto No. 3 Variations and Theme (1973) 21:39 Rodion Shchedrin (piano) USSRSO/Evgeny Svetlanov Recorded live 5 May 1974, Grand Hall, Moscow Conservatoire BMG Melodiya 74321 36907-2 [68:06]
The present disc is taken from a landmark concert in Shchedrin's career. At this concert, later repeated in Leningrad and Kiev, he played all three concertos in sequence with brief interval between each. Three concertos ,of which the first is very accessible in a fresh-minted 'Rachmaninov-meets-Shostakovich' way. The other two are tougher meat and though alive with vitality and experiment are difficult nuts to crack. The first movement of No. 1 is wave-crashingly romantic, the second playful, the third moody like one of Bax's or Medtner's dark works for solo piano. The last movement is playful, a Gershwin-Rumba cocktail.

It is interesting that the composer seems almost apologetic about the first concerto the orchestral part of which he revised for this 1970s concert. The other two are as written in 1966 and 1971. They are atonal and, in the case of the third concerto, apparently use aleatory technique. The second and third were written against the tide of the times. That tide was not just a matter of fashion but one of dogma and political threat. The second emerged in the years when the Union of Soviet Composers condemned 12-tone music as an ideological problem rather than a legitimate choice available to composers. Shchedrin spoke out openly against the majority view at some risk to himself. Despite this the concerto was premiered by the composer with the Moscow RSO, Gennadi Rozhdestvensky conducting. Onik Sarkisov of Mravinsky's Leningrad PO was in the audience and, smitten with the work, it went with its composer as soloist on a world tour which took in Paris, Lyons, Geneva, Berne and Milan.

This international element has remained important. Shchedrin now divides his time between Moscow and Munich. In 1976 he became a corresponding member of the Bavarian Academy of Fine Arts. The second concerto is densely atonal but interest is kept alive by some explosive and seethingly active textures. There is a splash of jazz in the last movement over which Shostakovich-like elements roll like a tank. The jazz re-emerges with moments of Lionel Hampton sophistication. The ticking of the celestial clockwork clicks away. The three movements of the concerto are Dialogues, Improvisations and Contrasts. The work should not be forgotten by anyone compiling a programme celebrating 'jazz-meets classical'.

The Third concerto, which opens with bird shrieks, is an eighteen-minute set of variations with the theme announced after the variations in a three-minute sequence. The theme is a reference to the Diabelli Variations. After the cataclysmic howls, shrieks, mutterings and hammerings of the variations the theme emerges as the composer says 'like a broken vase' to form a unified whole from the whirling fragments of the preceding 18 minutes. Metallic 'whiplashes' close the work.

Applause is included after each of the three concertos. Otherwise the audience are, surprisingly, very quiet indeed.

Sound quality excellent. Notes by the composer are full and authoritative. They do not suffer from the usual problems of composer notes of being either too technical or taciturn. Sigrid Neef's additional background notes are excellent.

With the exception of the first concerto which is a pleasing and fresh work well worth hearing and bidding fair to partner Shostakovich's second piano concerto this disc did not tempt me to return.

| | | |
| --- | --- | --- |
| | | |
| | (for first piano concerto) | |

OVERVIEW

There are many more discs in the BMG Shchedrin authorized series and I hope to review others in due course. The 12-tone works leave me rather cold. The earlier works such as the first symphony and the first piano concerto are a different matter and I urge you to hear them. What a strange reversal. The freedom of the West during the 1960s and 1970s must have made the aleatory, atonal and 12 tone trends a 'forbidden fruit' attraction for the Russian composers. By the time they had secured some liberation and freedom from real threat the West had begun to cant back towards neo-romanticism of which minimalism is an aspect and which has bloomed in many more complex directions since then. Like all fashions and tastes things will change again.

As for Shchedrin, I feel convinced of his sincerity in writing music like the second symphony and the second and third piano concertos (there is a 4th now). It is my loss that I find much of them unyieldingly impregnable when it comes to delivering any enjoyment. Others will warm to them and they have been greeted with acclaim in many other quarters.

Reviewer

Rob Barnett