paid for
advertisements

<!- Forgotten to FEb 2023-->
FOGHORN Classics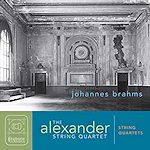 Brahms String Quartets

All Foghorn Reviews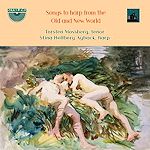 Songs to Harp from
the Old and New World

all Nimbus reviews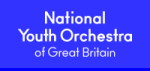 Follow us on Twitter
Editorial Board
MusicWeb International
Founding Editor
Rob Barnett
Editor in Chief
John Quinn
Contributing Editor
Ralph Moore
Webmaster
David Barker
Postmaster
Jonathan Woolf
MusicWeb Founder
Len Mullenger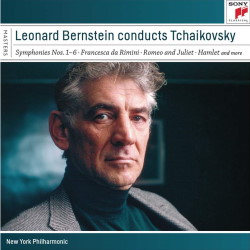 Support us financially by purchasing this from
Pyotr Ilyich TCHAIKOVSKY (1840-1893)
Symphony No.1 in G minor, Winter Daydreams, Op.13 [44:25]
Symphony No.2 in C minor, Little Russian, Op.17 [32:18]
Symphony No.3 in D, Polish, Op.29 [47:52]
Symphony No.4 in F minor, Op.36 [44:33]
Symphony No.5 in E minor, Op.64 [47:35]
Symphony No.6 in B minor, Pathétique, Op.74 [46:18]
Francesca da Rimini, Op.32 [24:36]
Marche slave, Op.31 [22:49]
1812, Op.49 [15:29]
Romeo and Juliet - fantasy overture [19:21]
Hamlet op.67 [19:06]
New York Philharmonic Orchestra/Leonard Bernstein
rec. 1957-70, ADD
SONY CLASSICAL 19439709652 [5 CDs: 349:41]

Whenever I think of the legacy of Leonard Bernstein's conducting, my mind is always drawn to his work with Gustav Mahler, as well as his championing of American composers. Less so is his work with Tchaikovsky - and yet Bernstein regularly performed and recorded the Russian's works more or less continually from the outset of his career right up until the end. What we have under review here then is a box set of five generously filled CDs of nearly all the recordings Bernstein made of Tchaikovsky's symphonic music with the New York Philharmonic Orchestra for CBS [now Sony] between 1957 and 1975, which neatly brings together the 6 symphonies with some of the most important symphonic poems and overtures. What is missing, apart from The Manfred Symphony (which I don't believe Bernstein ever conducted) and the concertos, is his first recording of the Fourth Symphony (from 1958) and the Capriccio Italien which Sony have already issued together separately. Readers should note that this box set has been issued before on 6 CDs (review) and this latest release is on bargain priced CDs, MP3, as well as FLAC. None of the mediums contain a booklet and the CDs are in the usual slimline cardboard box with paper envelopes.

It took me a little while to collect my thoughts with this set – the conductor's way with Tchaikovsky is certainly one of extremes. Maybe I should have known better, for my first encounter with Bernstein's Tchaikovsky was with his (in)famous late recording of the Pathétique which had a final movement stretched to nearly 18 minutes. To put that into perspective, most conductors take between 9 and 10 minutes with his movement – even Celibidache, usually someone you can rely on to be operating in a different time zone to everyone else, only takes 13 minutes! And yet that is the clue – if in that late recording everything is either 'slow', or 'slower still', or even 'unbelievably slow', similar extremes operate with alarming regularity throughout this box set. Too often the listener is presented with music making where it seems the conductor is looking at the score, taking each musical phrase and presenting it either in capital letters, triple-underlined, or with quadruple explanation marks – sometimes with all three at the same time.

The Fifth Symphony sees Bernstein at his baddest – running at just over 47 minutes; I obviously didn't think it was as slow as that DG Pathetique. Yet it was. As it was also the fastest. Sometimes even on the same page of the score, where one musical phrase virtually ground to a halt only to be immediately followed by the next accelerating away like a bat out of hell. On one level this is quite an interesting performance, since the listener is never quite sure what the conductor is going to do next – but if I want to listen to an 'interesting' Tchaikovsky Fifth Symphony, then I'd much rather be taking down from my shelves the recordings by Klemperer and the Philharmonia (grand and noble – review) or Rostropovich and the LPO (more sombre and reflective than usual) both EMI/Warner before Bernstein's. Heck, even Mengelberg's 1928 recording with the Concertgebouw, complete with a whopping great cut in the final movement (allegedly sanctioned by the composer's brother) is more coherent than anything here (review).

That recording was one of the earliest in the set from 1960, which shows Bernstein was almost always a very volatile interpreter of this composer. The Fourth Symphony was the last to be set down for CBS in 1975 and one does have to mention at this point the excellence of the remastering here by the Sony engineers to the extent that my ears didn't always immediately detect any changes to the quality of the sound despite the years in between, which is a vast improvement to the poor quality from the original LPs, as well as the badly managed transfers when these recordings were first issued on CDs back in the early 1990's on Sony's Royal Classics label. This performance of the Fourth does however see Bernstein slightly more disciplined than his younger, Fifth Symphony self, although you could argue that he couldn't have got any worse (he could have done – try Stokowski's recording of the work with the American Symphony Orchestra, simultaneously the most exciting and perverse reading of the score you will never want to hear again – review). However, whilst Bernstein is pretty conventional in the first movement of the Fourth Symphony and also quite exciting, his phrasing in the second movement is at best 'different', at worst 'mannered', plus the additional spurious cymbal clashes scattered around the final movement are both unnecessary and ugly. I'm not sure if this is recommendable at all.

And yet, Bernstein can also be quite good, even exceptionally so. With the above in mind, it is quite remarkable how much respect and affection he lavishes on the first two symphonies – these are no dutiful run-throughs to complete the cycle. Rather, if I was initially a little worried at the slightly 'treacly' treatment of the opening bars for flute and bassoon of the Winter Daydreams, I appreciated the gentle, even subtle, acceleration into the second subject taken at a more conventional pace. And it continues, with Bernstein relaxing more than usual during the more lyrical sections, drawing out the influence of Borodin that I've never noticed before. If the second movement is more Adagio than Andante, it still works, because of the warmth and affection of the playing really elevates it into something special. Taken on their own, these recordings of the Winter Daydreams and the Little Russian are actually very good by anybody's standards. The Polish is almost on the same level too, except the big bad Bernstein of old reappears in the final movement, pulling things around – he almost convinces on this occasion though and perhaps I'd been more forgiving had I not had my head in my hands earlier when listening to his version of the Fifth.

I left the Pathétique deliberately to last. This 1964 recording was actually Bernstein's second of the piece, an earlier one having been set down in 1953 with the NYPO again, albeit under their pseudonym of The New York Stadium Symphony Orchestra and has been released by Deutsche Grammophon on CD in 2018 in a box set titled The 1953 American Decca Recordings. That was a remarkably assured and fresh reading of the score, slightly broader in the central movements than the 1964 remake and tauter in the final movement. Both are very involving performances, but the later one does have one curio. During the lead up to the climax of the first movement's stormy central development section, just before the theme is taken up by the massed strings, there is a short section (starting at around bar 267 in the score) marked Pesante (ie heavy/ponderous) where Bernstein just cannot resist accelerating away, only to then slam on the breaks at the climax. It is there in 1953 albeit very slightly, but some 10 years later it's pedal to metal. Now you could argue there's a strange kind of logic here, going headlong into the abyss …. except it's contrary to what is written in the score and has the effect of jolting the listener about all over the place. The first time I heard it I wondered if a different take had been used and spliced into the recording by mistake – but no, a filmed version of the same conductor and orchestra performing the same work at the Sydney Opera House in 1974 shows this was intentional, as the same passage is performed in exactly the same way then as well. It even shows Bernstein's conducting at that point, the baton slashing through the air at a much faster speed than before and after. You may wonder why I am making such a fuss over such a small section of the score, but the answer is because the competition from other recordings with this work is absolutely formidable - Fricsay, Karajan, Mravinsky, Monteux (Boston/RCA), Gergiev, to name just a handful. If it wasn't for that one passage, I'd include this Bernstein too, but …

Perhaps the symphonic poems respond better to Bernstein's extreme way with this composer. In particular, in spite of some surprisingly scrappy orchestral playing, I very much enjoyed his account of Romeo and Juliet from 1957, the percussion brilliantly captured by the engineers for such an early recording. He also deserves great credit for the inclusion of Hamlet, which broods nicely and is almost the equal of Stokowski's famous rendition of the piece (review). The performance of Francesca from 1960 sits somewhere in between Bernstein's sensational account with the Israel PO and his super-indulgent-to-be-avoided later effort with the New York PO in 1989 (both DG), but isn't bad at all taken on its own right, as are the performances of Marche Slave and 1812, although be warned that the 1962 sonics for the latter have obviously been bettered since.

So overall then, a very mixed bag. All listeners should seek out that late recording of the Pathétique on Deutsche Grammophon (review), if only to be able to say they have heard the work in a performance that lasts only a minute short of an hour. To be fair, some of it works very well indeed at such tempi, but you may come away concluding like myself that you won't want to hear it again. The 1978 Francesca da Rimini with the Israel PO on DG is white hot, easily the equal of Mravinsky and Stokowski and probably shows Bernstein at his sensational best – a must hear, I would contend. From this box I will also be gratefully returning to the performances of the first two symphonies and Romeo, with a slightly regretful look at the Pathétique, very fine save for a moment of madness in the first movement. However, as a box set of Tchaikovsky's Symphonies it is too maddeningly inconsistent to be recommendable – for that, my current favourite would be Rostropovich's with the LPO on EMI, now Warner (review). I very much enjoy Rostropovich's way with the first three symphonies, marrying the impetuous grandeur of youth with a wonderful warmth and balletic grace, plus the set also includes an epic performance of The Manfred Symphony, decent ones of numbers Four and Six, plus a most interesting one of the Fifth. However, make no mistake – yes this Sony box set really does contain the good, bad and the ugly of Bernstein's Tchaikovsky, but every bar is alive with commitment and enthusiasm from one of the great orchestra-conductor partnerships of the last century and maybe for that alone it is cannot be easily overlooked.

Lee Denham


Recording details
Philharmonic Hall, NY, 20 Oct 1970 (1); 24 Oct 1967 (2); 10 Feb 1970 (3); 31 Oct 1960 (Francesca); 21 Jan 1963 (Marche); 2 Oct 1962 (1812); 19 Oct 1970 (Hamlet); Manhattan Center, NY, 28 Apr 1975 (4); 16 May 1960 (5); 11 Feb 1964 (6); Saint-George Hotel of Brooklyn, 13 Jan 1957 (Romeo and Juliet).

---
| | |
| --- | --- |
| | |
Donate and keep us afloat
New Releases


<!- cpo end March 2023 --> all cpo reviews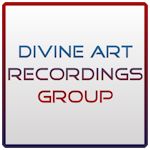 Click to see New Releases
Get 10% off using code musicweb10
All Divine Art reviews
<! apr 12 months Nov 22 - Oct 23 -->