paid for
advertisements

<!- Forgotten to FEb 2023-->
FOGHORN Classics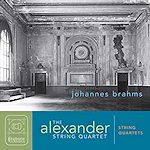 Brahms String Quartets

All Foghorn Reviews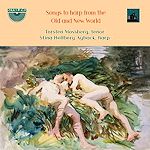 Songs to Harp from
the Old and New World

all Nimbus reviews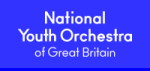 Follow us on Twitter
Editorial Board
MusicWeb International
Founding Editor
Rob Barnett
Editor in Chief
John Quinn
Contributing Editor
Ralph Moore
Webmaster
David Barker
Postmaster
Jonathan Woolf
MusicWeb Founder
Len Mullenger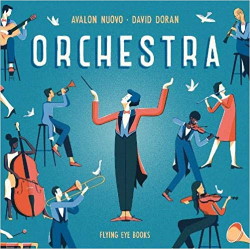 Support us financially by purchasing this from
Orchestra
by Avalon Nuovo, illustrated by David Doran
Published in 2019, 77 pp.
FLYING EYE BOOKS


Avalon Nuovo, the author of this book, was born and raised in Los Angeles. She went to school in Pasadena at the Art Centre College of Design and, after getting her BA in illustration, she moved to London to work on the Nobrow & Flying Eye Books editorial team. She now lives and works in Cambridge where she's a full-time freelance illustrator. Even though she is described as an illustrator in her bio online, Avalon Nuovo also writes and the present book, Orchestra, was penned by her. The illustration credits, in this instance, go to David Doran. According to his online CV, he is an award winning illustrator and lives in Falmouth, in the UK.

My first impression when I opened the pack with Orchestra was that it was a beautifully made book and, as I began to read it, that perception consolidated. Orchestra is a book for children aged, I'd say, between seven or eight to ten or eleven years old. It is not a story but an educational book and as such, a rather excellent one. It is written in a simple, clear, concise language that anyone (young or old) can easily understand. The book is organised in three parts, each with a different number of chapters. The first part – The Orchestra – explains, as the name indicates, the arrangement of an orchestra and its various sections, meaning the strings, the woodwinds, the brass and percussion, as well as other instruments that are not always present – for example the harp or a classical guitar. Additionally, it lists the instruments that form each section with a brief explanation to each of them, as well as isolating some instruments within each section to detail how they work and how the sound is created – E.g. the violin, the clarinet or the trumpet. It also dedicates a chapter to the acoustics in a concert hall and another to the Wiener Musikverein, considered by many experts as the hall with the greatest sound quality in the world. Everything is illustrated with care and detail. The images are attractive and immediately recognisable, with appealing colours.

Part Two of the book is dedicated to The Music and its Makers and, as you may have guessed, it talks about music and composers. There is a chapter about reading music and another about composing, followed by chapters dedicated to important and/or pioneering composers and, in some instances, also one of their works. We have, for example, Hildegard von Bingen; Vivaldi and The Four Seasons; Holst and The Planets, as well as Duke Ellington. The final chapter of this second part is entitled Hall of Fame and lists some significant and celebrated composers from the 18th through to the 21st Century, namely Mozart, Beethoven, Mendelssohn, Ethel Smyth, William Grant Still and Michel Legrand. Each comes with a brief biography and why they were important. There isn't an explanation from the author, Avalon Nuovo, as to what was the criteria when choosing the composers featured in Part Two of the book, which might perhaps have been appropriate as an Introduction? I certainly would like to find out, however the young audience at which this book is aimed will probably be less interested. Again each chapter is beautifully illustrated, especially the one about Vivaldi and The Four Seasons.

Part Three, entitled Beyond the Concert Hall was to me the most engaging section of this lovely book. The first chapter deals with the mythology of music – meaning that music has been at the heart of humans' myths and legends since we began to make it. This is followed by a chapter dedicated to Opera where it is explained what is an 'aria' and what is 'bel canto'. The only opera mentioned is Bizet's Carmen, possibly as it's one of the most famous. Almost anyone will have heard of it whether one is into opera or not. The next chapter, called Orchestra and Dance, deals with music as the basis for dancing, specifically ballet. Here Tchaikovsky is justly named. The following two chapters explain the differences between composing for musical theatre (where Bernstein's West Side Story is rightfully mentioned) and cinema plus what makes a good film score and how it works. John Williams is deservedly named here, as well as some of the films, for which he wrote the music and that a young public is likely to have seen, such as Star Wars, E.T. or Harry Potter. The next chapter is about orchestra and technology, which makes sense as digital has become more and more part of our daily lives. The final chapter, Getting Involved, is clearly aimed at motivating children to learn music and make them understand how much fun it can be. This is followed by a glossary and an alphabetical index. This final part of the book is, as the previous two, handsomely illustrated, especially in the film music chapter where fans of the Jurassic Park series will appreciate the T-Rex roaring, alongside the trumpet player. In Getting Involved the variety and sheer fun of making music, as well as its all-inclusiv, uniting capacity is well depicted in the images – we can see a person on a wheelchair playing the flute, as well as people of all races. The final image below the alphabetical index is not only appropriate but also one that I particularly liked, with a row of musicians bowing to the audience's applause at the end of a concert, having flowers thrown at them as a token of appreciation. Rather fitting for the end of a book entitled Orchestra.

The book seems to be available as hardback only but then, any other format wouldn't do it justice. It can be bought at the retail price of £14.99 but one can also get it for £12.98 at Amazon.

I would strongly recommend this book to music teachers, as it will help them explain many things to children in a colourful, appealing and clear way. But not only. Any parent who wishes to motivate their children to learn music or, if the kids are already musically inclined, to get them to read about and understand what is an orchestra and how it works, should also buy this work. Orchestra is aimed at young readers and potential musicians of the future but adults, especially if they came to music late, will also find a lot to enjoy not only in its easy to understand, basic information for beginners, as well as in the artistic value of the lovely illustrations.

Orchestra is to my mind a delightful and informative book that will appeal to music beginners, no matter whether they're children or grown-ups. Avalon Nuovo and David Doran should be congratulated for the charming book they created and Flying Eye Books for publishing it. A real joy from beginning to end and what I think will make a splendid Christmas present for a young music fan.

Margarida Mota-Bull
Margarida writes more than just reviews, check it online at www.flowingprose.com/.

---
| | |
| --- | --- |
| | |
Donate and keep us afloat
New Releases


<!- cpo end March 2023 --> all cpo reviews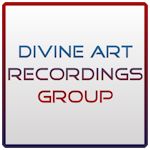 Click to see New Releases
Get 10% off using code musicweb10
All Divine Art reviews
<! apr 12 months Nov 22 - Oct 23 -->