paid for
advertisements

---
100th birthday of Mieczyslaw Weinberg on December 8, 2019.
Renate Eggbrecht has recorded all 3 violin Sonatas
All Troubadisc reviews
FOGHORN Classics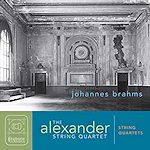 Brahms String Quartets

All Foghorn Reviews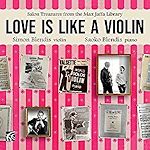 Salon Treasures from the Max Jaffa Library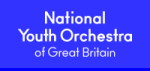 Follow us on Twitter
Editorial Board
MusicWeb International
Founding Editor
Rob Barnett
Editor in Chief
John Quinn
Contributing Editor
Ralph Moore
Seen & Heard
Editor Emeritus
Bill Kenny
MusicWeb Webmaster
David Barker
Postmaster
Jonathan Woolf
MusicWeb Founder
Len Mullenger
Discs for review may be sent to:
Jonathan Woolf
76 Lushes Road
Loughton
Essex IG10 3QB
United Kingdom

jonathan_woolf@yahoo.co.uk
---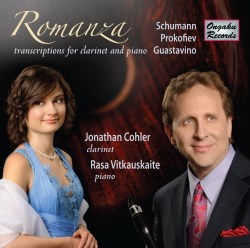 Support us financially by purchasing this from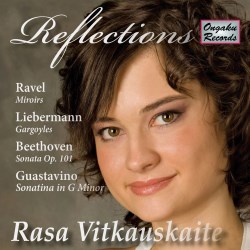 Support us financially by purchasing this from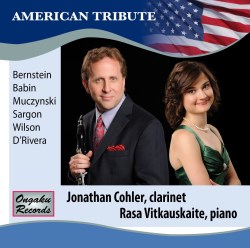 Support us financially by purchasing this from
Romanza - Transcriptions for clarinet and piano
Robert SCHUMANN (1810-1856)
Sonata No.1 in A Minor, Op.105 (1851) [18:30]
Three Romances, Op.94 (1849) [12:22]
Sergei PROKOFIEV (1891-1953)
Sonata in D Major, Op.94 (1943) [27:59]
Carlos GUASTAVINO (1912-2000)
Tonada y Cueca (1966) [7:01]
Las Presencias No.7 (1965) "Rosita Iglesias" [7:40]
Jonathan Cohler (clarinet); Rasa Vitkauskaite (piano)
rec. 2009, Rogers Center for the Arts, Merrimack College, North Andover, Massachusetts
ONGAKU RECORDS 024-123 [73:33]

Reflections
Maurice RAVEL (1875-1937)
Miroirs (1904-1905) [30:05]
Lowell LIEBERMANN (b.1961)
Gargoyles, Op.29 (1989) [11:37]
Ludwig van BEETHOVEN (1770-1827)
Piano Sonata 28 in A Major, Op.101 (1816) [21:43]
Carlos GUASTAVINO (1912-2000)
Sonatina in G Minor (1945) [9:27]
Rasa Vitkauskaite (piano)
rec. 2013, Rogers Center for the Arts, Merrimack College, North Andover, Massachusetts
ONGAKU RECORDS 024-124 [72:50]

American Tribute
Leonard BERNSTEIN (1918-1990)
Sonata (1942) [10:14]
Victor BABIN (1908-1972)
Hillandale Waltzes (1947) [11:50]
Robert MUCZYNSKI (1929-2010)
Time Pieces, Op.43 (1984) [16:03]
Simon SARGON (b.1938)
KlezMuzik (1995) [6:26]
Dana WILSON (b.1946)
Liquid Ebony (2003) [14:18]
Paquito D'RIVERA (b.1948)
Invitación al Danzón (2009) [5:50]
Vals Venezolano (1994) [2:08]
Contradanza (1994) [2:17]
Jonathan Cohler (clarinet); Rasa Vitkauskaite (piano)
rec. 2013, Rogers Center for the Arts, Merrimack College, North Andover, Massachusetts
ONGAKU RECORDS 024-125 [69:06]

The unifying link on these three discs is that each features pianist Rasa Vitkauskaite. On two of them she is joined by clarinettist Jonathan Cohler who professes his aim to marry "two desires: to play music that I love, and to expand my repertoire and the repertoire for the clarinet in general." In fact the transcriptions recorded on the first disc entitled Romanza already existed but perhaps are not so widely known as the original versions. For this reason alone the disc would have been welcome. Add to this the amazing ability that Jonathan Cohler has on his instrument plus a brilliant and sympathetic partner in the shape of Lithuanian pianist Rasa Vitkauskaite and this CD has a head start. The choice of repertoire may be unusual, mixing as it does the supreme romantic Robert Schumann with Prokofiev, stalwart leader of the "anti-romantic" movement. In fact it works wonderfully well since Prokofiev's sonata is anything but 'serious'; rather it is energetically light-hearted and full of high spirits. There are barely a few moments where a darker edge can be discerned.

It is curious to read that it is reported that Schumann was displeased with his Sonata No.1 in A Minor, Op.105 commenting "I did not like the first Sonata for Violin and Piano; so I wrote a second one, which I hope has turned out better." We can beg to differ and history has judged it much more kindly than Schumann himself. It was composed in four days and has such a fundamentally gorgeous flow to it that it could hardly fail to enthral in almost any combination of instruments. It will always feel at home as if originally composed for whatever it is being played on. I find that when a transcription is as successful as it is here it is difficult while listening to recall its original pairing. There is no doubt that had Schumann ever heard it played as here he would have thoroughly approved or even thought "Now why didn't I think of composing it for clarinet and piano myself?" The same goes for the Three Romances, Op.94 which date from 1849, an amazingly prolific year when almost forty new works poured from him. These short pieces are deliciously simple and affecting concoctions and numbers two and three will surely be immediately recognisable. Originally composed for either oboe and piano or violin and piano they again seem totally natural on clarinet. Schumann was torn in his early years between the twin loves of music and poetry; we are fortunate that music won out though his music embodies the poetic in so many ways that we have been left with the best of both worlds.

Prokofiev's lively and infectious Sonata in D Major, Op.94 was composed in 1943 and must have been received joyfully by a population in the Soviet Union hungry for any light relief in what was an exceedingly difficult time during the most terrifying war: 1943 was the year of the Battle of Stalingrad after which the tide was turned and the writing was on the wall for Nazi Germany. Once again the piece seems absolutely right on the clarinet and I enjoyed the extra richness of sound it gives over the thinner sound of the flute for which it was originally intended. Prokofiev's cheekily jaunty style reminded me of the clarinet's role in bringing to life the cat in his Peter and the Wolf. A master of melody Prokofiev's style is so immediately identifiable and his quirky sense of humour is in full display in this supremely satisfying work.

It is a neat way of closing this disc to have chosen yet another totally different composer. I am pleased to have been introduced to the music of Carlos Guastavino, an Argentinean from an Italian immigrant family. He wrote a fair amount for clarinet which was dedicated to a particular clarinettist who became a lifelong friend of the composer, one Luis Rossi. It was Rossi who requested permission to transcribe Guastavino's Rosita Iglesias the seventh of his collection entitled Las Presencias. The latter was composed for violin and piano and later arranged by the composer for viola and piano. I enjoyed this ravishing beautiful tuneful music. I also warmed to Guastavino especially when I read in the notes that he was shunned by many other composers at the time he was most active for being a "melodist" when atonal music was in vogue. His retort, with which I totally agree, was "I love melody, I love to sing. I refuse to compose music only intended to be discovered and understood by future generations." I am reminded how a similarly ridiculous attitude was prevalent in Britain at the time when the music that was preferred and promoted by the controllers of both the BBC Proms and BBC Radio's Third Programme was atonal to the point of pain for many listeners. These music dictators refused to entertain music from the likes of Bertold Goldschmidt and George Lloyd, the latter reduced to earning a living cultivating mushrooms. Guastavino's delightful folk-based little gems, the aforementioned Rosita Iglesias and before it Tonada y Cueca are as perfectly suited to the clarinet as, no doubt, they are to the original configurations. Tonada was originally intended for piano solo while Cueca was the final song of his cycle of Twelve Popular Songs for voice and piano. Guastavino combined and transcribed these songs especially for Luis Rossi following a request from Rossi, aged just 16 to write something for him. Guastavino responding in three days to the young man who had so impressed him just a year before. This is a truly lovely disc of overwhelmingly tuneful and superb music given a refreshing extra dimension in these brilliant transcriptions.

Moving on to the next catalogue number in this trio of discs we have the solo debut disc of Rasa Vitkauskaite given the title Reflections. For this launch of her solo recording career she has chosen well. She offers a good spread of composers from Beethoven to a living composer (Lowell Liebermann), starting with Ravel (died in 1937) and ending with Guastavino (see above) who died in 2000. Already an accomplished accompanist with Jonathan Cohler for over seven years Vitkauskaite has established an enviable reputation as an intelligent performer who injects insight into every note and whose phrasing is nigh on perfect. Those qualities are vital when it comes to interpreting the music of Ravel and particularly so when it concerns his set of piano pieces entitled Miroirs. When you listen to Une barque sur l'océan for example you can hear how precise her playing is and how it enables the notes to illustrate to perfection the watery nature embodied in the piece. It is breathtakingly beautiful and it is all you can do not to hear it again immediately rather than allowing the disc to progress to the next piece. However, all of them are just as ravishingly beautiful. Ravel's evocation of bells in his La vallée des cloches closes the work and proves a perfect vehicle for Ms Vitkauskaite's talent. On this hearing I'd love to hear her interpretations of Debussy's piano music for she certainly gets inside the impressionistic nature of Ravel's music so it seems logical to include some Debussy in a forthcoming disc.

The name of Lowell Liebermann is not well known but on the strength of this piece, one of his most often recorded works, he certainly should be. The New York Times described Liebermann as, "as much a traditionalist as an innovator" and listening you can understand why, His Gargoyles was commissioned by the Tcherepnin Society, for perhaps the best known of this musical dynasty, Alexander Tcherepnin could also be described in similar terms. This set of four pieces was given its title after its composition but one can readily see how the composer decided it would be an appropriate. It includes some manic passages that are surely highly demanding to play but which are here made to sound easy.

What could be more of a contrast to the generally simple and gently impressionist musical painting of Ravel's Miroirs and the demonic atmosphere created by Liebermann's Gargoyles than the total brilliance of Beethoven's writing? However, having established her credentials as soloist with the preceding two works the pianist here shows that she can voice every emotion and every state inferred from gentle lullaby-like phrasing to volcanic outbursts. I don't — because I can't — sit listening with the score in front of me to see if every quaver is accurately captured, rather I let my ears tell me whether the pace, the phrasing and the accuracy appears correct and pleasing. I don't own another account of this sonata that I would place above this one and I'd be as pleased to listen to it as to any of them.

To finish off we have another complete contrast with Guastavino's Sonatina in G Major, a beautifully measured work that wears its South American folk rhythms lightly yet unmistakably. It's a pleasure to hear. The pianist's notes explain how Guastavino was always in the shadow of his better known contemporaries Ginastera and Piazzolla. For me his writing is just as beguiling as that of Ginastera and far better than anything I've ever heard by Piazzolla who seems one-dimensional to me, rarely stepping outside his tango comfort zone. Once again Rasa Vitkauskaite has the composer and his intentions at the forefront of her mind and turns in a great interpretation of this vibrant and attractive work.

This is an extremely satisfying and thrillingly executed programme which should encounter no difficulties in finding its way onto the shelves of many music-lovers around the world. It is a well constructed and thoughtful programme that will educate as well as please any listener.

The final disc of the three is one where we return to Cohler and Vitkauskaite - this time for an American Tribute. Once again instead of concentrating solely on well known composers we have a disc where five of the six are anything but. I'd say it's also a tribute to both programmers and the record label for helping to educate the public — always something of a commercial risk. I take issue with parts of the opening statement in the notes from the performers about the status of the USA. That said, I am happy to acknowledge the incredible range of American music which is very much due to the melting pot of cultures that have contributed to its infinite variety. America's music is always exciting and full of self confidence which makes it so instantly attractive.

A perfect introduction to the disc is a piece by Leonard Bernstein who was as supreme a composer as he was a conductor. His Sonata from 1942 is a brilliantly effusive celebration and full of life just like its creator. It calls for amazing virtuosity on the part of the clarinettist which thankfully causes no problems whatsoever for Jonathan Cohler. Surely this work should be in the repertoire of every clarinettist.

Victor Babin composed few works but was very well known as one half of the piano duo with his wife Vitya Vronsky. They were celebrated for their interpretations of Rachmaninov who became a personal friend of theirs. Hillandale Waltzes was a gift to the woman who facilitated the creation of Hillandale, a suburb outside Washington D.C. comprising 14th century style Tuscan houses, as a retreat from the city. The waltzes are cleverly based upon a theme of German composer Johann Nepomuk Hummel (1778-1837), whose trumpet concerto is so well known. It is a theme and nine variations, each with a name (elegant, passionate, sad, flying) and finishing with a Valse oubliée (forgotten waltz) in which we hear a return of the original theme. The waltzes were written for clarinet and piano and have been published in an edition by the clarinet professor at Kent State University, Dennis Nygren. They are as delightful as they are varied and work wonderfully well for clarinet and piano, the clarinet providing a brilliant contrast to the piano.

Robert Muczynski of Polish and Slovak descent is another whose music is less well known than it ought to be and his show-stopping opener to his set of four Time Pieces proves a real test of a clarinettist's mettle. The reflective nature of the work's Andante espressivo is superbly expressed whilst the ensuing movement has a beautiful piano part that one would love to linger longer. The final piece opens with the clarinet playing alone, the piano waiting for almost two minutes before joining in and increasing the tempo. The infusion of jazzy rhythms in this and so many other American works is a feature that has almost become expected. American composers certainly know how to use the idiom successfully and their inclusion always seems perfectly natural.

Simon Sargon is another name new to me and his KlezMuzik is a delicious combination of all that is best in Klezmer but with a 'classical' edge. Sargon's background pinpoints the melting-pot nature of America which helps explain how incredibly rich and varied are its musical influences. He is of Indian and Israeli descent and is renowned for his contribution to the musical life of synagogues around the US. Klezmer is Jewish music that originated in Eastern Europe and which is particularly expressive of human emotions especially sadness and joy often replicating the human voice. This explains why the clarinet is a particularly important ingredient in this music.

Dana Wilson's piece Liquid Ebony also hints at Klezmer in amongst all kinds of other influences. This composer likes to draw upon musical traditions from around the world though this composition is rooted in Eastern Europe. As he explains, the clarinet has an almost unique ability to "express both exuberant joy and dark pathos ... both almost at once, moving with liquid grace from one to the other." The first two movements are quiet and reflective while the closer, is as Sargon describes it, "a Bulgarian romp amidst an ominous reality."

The final three pieces on this intriguing and highly enjoyable disc are by Cuban-born Paquito D'Rivera who draws upon the twin influences of jazz and rock 'n' roll as well the dance traditions of Latin America. The first of his three works here is the première recording of the clarinet and piano version of D'Rivera's Invitación al Danzón. The second, Vals Venezolana and the last piece Contradanza have been arranged for many different instruments, including flute, bassoon, clarinet, horn and saxophone each with piano accompaniment. These are effervescent celebrations of life and music — a perfect way to sign off this disc.

Jonathan Cohler and Rasa Vitkauskaite work so well together they almost sound joined at the musical hip. Each is a master of his and her chosen instrument. Once again as with the first disc reviewed here, Romanza, this disc is of a well thought out and thoroughly pleasing programme that introduces several new composers to listeners who will be encouraged to explore more of their works. The sound is crystal clear and perfectly balanced and the booklet notes are copious and extremely informative though as I've indicated such notes are not really the place for polemics proclaiming the superiority of one country over all others. That said the whole package in each case is first class and I have no hesitation in wholeheartedly welcoming these discs.

Steve Arloff

Editor's Note
Ongaku have asked me to bring the following to readers' attention. The inspiration and motivating force behind the American Tribute disc (Ongaku Records 024-125) are a response to the Boston Marathon bombings which took place in 2013. Mr. Cohler and Ms. Vitkauskaite dedicate the disc "to the memory of those who died and in support of those who were injured on that terrible day". $1 from each CD sold goes to the victims and their families.

---
| | |
| --- | --- |
| | |
Donate and keep us afloat
New Releases
<!- Bridge end Sept 2022 -->


<!- cpo end Sept 2022 --> all cpo reviews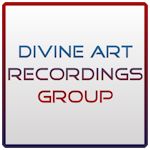 Click to see New Releases
Get 10% off using code musicweb10
All Divine Art reviews
Recordings of the Month
August 2022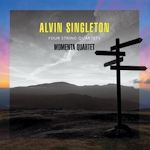 String Quartets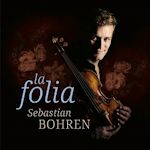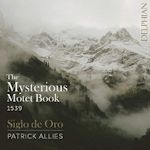 July 2022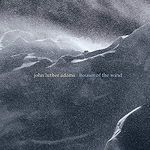 John Luther Adams
Houses of the Wind