If anyone was to suggest that a young lady born in the city of Hull called Ethel Liggins was to become one of the most talented musicians of her generation, one could be a little surprised. Call it prejudice if you like, but the fact remains it seems like a fairy tale. From a terrace house to conducting at the Hollywood Bowl within less that 40 years is a remarkable achievement by any standards. But there is more. She was not only a conductor but also a top class pianist once dubbed the 'Paderewski of Woman Pianists', a teacher who was in considerable demand and a composer of some merit as well. In fact, she was a complete musician. The strange thing is that very few people seem to have heard of her. For some reason she has been ignored by musical historians and recording artists. It is the purpose of this excellent book to try to remedy this default.

There are many people who should be interested in this book. The thing that led me towards Leginska was her compositions, not that I have heard any, but the tantalising information that she wrote a Fantasy for piano and orchestra, an opera based on Thackeray's The Rose and the Ring and fair number of songs and piano pieces. On top of this, there is a major symphonic poem Beyond the Fields We Know. It is an evocative title. Let us hope that one day it can be revived. Apart from those interested in her compositions, this book must appeal to students of the piano and the art of the conductor. And lastly, there is the feminist critique here too. Fundamentally, the history of Ethel Leginska revolves round the irony of a once-famous artist totally disappearing into oblivion in a world largely dominated by men.

There is no other biography of Ethel Leginska. Various references crop up in journals and on the Internet and there is a contemporary article in Woman's Work In Music by Arthur Elson and Everett E. Truette. Furthermore there are a host of references in newspapers such as the New York Times and the Christian Science Monitor. This present volume is a distillation and synthesis of much of this primary material and serves not only as a biography of Leginska but as a document that charts the musicological development of her times. It is doubtful if another biography will be undertaken in our day, but that would seem to be of little concern when presented with what is quite definitely a model of biographical writing.

A few brief notes on Ethel Leginska may be of interest to readers. As noted above Ethel Leginska was born Ethel Liggins in 1886 in Kingston-upon-Hull in the East Riding of Yorkshire, England. It was immediately clear to her parents that she was immensely talented and was playing the piano publicly from the age of six. She made her debut at the Queen's Hall in London in 1896, with works by Mendelssohn, Bach and Beethoven. In mid-1897 she entered the Hoch Conservatory of Music in Frankfurt, Germany, where she stayed for some years.

It was around this time [1899] that Lady Maud Warender, suggested that she change her last name from Liggins to Leginska. It was thought that a 'continental' sounding name would be of benefit to her career. She was to use that name for the reminder of her life. Leginska had further studies with Theodor Leschetizky in Vienna until she was seventeen or eighteen years old; The Broadbents point out that she was always a little hazy about dates.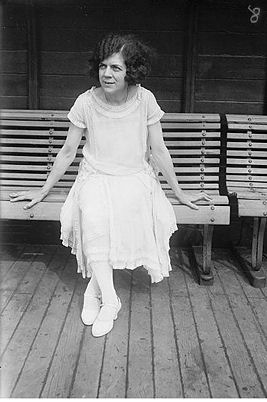 Ethel Leginska married the composer Roy Emerson Whithorne in 1907. In 1913 she made her debut recital at the New York Aeolian Hall where she played a concert of music by Beethoven, Liszt, Chopin and Brahms. The book gives a number of contemporary reviews of this event. But her repertoire covered a wide range of composers including Max Reger, Edward MacDowell, Carl Maria von Weber, Maurice Ravel and Cyril Scott.

Not content with an impressive career as a recitalist she studied composition with Ernest Bloch. She was later to undertake lessons in conducting with Eugene Goossens, Robert Heger and Genaro Papi. Over the years, she was to conduct a variety of major orchestra including the London Symphony, the Berlin Philharmonic, the Paris Conservatory and the New York Symphony Orchestra. In 1924, a reviewer in the National Zeitung insisted that "Leginska dominated the orchestra completely by the storm of her tremendous temperament and aroused the audience to tumultuous applause." Another in the Daily Telegraph suggested that she "conducts with freedom and élan, and her expressive gestures are eloquent of the effects at which she is aiming." These were typical of reviews at this time. Her career as a conductor was to last until 1957. An article on the internet suggests that she was "probably the first woman in musical history to be guest conductor of most of the world's major orchestras, and the first of her gender to be engaged as a grand opera conductor, in London, Salzburg, New York City, Boston and elsewhere".

Just before the outbreak of the Second World War Ethel Leginska settled in Los Angeles and concentrated on teaching. She was to die in that city in 1970.
The authors have presented the story of Leginska in largely chronological order - although not quite. They note that they have sometimes written chapters that consider various aspects of her career that were running concurrently. So, various topics such as Leginska as recording artist, her conducting, her teaching and her work as a recitalist are examined in separate chapters. Perhaps my one disappointment with this book is the relatively little discussion of her musical compositions. For example I could find little about her Symphonic Poem Beyond the Fields we Know. There is, however a good discussion of the Cradle Song, complete with a reprint of the music.

The main feature that immediately strikes the reader is the depth of research that has gone into this book. It has truly been a labour of love. The text is crammed full of information derived from a large number of reviews, articles and letters. There are literally dozens of illustrations presented on virtually every other page in this book. Most of these are fascinating and contribute to our understanding of the text. The photographs naturally include studies of Ethel Leginska, but often depict concert programmes, publicity shots, advertising posters and pictures of venues associated with the artist.

The documentation is impressive. For each chapter there are both footnotes and endnotes! The appendices are of great importance and interest. These include: details of Liggins family tree, a typical concert programme, a list of music played at here first season of concerts with the Boston Philharmonic Orchestra, and a comprehensive list of her compositions and her recordings.

Finally, there is a comprehensive index. The book itself is a solid production by the Heaton Press Limited of Stockport: it feels nice, is robust and has an attractive cover.

This volume fills a major gap in the history of both British and American music. It is a huge and important investigation into one of the forgotten great all-rounders of music.

It will fill the needs of all interested musicologists for many years to come. The book can be read as a biography - from cover to cover, or the reader can dip in to explore various themes and topics, although I do recommend a through-read. As noted above, it is an attractively presented and well-documented production that is certainly good value for money.

I do not imagine there will be a huge demand for this text, which is a pity, for it is really a model of its kind. However I believe that it will be required reading for all those interested in women in music and for those who are particularly interested in performance history both in the United States of America and in Great Britain.

John France