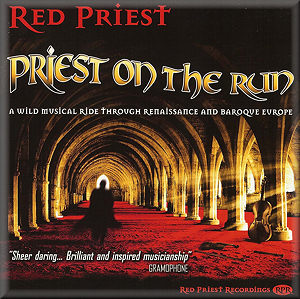 Red Priest – Priest on the Run

Dario CASTELLO

(c.1590-c.1630)

Sonata Terza (Book 2) [5:14]

Diego ORTIZ

(c.1510-c.1570)

Two Ricercadas [3:14]

Georg Phillip TELEMANN

(1681-1767) Gypsy

Sonata in A minor [9:40]

Fantasia fro viola da Gamba [4:42]

Luis De NARVÁEZ

(c.1500-1555)

Canción del Emperador [3:29]

ANONYMOUS

Renaissance Revels (Venice, 1551) [2:41]

Bartolomeo de SELMA E SALAVERDE

(1580-1640)

Canzona Prima [5:46]

Johann Heinrich SCHMELZER

(c.1620-1680)

The Cuckoo Sonata [4:31]

Marco UCCELLINI

(1610-1680)

La Bergamasca [3:08]

Henry PURCELL

(1659-1695)

Two in One upon a Ground [3:30]

Georg Frideric HANDEL

(1685-1759)

Op.2 No.1 - Aria Amoroso [2:58]

Maurizio CAZZATI

(c.1620–1677)/

Claudio MONTEVERDI

(1567-1643)

Zefiro's Ground [3:52]

Antonio VIVALDI

(1678-1741)

Concerto in D major RV92 [9:59]

Red Priest (Piers Adams (recorders); Julia Bishop (violin); Angela East (cello); Julian Rhodes (harpsichord))

rec. Forde Abbey, Somerset, March 1998 

RED PRIEST RECORDINGS RP001

[63:09]

The slew of Red Priest's recordings originally issued on Dorian has now reappeared on its own label. The artwork is thoroughly revamped, with emphasis on the bold and eye catching. And as this disc also shows, Red Priest has a taste for thematic revamping as much as textual working; some of the works here have had their titles sexed up the better to play the group's trump card – fizzing articulation, devilishly fast speeds, interpolations from other musics, ribald and raucous vocalising and the occasional fade ending. This disc was their first, and it's the only one to feature the original line up, harpsichordist Julian Rhodes having died tragically young at thirty-six. 

The disc's title is an amusing narrative device to take us from locale to locale, to cover national and geographic ground. And of course with this group the vivid playing invariably sparks excitement and engagement. Castello's Sonata is for instance a vortex of powerful contrasts in tempo and accentuation with Julia Bishop brandishing a fizzingly fast bow and fingers whilst the virtuoso and eminence grise of the group, recorder player Piers Adams, articulates with such pin point accuracy that it raises the hair shirt on one's back. Too quick? Well, yes, almost certainly but breathless excitement is guaranteed.

Angela East plays warmly in Diego Ortiz's Two Ricercadas where we find Rhodes announcing the second piece with energizing idiosyncrasy. She also takes centre stage in the Telemann Fantasia for viola da gamba. The so-called Gypsy sonata of Telemann is a study in vivacity and corresponding sensitivity with its finale in particular full of brilliant accelerandi, a Tzigane-like cadenza and celebratory shouts to end. The group feats on contrasts. We catch their genuinely expressive and restrained Narváez Canción and can appreciate that for all their aerial Cirque du Soleil vaunting they possess powerful sensitivity. Next they provide a Renaissance dance of earthy demotic power. And for all the turbo-charged accelerandos and vertiginous dynamics embedded in their performance of the Canzona Prima of Bartolomeo de Selma e Salavede the element of sure sensitivity runs through it too, like a sub-stratum. The concluding Vivaldi Concerto – from which composer the group obviously takes its name – is a dazzlingly fast affair, with daemonic lurches.

It ends a recital that was recorded over a decade ago now but which launched the group on its genre-bending trajectory.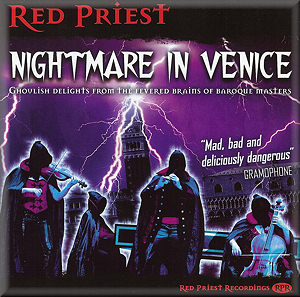 Nightmare in Venice


Antonio VIVALDI

(1678-1741)

The Nightmare Concerto (

La Notte

) in G minor RV439 [8:46]

Concerto grosso in A minor RV522 [9:50]




Robert JOHNSON

(1583-1633)

The Satyrs' Masque [2:29]

The Flatt Masque [1:58]

The Witches' Dance [1:54]




Nicholas LESTRANGE

(1603-1655)

The Furies [2:03]




Giovanni Paolo CIMA

(c.1570-1622)

Sonata a Tre in A minor [3:16]




Henry PURCELL

(1659-1695)

Suite from

The Fairy Queen

Prelude/Rondeau [4:28]

Fairy Dance [0:46]

Dance of the Savages [1:35]

Dance of the Followers of Night [2:52]

Chaconne [2:38]




Dario CASTELLO

(c.1590-c.1630)

Sonata Decima (Book 2) [5:26]




Jean-Marie LECLAIR

(1697-1764)

Scylla et Glaucus; Demon Airs 1-3 [4:56]

Simphonie [0:34]


Arcangelo CORELLI

(1653-1713)

Fantasy on Corelli's

La Folia

arranged by Red Priest

Red Priest (Piers Adams (recorders); Julia Bishop (violin); Angela East (cello); Howard Beach (harpsichord))

rec. Françoys-Bernier concert hall, Domaine Forget, Saint-Irénée, Québec, May 2001

RED PRIEST RECORDINGS RP002

[65.54]

Previously on Dorian DOR 90305 this is another of Red Priest's recordings to be reissued on their own distinctive and eye-poppingly lurid label. As with the re-release of Vivaldi's Four Seasons I came, I saw, I re-listened to all I written in my review and once again agreed with my perspicacity.

Red Priest, the Cirque du Soleil of baroque performance ensembles, is back. Their first CD, Priest on the Run, gave us thunder bestrewn Vivaldi, Handel, Purcell, Telemann and others - and now they reprise their namesake Vivaldi, as well as Purcell, but add an English Fantasy suite (principally Robert Johnson but also one piece by the little known Nicholas LeStrange) adding a dash of Castello and Cima, and a soupçon of Leclair. Their finale is an outrageous Fantasy on Corelli's La Folia in the version for recorder and continuo and one guaranteed to shake the very bones of those generations of departed violinists who essayed it in the original version in rather more - shall we say - genteel fashion.

Since that last CD Howard Beach has replaced Julian Rhodes who died, aged only thirty-seven, in 2001. Otherwise Piers Adams plays the recorders, Julia Bishop the violin (and some banshee wailing of which more below) and Angela East is the cellist. The rationale for this disc is the fantastic. The Nightmare Concerto of Vivaldi was originally written for flute or recorder and string orchestra and has been arranged by the group, as have other items here. Vivaldi's Concerto Grosso in A minor (from L'Estro Armonico) acts as the centrepiece of the recital, once more in a small ensemble reduction - though it hardly fits the bill in terms of the ghoulish schema Red Priest enact elsewhere. But it does act as a healing refuge at least from Cima's Sonata a Tre, written in the then current Stylus Phantasticus, and the other devilish goings-on in this characteristically dramatic production.

We are immediately plunged into the grotesquery of Vivaldi's La Notte in which virtuosity, finesse and crazed sonorities evoke the nocturnal phantasmagoria of a truly fervid imagination. The jagging, jutting and sawing are writ huge in this performance and my main concern centres on the sonorities in the Chase, the final movement, in which things seem to get rather overheated. The so-called English Fantasy Suite opens with Johnson's suitably devilish Satyr's Masque but also features an aspect of Red Priest's recorded performances to which I'm less sympathetic - the fade out ending (and it's not the only example). In LeStrange's The Furies Piers Adams unleashes a veritable torrent of dramatically vibrated flute playing; it's reminiscent in Red Priest's arrangement of South American pipe music and in The Witches' Dance we have a surfeit of Frank Zappa gnawing and gnarling string playing - which is contrasted with an elegant folk-like simplicity (topped by the hag-like wails of Julia Bishop). The inherent theatricality, the juxtaposed sonorities and stylistic clashes are all Red Priest's now accustomed province but some sensitive baroque ears will need a health warning before this disc is removed from the shrink wrap.

However Cimas's Sonata a Tre opens in sensitive fashion - desolate and full of feeling - the yelp at 2.30 is another side of the work's nature and maybe Red Priest's as well. The Concerto Grosso, a short three-movement work, begins with tasteful ebullience - these players have plenty of sensitivity when required and quite plainly considerable reserves of technical prowess as well - before some shimmering harpsichord playing launches Piers Adams' recorder. Howard Beach seems to thrum the harpsichord in the concluding Allegro - a kind of running water effect and delicious - over which first the skittering violin and then the expressive cello make their entries. They certainly don't stint the horror in the Dance of the Followers of Night from Purcell's The Fairy Queen - string bulges galore, recorder billowing. In Castello's Sonata Decima they seize on the potential for powerful contrast - lissom elegance and dramatic roistering sonorities - but the effect, to me anyway, is really rather pulverising. Red Priest have through long experience of baroque performance practice internalised such features as dramatic dynamic contrasts and giddying tempi and it is well within their capacity to detonate a work in this way. Whether it's to the advantage of the work is a moot point.

Still there's little denying the vivacious wit (albeit with thunderous cello accents) of Leclair's Demon Air No. 2 or the shuddering aerobatics of the Simphonie. Now about the Fantasy: the notes are cagey but this is what I hear, some of it at least. It opens by presenting the spine of the melody, then continues with crypto exchanging of twos (in jazz terms), overblown embouchure work on the recorder, a pause for the solemn appearance of the Elgar Cello Concerto (it's true folks), a slide so garish I suggest you listen with mufflers in a darkened room, some middle eastern cornucopia, a visit to sunset in Khartoum (I couldn't make it up - special bow for recorder and harpsichord), a Greek wedding dance, slapped bass à la Pops Foster (Angela East the cellistic culprit) and - bear with me, it's nearly over - a guest appearance by the ghost of Artie Shaw and his Gramercy Five (welcome back Johnny Guarnieri). Oh yes and flutter tonguing, Bach and some rapacious heavy rock. Well, it's not Arthur Grumiaux that's for sure. But that is Red Priest - entertaining, naughty, I'm not entirely sure I could live with it on disc but I'll be sure to be at their next concert.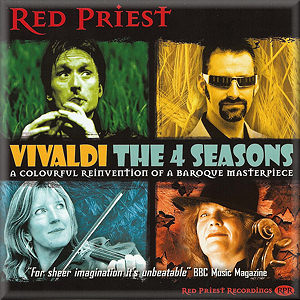 Antonio VIVALDI (1678-1741)
The Four Seasons (Le Quattro Stagioni) (1720) (arr. Red Priest) [39:15]
Arcangelo CORELLI (1653-1713)
The Christmas Concerto (Concerto grosso in G minor Op. 6 No. 8 Fatto per la Notte di Natale (arr. Red Priest) [11:16]
Red Priest (Piers Adams (recorders); Julia Bishop (violin); Angela East (cello); Howard Beach (harpsichord))
rec. Troy Savings Bank Music Hall, Troy, New York, January 2003
RED PRIEST RECORDINGS RP003 [50.33]
This is a re-issue. It was first released on Dorian DOR 90317 in which guise I first reviewed it and is now re-released on Red Priest's own distinctive, not to say eye catching label. Having listened again I find myself in the satisfactory position of agreeing with everything I wrote.
To the cry "Not another Four Seasons" should be added the rejoinder "Yes, but this is Red Priest's Four Seasons." This audacious ensemble - in my last review I called them the Cirque du Soleil of baroque performance groups - has recomposed the work in its own compositional image the better, they say, to shock us into recognising in the music the sheer novelty and drama that familiarity has long since bred out of it. The solo line therefore goes, usually, to Piers Adams' recorder in various pitches, including a modern alto recorder. Because Red Priest is a quartet they've abandoned the solo/tutti contrast and have gone instead for a chamber ensemble but have varied the line to promote sufficient contrast. The result is variously engaging, vexing and exciting.
Fabio Biondi and Alice Harnoncourt have in their violinistic way staked out the ground for radical reinterpretation of the Four Seasons in a supposedly historically informed way. Still, as we all know - or as we all should know - today's historically informed performance is tomorrow's fish and chip packet. When the first recording of the Four Seasons was made in Rome in 1942 by an orchestra under Bernardino Molinari doubtless they all thought it was an approximation of Vivaldian style and performance practice. So I have no axe to grind on the question of Red Priest's very individual reinvention. Their performance is less a Monet than a Jackson Pollock. Their birds in the Spring are pugnacious, the hoarse dog as explicit as a Turner sun, the shouted "hoy" in the Pastoral Dance a rusticity that lacks only peasant togs to complete the aural-visual axis on which this performance is predicated.
So, Red Priest being the mavericks they are, the barking dog reappears - I assume on the Franckian cyclical principle - in Summer and there the storm breaks with Miltonic flourish. In Autumn there are hints that the demon drink has got to the peasants even before the music has begun. The foursome characterise everything with a vigour bordering on mania; the hunt with its smacking great pizzicati is one instance and - hey - what a neat touch, a fade out ending at the end of the Allegro. Groovy.
The frost bit so hard in Winter that I doubted there was an Imperial grain of rosin on their baroque bows but then come the Largo and what do we have? Why, a Calypso-reggae guitar backbeat and a curvaceous solo violin line as sinuous and enticing as a bare foot bikini girl on a tropical beach. Sharp ears will note that the geographical influences extend from Club Tropicana and Barbados in a politically inclusive way to include touches of Roby Lakatos to whom Julia Bishop has undoubtedly been listening. If she hasn't been listening to him I'll send her a cheque for £50 and my compliments. And so to the very visualised icefalls of the concluding Allegro and a recording at once, I have to say, simultaneously sui generis and bananas.
It seems anti-climactic to note that the Corelli Christmas Concerto is almost a matter of rectitude by comparison. The first Adagio is flowing and sensitive and has a swinging Allegro section attached, the penultimate Allegro is brisk and brilliant and the Pastorale, well, it certainly has its share of Red Priest grotesquerie. Parental guidance stickers should have been supplied.
Obviously I can't make much of a conventional recommendation given the unconventional nature of the performances but as ever with Red Priest one is, rather like going down to the woods, in for a big surprise.
Red Priest – Pirates of the Baroque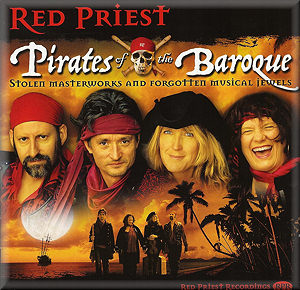 Jean-Marie LECLAIR (1697-1764)

Tambourin [2:22]


Giovanni Paulo SIMONETTI

Sonata in C minor Op.5 No.2

La Burrasca

[8:23]

Tomasso ALBINONI

(1671-1751)

Adagio adapted by

Remo GIAZOTTO

(1910-1998)

[8:05]

François COUPERIN

(1668-1733)

Suite; from Ordres as 'Pirates of the Baroque' assembled by Howard Beach [18:05]

Antonio VIVALDI

(1676-1741)

Concerto Grosso in D minor RV 565 [8:39]

Concerto in G major La Tempesta di Mare RV 433 [6:23]

Tomasso VITALI

(1665-1717)

Chaconne [8:38]

Giuseppe TARTINI

(1692-1770)

Senti Lo Mare [3:43]

Red Priest (Piers Adams (recorders); Julia Bishop (violin); Angela East (cello); Howard Beach (harpsichord))

rec. Champs Hill, nr Petworth, November 2006. DDD

RED PRIEST RECORDINGS RP004

[65:02]

Now that Red Priest has control of its own discs it can set sail boldly into the marketplace. The intrepid quartet has donned piratical garb for a full-on visual assault with only a cheekily tenuous connection with the legacy of Blackbeard and Henry Morgan and their confreres. Of the foursome only Howard Beach really looks menacing enough to shiver any timbers though I wouldn't mind being cooped up in the fo'c'sle with Julia Bishop.

Back on deck we have a programme to consider. It's the usual Red Priest ration of cheeky, jaw-dropping, sensitive and virtuosic pan-stylistic meta-display. Leclair's evergreen Tambourin is divided up between violin and recorder and that includes some skittering folkloric moments into the bargain. Simonetti's Sea Storm sonata blazes in this performance with powerful fervour and makes much of the strong internal contrasts. Albinoni's Adagio, here correctly co-attributed to Remo Giazotto, emerges RedPriested, starting out with a bass intro, adding some gypsy fiddle, hints of Tango Nuevo, and an especially passionate harpsichord run. This pottage works well for those who like the irreverence.

The centrepiece is a so-called Pirates of the Baroque suite, one actually complied from Couperin's Ordres by the piratical-looking Beach. This is enlivened by some disorderly moments – a raucous vocal blast of Why Do The Nations? for instance and canon shot, and a witty pay off drift to slumber. No peace for the wicked here when Red Priest is on the horizon.

Vivaldi's D minor Concerto Grosso moves from the desolate to the warm. Vitali's Chaconne is characteristically fluid and sonority packed, full of rich voicings and colour. For all the dynamics variations and theatrical devices, the seismic shifts of the articulation, ricocheting and vitalising, these are at heart four sensitive, technically highly accomplished musicians. They couldn't play with such pinpoint verve if they weren't. So I don't mind their interpolations – the hornpipe in Vivaldi's La Tempesta di Mare for instance; in fact it's often great fun.

Catch them in concert and on disc too; there's no one quite like them.

Jonathan Woolf