ART TRIBUTE TO ALUN HODDINOTT
The essence of renowned composer Alun Hoddinott and his music has been captured in an art installation to be sited at the entrance of the new home of the BBC National Orchestra and Chorus of Wales, Hoddinott Hall, also named in tribute to the composer who died last year.
The artwork was commissioned by BBC Wales, and co-ordinated and managed by public art consultancy Safle, with the intention of commemorating Hoddinott's life and work.
Artist Lubna Chowdhary won the commission with her design for a fascinating ceramic tile work which measures five metres in length and is based on the theme of a nocturne, a favourite mood of Hoddinott's.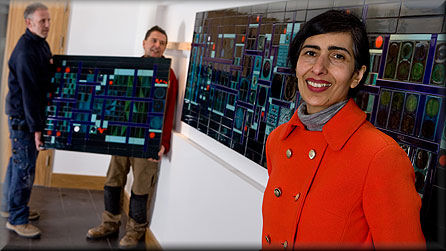 BBC Wales Controller Menna Richards, who was part of the commissioning panel, said the design was a striking representation of Hoddinott's life and work. "I think everyone who sees the artwork as they enter Hoddinott Hall will be fascinated by the way in which this special tribute reflects Alun Hoddinott's life and work," she said.
Hoddinott himself had a deep and lasting interest in, and was a keen collector of, modern art, so it was thought such a work would be more fitting than a standard bust to commemorate the composer.
Safle, whose mission is to promote, advocate, develop and implement art in the urban and rural public realm, throughout Wales and internationally, were delighted to co-ordinate and manage the work in partnership with BBC Wales. Safle's Executive Director, Wiard Sterk said, "It has been a pleasure for Safle to work with the accomplished ceramicist, Lubna Chowdhary and BBC Wales on such a distinctive and interesting project. Lubna's artwork has an elegance and depth, which befits its location and the memory of Alun Hoddinott. I'm sure it will be admired by audiences entering Hoddinott Hall."
Hoddinott enjoyed a long relationship with the Orchestra, who will be celebrating the opening of their new home, at Cardiff's Wales Millennium Centre, with a series of concerts this month.
David Murray, Director for the BBC National Orchestra of Wales, said, "It is wonderful to complete the public entrance to BBC Hoddinott Hall with a specially commissioned artwork inspired by Alun's music. Lubna Chowdhary, a ceramicist of real distinction, has concentrated on the brooding Celtic qualities of Hoddinott's music with a multi-layered work of richness and depth."
Editor's Note
Lubna Chowdhary describes her work:
Theme: The theme of the nocturne was the inspiration for the design as this was a favourite mood of Hoddinott's and this has informed the palette (of mainly blue) used in the piece.
The composition emerges from a dark shadowy background. The palette is restrained, with low tonal contrasts but with recognisable sequences of pattern, overlaid occasionally with flashes of (a) richer (red) colour.
Structure: There is a strong linearity to the composition which aims to represent an unbroken musical span. The subtle symmetry of the piece makes reference to the palindrome structure which was a favoured device used in many of Hoddinott's works. The composition consists of two distinct layers which make reference to the distinctive characteristics of his work. A complex underlying textural layer representing the rich orchestral tapestry of his work is juxtaposed with an interjecting, angular, horizontal and vertical linear structure cutting through the texture along the length of the piece. The textural layer is composed of modular tile containing simple geometric shapes used in various arrangements, scales and tones to add a dimension of depth/volume.