Sylvie Bodorová – a compact biography by Jiri Štilec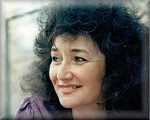 Sylvie Bodorová (born 1954) studied composition at the Janáček Academy in Brno and later as a post-graduate at the Music Academy in Prague. She continued her studies in Gdansk and Siena with Professor Franco Donatoni at the Academia Chigiana. From 1987 she regularly attended Ton de Leeuw's composition courses in Amsterdam. Her teaching honours include a spell at the Janáček Academy in Brno. In the 1990s she taught at CCM Cincinnati, Ohio where she was Composer-in-Residence in 1994-95 and 1995-96.
Her works have, since the early 1980s, been performed in all the continents, even in the Antarctic where her Homage to Columbus for guitar was heard in 1997. Concerto dei fiori for Violin and Strings was premiered at Prague Spring Festival that year. The following year it was heard in the USA and at the Pontes Festival in Prague.
She has received several competition prizes (Mannheim, Czech Radio Prague) and many prestigious commissions, amongst which is the 2001 Warwick Festival for the Piano Trio Megiddo. For the same festival she wrote the Terezin Ghetto Requiem for Baritone and String Quartet. This was for the Škampa Quartet in 1998. The Requiem was performed at Warwick and Leamington Festival in July 1998, at the Wigmore Hall in London in October 1998 and again in Warwick in July 1999. Other UK festival performances followed. There were appearances for the work in Berlin on 8 November 1999, in Halle, Theresienstadt, at the Prague Spring Festival 2000, and in Coventry and Huddersfield in November 2000.
Her Ama me for Baritone and Piano followed in 1999, a year that also saw two major works: The Concierto de Estío for Guitar and Orchestra for Buenos Aires and, for Bochum in Germany, the Saturnalia for Orchestra.
After the great success of the Terezín Ghetto Requiem the International Festival Prague Spring commissioned the oratorio Juda Maccabeus for performance in St. Vitus Cathedral in May 2002. It has also been given at the Litomyšl International Festival in June 2002.
In 2003 Sylvie Bodorová completed Mysterium druidum for Harp and Strings – a work commissioned by the Tucson Chamber Music Festival in the USA. She finished Silberwolke – Concerto for Violin, Viola and strings for Camerata Bern in August-September 2005. This has been performed in Bern and in Germany.
Her Piano Concerto was premiered in February 2006. This was written for the Prague Chamber Philharmonic Orchestra and pianist Martin Kasík. Štefan Margita and Gabriela Beňačková were behind the Song Cycle Slovak Songs and they recorded it in 2006. Amor tenet omnia is a cycle of choruses on the texts from Carmina burana. The premiere of this work took place in Luxembourg and France in August 2007. The oratorio Moses was commissioned by the International Litomyšl Smetana Festival and premiered in 2008. In 2009 she wrote Carmina lucemburgiana for strings. It was commissioned by the Luxembourg government through its Embassy in Prague.
Her worklist includes many compositions and arrangements for children. She is drawn to the music of Johann Sebastian Bach. A quotation from his choral Schmücke dich o liebe Seele appears at the end of Concerto dei fiori. Her tangy transcriptions of the Preludium in c major from the Wohl Temperiertes Klavier and of the Toccata d minor blend in gypsy and east European rhythms.
Sylvie Bodorová was a member of Quattro – a Group of prestigious Czech composers comprising Otmar Mácha (1922–2006), Luboš Fišer (1935–1999) and Zdeněk Lukáš (1928–2007).
She has been heavily involved in the restoration of the Gustav Mahler birthplace in Kaliště.