CLARENCE BARLOW  - Interview by Dominy Clements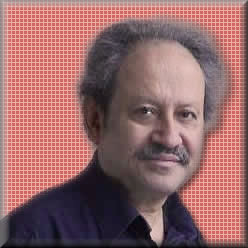 Clarence Barlow is one of those international figures who seem to relate the world as if it were a favourite marble in his jacket pocket. He seems familiar with and at ease just about everywhere, and it is never easy to predict where he may be found at any one time.
When I sent him an e-mail proposing this interview he very kindly phoned me - and just happened to be in Weimar at the time. With his origins in Calcutta, Clarence Barlow's impeccable English accent is part of his heritage from that part of the world, but also disguises his lengthy relationship with the culture of Germany. Having studied there with prominent and influential figures such as Karlheinz Stockhausen and Bernd Alois Zimmermann, he later worked intensively at Cologne Music University, lecturing on computer music. Being one of the earliest students at the Institute of Sonology in Utrecht in the 1970s, he also became its artistic director from 1990-94 after it had been moved to the Royal Conservatoire in The Hague, and remained there as a Professor of composition and sonology until 2006. He is now Head of Composition at the Music Department of the University of California at Santa Barbara.
DC. To start with, I am intrigued to know if there are any real differences between students in Europe, and those in California? My impression is that the social and even the physical landscape must have some effect. Is this true? And is there any way of describing how this is manifested?
CB. As a result of the decision of the US and Californian leadership, starting with Reagan, that education deserved a lower priority than before, I think it safe to say that my Californian graduate students compare well with the undergraduates I knew in Europe, the doctoral students at UCSB with my European graduates. Given that, the social and physical landscapes - quite independently of the government's stance - are very agreeable and don't seem to be linked in any way to the aforesaid. I also get along with my colleagues and my students famously and believe I can take their whole-hearted open-mindedness for granted.
DC. I know you are highly involved with and fascinated by the relationship of music with computers, and now you find yourself within a short drive of the famed Silicon Valley. Is this part of the reason for your move to California? Is technical progress any further there than elsewhere in the world?
CB. In The Hague I was able to resort to a highly knowledgeable Technical Department, thanks to its sonological history going back to Utrecht. Although we have in the UCSB Music Department a Centre for Reseach in Electronic Art Technology (CREATE) <http://www.create.ucsb.edu/create.php> and a nearby Media Arts and Technology Programme <http://www.mat.ucsb.edu/> in which I am an affiliate professor, I cannot help feeling that the facilities in The Hague offered more potential. However, the new research director of CREATE and I are looking into the possibilities of acquiring funding - the be all and end all in America - to pay students to develop software and hardware. They certainly seem to have the chops. The reason for my move to California was that the job offer in Santa Barbara coincided with the cancellation of my teaching job at Cologne Music University - I had started there in 1984 as a pioneer in computer music, having been the composer in Germany with the longest computer experience, but they now wanted me to stop teaching algorithmic composition and teach students how to use commercial software such as Sibelius, Finale and Max.
DC. As a 'conventional' composer I am intrigued by the research elements in computer generated or manipulated sounds and music, but have often in the past felt a weakness or difficulty in the link between fascinating nuance and coherent structure. In your teaching, how much emphasis do you place on the relationship between recognisable structure (or perhaps musical 'memory'), and how do you resolve the conflict (if any) between freedom of experiment and that of durability, substance of content and form - whatever one wants to call it?
CB. I have very frequently followed the thread "inspiration - imagination - development - realisation", meaning that a spontaneous compositional idea often gradually leads to concrete technical plans for its realisation. And if these plans involve sufficiently complex structures, the computer (which I learned to programme in 1971) could probably be useful. Now while the original idea contains the nuances you mentioned; the structure would in this case be computer-generated. If the programming was efficient, the nuances could be maintained by human performance. That's why many of my computer-generated pieces are for acoustic instruments played by people. Yet I believe that my electronic works are self-sufficient both on a formal level and in detail and do not lack musical nuance. In my teaching I stress the need for imaginative freedom and concurrently for musically convincing results. Conservative and traditional approaches do not find my support there.
DC. Another question which fascinates me is the emotional content in electronic music - both in terms of a kind of profundity, but also in terms of humour. This is of course a subjective matter, but for me some composers seem able to generate as much of an emotional response through the medium of electronics as through that of a symphony orchestra. How do you stand on this?
CB. In the early 1970s I was in a Cage-like phase where I said music could not be good or bad, only there. However, in the late 1970s, probably tiring of this stance, I adopted a more affirmative approach - for instance in my piece Çoğluotobüsişletmesi, in which I always delight, and at which I even marvel, even though it is the result of extremely stringent computer-implemented parametric control. And there is always the scope for humour, though comparatively few composers avail of this, both in electronic and acoustic music. When I listen to a piece of music, I go by the effect it has on me, without discriminating between the electronic and the acoustic. Bernd Alois Zimmermann's electronic work Tratto, for instance, is a very moving piece.
DC. The SACD recording of your piano music is truly excellent. Where there aspects of the production of the new CD which involved decisions and involvement from yourself, or do you prefer to rely on the engineers and producers of a recording? Is recording technology something which interests you in a creative sense, or do you see it as a means to an end?
CB. I was fortunate to be able to totally leave the technical recording aspects to the seasoned sound engineer Ingo Schmidt-Lucas. He also frequently made comments related to musical matters with which I could only concur. I imagine that once the composer has done his work, there are people out there - performers, sound engineers, producers etc. - who, given that they can relate to the music, are totally capable of taking over. This is conspicuous in the case of composers who are already dead. Nevertheless, Schmidt-Lucas and the performers did rely on and respond positively to several suggestions I made during the recording sessions concerning details of musical shaping.
DC. The 'binary code' of the player piano is clearly attractive to you. Is there a way you can describe your differences or similarities of approach between the medium of a piano roll or a computer programme?
CB. The player piano - as Nancarrow discovered a long time ago (and Cowell before him) - is capable of rendering complex musical structures unplayable by human hand. And that with real piano sound: though piano synthesis has vastly improved over the last twenty years, the physical sound of a piano in the room is far more compelling than a reproduction via even the best loudspeakers. Now piano rolls are generally used on older models of player pianos, incapable of generating more than mildly differentiated dynamics. Computer-driven player pianos are a different kettle of fish - much more subtle. Yet, a Los Angeles composer who owns a piano-roll player piano recently invited a number of composers including myself to send her computer files of player-piano pieces for punching onto rolls. The result was released a year ago as a CD, certainly not without charm. But it was probably her curation that was more interesting that the sound itself.
DC. I was, as they say, 'gobsmacked' by your Ludus Ragalis, but also surprised to read how much of your career these works span - starting in 1974 and being completed in 2006. Is there a sense in which these pieces have given you some sense of continuity through this period - both in the relationship between two cultures, and in the stylistic relationship between the first and last of the cycle?
CB. I must confess that I was more wrapped up in the seriousness of the project when it began - the later pieces feel lighter and at the same time more radical, elegant and mature (cf. No.13, composed in 2006). Yet - in spite of long gaps between the periods of composition (e.g. one from 1985 to 2002) - I sensed no difficulty in getting back into the mode and mood of linking the two cultures in exactly the same way as in 1974.
DC. As a continuation of this question, has your work taken the oft-predicted pattern - from youthful energy and virtuosity, to a more 'essential' approach? What are you working on at the moment?
CB. I believe I can observe the trend you mention in my work. Yet my 2006 ensemble piece "septima de facto" is by no means devoid of youthful energy and virtuosity. My next plans are for an 8-channel electronic piece, quite humorous in places, entitled "Las Palomas", based on the sound of a cooing pigeon and on Yradier's piece of almost the same name. After that, hopefully a string quartet, my third after a gap of 45 years.
DC. Do you actually enjoy travel? or is it a necessary evil - a by-product of your involvement in so many different centres and collectives of creative people?
CB. I do. Many travel routes were deliberate, the most spectacular and memorable in 1999-2000 from Germany through the British Isles, New England, Quebec, Illinois, California, Tahiti, New Caledonia, New Zealand, Australia, Thailand and India back to Germany. En route I recorded sounds which I used in a radio play ("Zero Crossing") broadcast by the West German Radio Cologne, videoed material I still hope to make into a film, and interviewed 20 composers on their feelings about the 20th and the 21st centuries. My travel plans for the future are blossoming. But it's nice to actually live in one place now, Santa Barbara; my constant commuting between Cologne, Amsterdam and The Hague became a bit tiresome (particularly the Dutch Railways bit between Amsterdam and The Hague) in the later of those sixteen years.
DC. With so much eclecticism and the blurring of boundaries between formerly well-defined areas of music today and in the recent past, is there anywhere we should be looking to: anyone or any place which is showing a strong individual direction in the field of new music?
CB. The time for centres of New Music is, I feel, (temporarily?) a thing of the past. What made Cologne so strong in the 1950s and 60s was the spirit of rebuilding after World War II, the feeling of collegiality between the composers of that time (comparable to the early 19th Century, sadly disappearing in the 1970s but reappearing in the 1990s among younger composers), and the then yet nonextant concept of New Music as a monetary source. I could imagine that the more creative of the younger composers of today, disgusted with the work of their immediate (and not so immediate) predecessors, might take a turn for the better, but it is difficult to say where or when.
Dominy Clements
February 2009