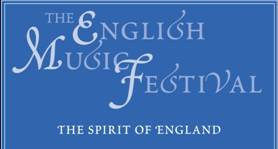 English Music Festival returns to Oxfordshire
The Third English Music Festival, Friday 22nd to Monday 25th May 2009
The English Music Festival (www.englishmusicfestival.org.uk) returns toOxfordshire this May with an exciting and wide-ranging programme of all-British compositions from Early Music to Festival Commissions, and a world premiere by no less a composer than Delius.
Building on the successes of the first two Festivals, held in and around Dorchester-on-Thames, EMF Founder-Director Em Marshall is bringing the EMF back to Oxfordshire from Friday 22nd to Monday 25th May 2009 (Whitsun Bank Holiday weekend).
A series of 14 concerts and recitals by world-class artists will showcase Britain's unique and diverse musical heritage, in historic locations such as the mediaeval Dorchester Abbey and the imposing Chapel and Silk Hall at Radley College.
The Festival opens on the evening of Friday 22nd May with a major concert in Dorchester Abbey performed by the highly-esteemed vocal ensemble Vox Musica and the Southbank Sinfonia Strings, which will showcase overlooked gems by composers such as Finzi, Vaughan Williams, Howells, Holst and Dyson.    
World premiere performance
The following evening, the BBC Concert Orchestra conducted by David Lloyd-Jones will perform the EMF-commissioned Festival Overture by Matthew Curtis.  Following on from this will be rare performances of Havergal Brian's Reverie, Elgar's Sanguine Fan, Vaughan Williams's Willow Wood – featuring baritone Jeremy Huw Williams – and Frederick Cliffe's Violin Concerto with acclaimed soloist Philippe Graffin. Some of these works have not seen performances in a hundred years. 
The programme concludes with the World Premiere concert performance of Delius's tone poem Hiawatha.
Informal late evening concerts are a favourite with concert-goers, and this year proves no exception, with the effervescent pianist and EMF regular David Owen Norris repeating his programme of infectious and toe-tapping Billy Mayerl.
By contrast, the exciting early music group, Joglaresa, will give a concert entitled Harp of Bones; a programme of mediaeval and traditional English song, "demonstrating concerns of life, love, and death that remain disturbingly contemporary", and which will provide an atmospheric end to Sunday evening.
The Canons Scholars, who proved so popular at last year's Festival, will perform works by Boyce, Eccles and Purcell (in the 350th anniversary year of his birth). "Audience members expressed their enjoyment at last year's concert by the group, which turned out to be one of the highlights of the event, so we are really looking forward to their return", adds Em Marshall.    
The final day opens in Dorchester Abbey and features international counter-tenor James Bowman, accompanied by Andrew Plant, in a programme of rare songs ranging from Purcell, Quilter and Britten to a song premier by the young and promising composer Tom Rose, written especially for this concert at the Festival. The programme will also include the haunting Return to Stromness by Peter Maxwell Davis.
As well as pre-concert talks, the EMF is pleased to be hosting a Seminar entitled "Is there a future for the British Choral Tradition?" where a panel including Hilary Davan Wetton, Brian Kay, James Bowman and Dr Andrew Plant will be discussing their experiences and thoughts on this topic.
The Festival concludes in style with the City of London Choir conducted by Hilary Davan Wetton performing Vaughan Williams's Mass in G, and Sun, Moon, Stars and Man, Foulds's Keltic Lament, Holst's Hymns from the Rig Veda, and Britten's Choral Dances from 'Gloriana'. 
"Holst was captivated by ancient Indian philosophy - he understood that this philosophical system had something deep and true to offer mankind, and he wrote a number of works that set Sanskrit texts, such as the Hymns from the Rig Veda.  Unhappy with the translations then available, Holst taught himself the Sanskrit language to enable him to produce more accurate translations of these great texts", comments Em Marshall.
Other highlights of this year's Festival will include David Owen Norris playing Lambert's dazzling Piano Sonata, as well as music by Quilter, Moeran, and Bax's second piano sonata.  The Bridge Quartet, on their return visit to the EMF, will perform String Quartets by Elgar and Rawsthorne and Bridge's Piano Quintet, with Michael Dussek on piano. Oxford Liedertafel, will perform English part-songs in the atmospheric surroundings of Radley College Chapel, and the Musicians of All Saints will present a programme including popular works by Parry, Bridge, Holst, Elgar and Ireland.
Festival provides ideal Whitsun break
Patrons may like to know that there is a designated shuttle bus which transfers concert-goers to venues in plenty of time for each concert, so there is no need to worry about finding venues or even the need to bring the car! There are many lovely places to stay and to eat in the area.
Tickets for the Festival go on sale this month. Full details are on the EMF website, www.englishmusicfestival.org.uk
For further information, please contact: Em Marshall, Managing & Artistic Director, The English Music Festival, 36 Forest Road, Kew, Richmond, Surrey TW9 3BZ. Tel 0203 274 1054 or 07808 473 889.
Email em.marshall@btinternet.com.  Website www.englishmusicfestival.org.uk
Press contacts: Karen-Lisa Fletcher 07973 175588 and Andy Smith 07737 271676.
Photos of the previous two English Music Festivals are available on request.