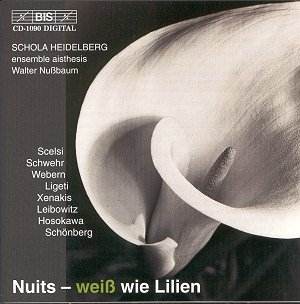 Schola Heidelberg;
ensemble aisthesis directed by Walter Nußbaum
Recorded SWR Karlsruhe, 2000


BIS-CD-1090 [69.55]
Crotchet AmazonUK AmazonUS
Amazon recommendations
Nuits - Weiß wie Lilien
Toshio HOSOKAWA
Ave Maria for mixed choir a cappella
Giacinto SCELSI
Tre canti sacri per 8 voci miste; TKRDG for 6 male voices, 3 percussionists and electrically amplified guitar.
Arnold SCHÖNBERG
De profundis (Psalm 130), Op.50b, for mixed choir a cappella.
René LEIBOWITZ
Two Settings, Op.71, for mixed chorus a cappella
Anton WEBERN
Drei Lieder, Op.18, for voice, clarinet and guitar; Zwei Lieder, Op.19, for mixed chorus, celesta, guitar, violin, clarinet and bass clarinet.
Cornelius SCHWEHR
deutsche tänze for 5 female voices.
Iannis XENAKIS
Nuits. Musique pour 12 voix mixtes.
György LIGETI
Lux úterna for mixed choir a cappellae.