Classical Editor: Rob Barnett Founder Len Mullenger: Len@musicweb-international.com
---

ENGLISH CELLO SONATAS
John FOULDS, Ernest WALKER, York BOWEN.
Jo Cole (cello), John Talbot (piano).
BMS423CD (81'10")

£13.49 Price include post/packing & air mail for International orders
Purchase link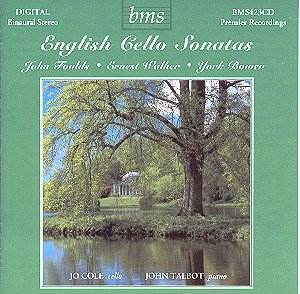 This BMS CD brings together cello sonatas by three neglected English composers born in that talented generation which produced Vaughan Williams, Holst, Bridge, Ireland and Bax. That their neglect is unwarranted is amply demonstrated by the quality of the music on this disc. All three works are superbly crafted and evince the great virtue of English music throughout the ages, a passionate, singing lyricism, something entirely appropriate to an instrument like the cello.
The cello was in fact JOHN FOULDS' own instrument, which he played professionally in the Hallé orchestra under Richter. His sonata was composed early in his career (1905) but was revised for publication in 1927. One wonders how much of the 1905 version remains, for it is remarkably radical for an English work of its period. Particularly memorable are the harp-like pizzicato arpeggios and bell-like pizzicato harmonics of the central Lento, and the use of quarter-tones. The latter are Foulds' first use of this device, and it must be admitted that, in the overall semi-tonal context of the work, they sound merely weird and out-of-tune. The final Molto brioso, with pounding pedal notes acting as punctuation throughout, is an impressively original structure, ending with a ground bass coda over which the main themes are reviewed with contrapuntal ingenuity. Foulds' own informative programme note is quoted in full in the accompanying booklet.
Manchester-born Foulds died in Calcutta in 1939; ERNEST WALKER was born in Bombay in 1870, but spent most of his life in Oxford. If he is remembered at all today, it is for his pioneering study, 'A History of Music in England' (1907), but throughout his career he wrote a considerable number of compositions, of which the Cello Sonata of 1914 is considered one of the finest. Though he lacks Foulds' imaginative, exploring mind, the work shows real, if unpretentious creativity. It is a well-balanced structure: a passionate first movement leads to a deeply calm Adagio, followed by a more light-hearted finale - as unbuttoned as a Brahms-admiring Oxford academic of his day would dare.
YORK BOWEN's sonata was written for Beatrice Harrison who gave the first performance with the composer in 1921. Of the three it is the most conventional, a 'musician's music', unlike the Foulds, where one feels that the composer has something more to say. The piano tends to dominate - Bowen was a virtuoso concert-pianist - and the writing in the first two movements is too extended for its musical matter, but the final Allegro con fuoco has a brilliance which only a puritan would deny.
The performances by Jo Cole and John Talbot are committed and musicianly, and BMS is to be congratulated yet again for making such rarities available on CD. The playing-time, at 81:10, is exceedingly generous. Indeed there is a warning on the label that this generosity could cause 'ejection difficulties' with older machines - an extremely disturbing-sounding situation. If it is of any comfort to others, my six-year-old machine had no problem.
Trevor Hold

Return to Index

Reviews from previous months
We welcome feedback on our reviews. Please use the Bulletin Board. Please paste in the first line of your comments the URL of the review to which you refer.This is the only part of MusicWeb for which you will have to register.

---

You can purchase CDs, tickets and musician's accessories and Save around 22% with these retailers: