PASSION FOR PIANO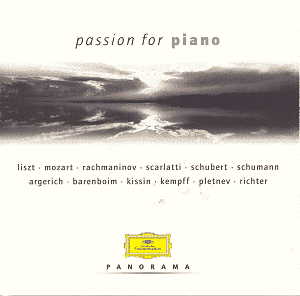 Joseph HAYDN
Sonata in D, Hob.XVI/37 (Christoph Eschenbach)
Franz LISZT
Liebestraum, S.541/3, Consolation, S.172/6 (Daniel Barenboim), Funérailles, S.173/7 (Mikhail Pletnev), Feux Follets, S.139/5, Harmonies du Soir, S.139/11 (Sviatoslav Richter), Hungarian Rhapsody no.2, S.244 (Roberto Szidon), La Campanella, S.140/3 (Jorge Bolet)
Felix MENDELSSOHN
Lieder ohne Worte, opp.67/4 & 62/6 (Daniel Barenboim)
Wolfgang Amadeus MOZART
Fantasia in d, K.397 (Wilhelm Kempff), Sonata in C, K.545,Rondo in D, K.485 (Christoph Eschenbach)
Francis POULENC
3 mouvements perpétuels, Toccata (Pascal Rogé)
Sergei PROKOFIEV
Visions fugitives, op.22/3, 6, 9 (Sviatoslav Richter)
Sergei RACHMANINOV
Prelude in c sharp. Op.3/2 (Lazar Berman), Prelude in g, op.23/5 (Sviatoslav Richter)
Maurice RAVEL
Alborada del Gracioso (Rudolf Firkusny)
Anton RUBINSTEIN
Melody in F, op.3/1 (Shura Cherkassky)
Domenico SCARLATTI
Sonatas in E, K.531, b, K.87, E,K.20 (Alexis Weissenberg)
Franz SCHUBERT
Impromptu in E flat, D.899/2, Moment musical in f,D.780/3 (Wilhelm Kempff)
Robert SCHUMANN
Arabeske, op.18 (Wilhelm Kempff), Vogel als Prophet, op.82/7 (Sviatoslav Richter), Träumerei, op.15/7 (Martha Argerich)
Alexander SCRIABIN
Etude in c sharp, op.42/5 (Yevgeny Kissin)
Christian SINDING
Rustle of Spring, op.32/3 (Joseph Cooper)
Piotr Ilych TCHAIKOVSKY
Dumka, op.59 (Vladimir Ashkenazy)
rec various locations 1950s-1990s


DG PANORAMA 469 232-2 [2 CDs: 78.38; 80.43]
Crotchet AmazonUK AmazonUS
Amazon recommendations
I try, when reviewing these compilations, to avoid the "fancy not including …" line, but a passion for piano which excludes Beethoven, Chopin, Debussy and Bartók, four composers who changed our perception of the instrument, is a little off-beat. Hoping to find that there was some kind of hidden agenda behind this I turned to the booklet notes but no, just sketchy, slightly gossipy comments on the pieces here and a chronology of the instrument which says less than any decent non-specialist encyclopaedia would tell you. Still, we get "Melody in F" and "Rustle of Spring", for this relief much thanks, but why no "Maiden's Prayer"? And then, I appreciate that, of the supremes, Rubinstein was not available because he recorded for other companies, but Horowitz and Michelangeli were and so, as you can see, was Joseph Cooper…
To take the title seriously for a moment, "Passion for Piano" conjures up an image of that old-style virtuoso dedicated first and foremost to his instrument, the colours, sounds and effects it could produce, and treating the music as a mere vehicle. One remembers names like Godowsky or Rosenthal, and, of the pianists here, it is Bolet and Cherkassky who in some degree maintained that tradition until recent times. Listen to Bolet relishing every note of "La Campanella", it is a scintillating display. Cherkassky deserved other material but at least the "Melody in F" finds him separating melody and accompaniment in a way we too seldom hear today. Pianists like Richter or Kempff were primarily fired by a "Passion for Music", but we can also hear their very real passion for the instrument through which they expressed their music. In Prokofiev and Schumann Richter delights in extracting a range of refined timbres while Rachmaninov and Liszt combine staggering virtuosity with thrilling musical effect. These are live recordings and seem to have been made in a rest-home for tubercular patients, yet such is the awe-inspiring power of the last climax of "Harmonies du Soir" that even they retreat into silence and allow him to play the following soft section almost undisturbed. Could I suggest that in future, coughers on live recordings should be identified and their names be published on the CD cover as a Roll of Shame (but no royalties to them, please)? Wilhelm Kempff was another kind of pianist, but again his Schubert, bluffer than expected (and rather clangingly recorded), exudes sheer enjoyment of what he is doing.
Pletnev's very good "Funérailles" pales into significance before the Richter performances but Szidon's Rhapsody holds up remarkably well between Richter
and Bolet. Berman and Kissin are effective without leaving a lasting impression and Argerich should have been allotted more space. Out of context her "Träumerei" is occasionally bumpy but remember this is, I swear, the hardest piece to bring off in the whole programme. Rogé presents his Poulenc pieces with a real sense of enjoyment.
Alexis Weissenberg has been an enigmatic and controversial presence on the concert platform for many years. His Scarlatti finds him seeking out a wide range of fascinating timbres. It is a wholly pianistic conception of the music but an absorbingly fine one. Another pianist not quite in the mainstream was Rudolf Firkusny - a "pianist's pianist" who never quite reached the masses. Impossible to say from one piece if this was justified, but this "Alborada" is as fine as any I know, a riot of rhythm and colour, safer technically than Gieseking's and without the desperate (in my view inappropriate) intensity of poor dying Lipatti's manic version.
Joseph Cooper expressed his "Passion for Music" in another way still. Maybe conscious of his limitations as a straightforward concert pianist he had a great gift for communicating with those who "don't like music but like the sound it makes" (Beecham's quip). Musicians may smirk at memories of his quiz-show "Face the Music" and its hidden melodies, but it made many a convert to classical music. He had a courteous way with middle-aged ladies and no doubt they loved to hear him play "Rustle of Spring". Alas, in the cold light of this CD it is metronomical and heavy-fisted.
Some of the pianists here have increasingly expressed their "Passion of Music" via conducting. Is it pure chance that they make a generally poor impression here? Eschenbach is tough and graceless in Haydn, and no more than correct in Mozart. Barenboim seems rather condescending towards Liszt, his off-hand manner revealing a banality which is perhaps more his than Liszt's. He is better in Mendelssohn but his "Bee's Wedding" (here called "Spinning Song", after its German nickname) is an angry swarm at times and in Spring Song he uses less pedal than we usually hear. This could have been interesting had he obtained a more singing melody line and more delicate grace-notes in the harp-like accompaniment. However, Ashkenazy finishes the programme in fine style, taking what at times seems an orchestral piece written for the piano and bringing it off triumphantly.
The recordings date from 1957 (the Richter "Prophet Bird") to 1998 (Pletnev) so there is obviously a degree of variation. Despite the perplexing programme a good deal of fine playing is to be heard here.
Christopher Howell