THE VOX YEARS: THE YOUNG BRENDEL
SPECIAL COLLECTOR'S 6 CD SET
CD 1
HAYDN Joseph
Piano Concerto in D, Hob.XVIII/11 (1)
MOZART Wolfgang Amadeus
Rondo in D, K.382 (2); Piano Concerto no.27 in B flat, K.595 (3)
Alfred Brendel (pianoforte), Vienna Chamber Orchestra (1), Vienna Volksoper Orchestra (2), Vienna Pro Musica Orchestra (3)/Paul Angerer
Recorded 1961-1963 [61.03]
CD 2
BEETHOVEN Ludwig van
Sonata no.26 in E flat, op.81a - "Les Adieux"; Sonata no.17 in d, op.31/2 - "Tempest"; Sonata no.30in E, op.109; 11 Bagatelles, op.119; Variations on "Kind willst du ruhigschlafen", WoO 75
Alfred Brendel (pianoforte)
Recorded 1961-1964 [79.54]
CD 3
BEETHOVEN Ludwig vanFantasy in g, op.77; 15 Variations with Fugue on a Theme from "Prometheus", op.35 - "Eroica"; Rondo in G, op.51/2; Quintet for Piano and Wind in E flat, op.16 (1); Rondo in E flat (2)
Alfred Brendel (pianoforte), Members of the Hungarian Quintet (1); Vienna Volksoper Orchestra/Wilfried Boettcher (2)
Recorded 1961-1966 [78.51]
CD 4
SCHUBERT Franz
Fantasy in C, D.760 - "Wanderer"; 3 Pieces, D.946
DVORAK Antonin
Slavonic Dances, op.46 nos. 1, 2, 6, 8; Slavonic Dances, op.72 nos.1, 2, 4, 6, 7 (1)
Alfred Brendel (pianoforte) with Walter Klien (pianoforte) (1)
Recorded 1959-1962 [78.56]
CD 5
LISZT Franz
Opera Transcriptions: Weber - Oberon; Verdi - Il Trovatore; Wagner - Tristan und Isolde. Harmonies Poétiques et Religieuses: Cantique d'Amour, Bénédiction de Dieu dans le Solitude, Funérailles. Années de Pélerinage, Book II (Italie): Sonetto del Petrarca 47, Sonetto del Petrarca 104. Paganini Studies: 2, 3 - "La Campanella"
Alfred Brendel (pianoforte)
Recorded 1955-1959 [79. 49]
CD 6
SCHOENBERG Arnold Piano Concerto, op.42 (1)
PROKOFIEV Sergei Piano Concerto no.5 in G, op.55 (2)
STRAVINSKY Igor Petrushka - Suite
LISZT Franz Hungarian Rhapsody no.11, Mephisto Waltz no.1
Alfred Brendel (pianoforte), South-West German Radio Orchestra, Baden-Baden/Michael Gielen (1), Vienna State Opera Orchestra/Jonathan Sternberg (2)
Recorded 1957, 1955,1955, 1963, 1958 [76.49]


VOX CD6X 3601 (UPC 047163360121)
Slipcase, 16 page booklet with discography, essays, quotes, memorabilia and complete label copy
Amazon US $25.62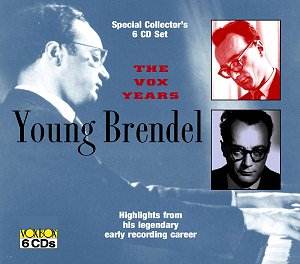 To listeners who awoke to the world of music in the 1960s the name of Vox has a special ring. At a time when LPs were sold singly and a composer's output was investigated selectively rather than complete, Vox Boxes, which mopped up entire areas of a composer's work at one fell swoop, and at reasonable prices, were a new concept. True, the recordings were rough, the surfaces gritty, a lot of third-class German and Austrian orchestras were employed under little-known conductors, but there was also stuff to build legends on. Otto Klemperer had recorded a few works for them before Walter Legge took him up, there was a substantial series conducted by Jascha Horenstein and a conductor heard in this set, Michael Gielen, has maintained a high underground reputation to this day. Among pianists there were Vlado Perlemuter and Guiomar Novaes, and for many critics pride of place went to a young Austrian pianist who recorded Beethoven complete (not just the Sonatas), some of it for the first time, and was seemingly inheriting the mantle of Schnabel. I refer, obviously, to Alfred Brendel.
Vox later acquired a Decca connection which led to a lot of their material (unboxed) being released on the budget Turnabout label. The Brendel Beethoven cycle was among the chosen discs and in this form many an impecunious student acquired a sound guide as to how these works should sound. Thereafter the Vox story seems to have retreated to American soil. The little-known European orchestras were replaced by little-known American ones and subsequent tapings under the likes of Susskind, Skrowaczewski and the young Leonard Slatkin have seldom been seen in Europe (but would surely deserve investigation?).
The Brendel story took a little time to pick up. At first it seemed that listeners' and critics' protests that a major company should take him up were falling on deaf ears. A brief period with Vanguard produced what I believe is his only recorded Chopin. Then, in the 1970s, there began the long and productive association with Philips which is still very much an ongoing concern.
Meanwhile, to celebrate the pianist's 70th birthday Vox have prepared a handsome package from their archives, by no means all obvious choices and including many works he has not returned to. There is an attractively no-holds barred feeling to the booklet, with an unusually off-beat comment on the Beethoven "Kind willst du Ruhig" variations from Brendel himself (had I not known I should have guessed the author to be Glenn Gould), a trenchantly annihilating letter he wrote to Gramophone over a review by Stephen Plaistow which got its facts wrong (God help me if he is a browser of Music on the Web, but I hope he won't suggest I write about horse-racing instead of music because it bores me stiff) and essays by Harris Goldsmith and Jed Distler which by no means follow the path of automatic adulation (the latter admits that sometimes he's "preferred Brendel's verbal descriptions of musical works to his actual performances of them!").
Turning to the discs, one's first impression does not entirely bear out Goldsmith's assertion that Brendel is not a "pretty" pianist, that is to say he is not especially concerned with beauty of sound for its own sake. In the Haydn/Mozart disc one immediately has the impression, which only the greatest pianists give, that every note is important. Even in a "mere" Alberti bass, each note, in spite of a rather woolly recording, seems a pool of light and, timbrically, all seem equal. The notes are then graded dynamically so that the melodic lines stand out but this is a far cry from the sort of "colouristic" pianism which gives a different tone quality to each line. The Brendel way would not work in, say, a Rachmaninov prelude or a Scriabin sonata, and this is perhaps what Goldsmith has in mind when he comments that there is nothing especially "Russian" about the Petrushka Suite (though I must say I found the sheer energy of the performance pretty enthralling). But Brendel presumably has no wish to play Rachmaninov preludes or Scriabin sonatas and his chosen form of pianism stems from his own conception of the music he wishes to play.
The other striking thing about the Haydn/Mozart disc is how the two composers are differentiated. There is an irrepressible verve to the outer movements of the Haydn (remember that Brendel was to become one of the few great pianists with more than a token nod to Haydn in his repertoire) while the Mozart works are given plenty of time to unfold. I can't really agree with Goldsmith that the first movement of the concerto has "an overly staid, foursquare tempo" since Brendel's sound is so luminous and his phrasing is so detailed. I do see that the orchestra find this tempo a little harder to "fill" but, while none of the three bands on the disc match Brendel's later Mozart partners, the Academy of St. Martin-in-the-Fields, Angerer was clearly a fine musician, for many a more famous conductor follows half-a-beat behind while he is always on the spot.
Turning to the first Beethoven disc we can hear how the tumultuous spirits of the return home in "Les Adieux" and the swirling quavers of the first movement of op.31/2 reassured a generation that authentic Beethoven playing was not going to die when the likes of Kempff and Backhaus (the then elder-statesmen) were laid to rest, but the miracle is op.109. Despite a recording which adds wow to the other problems recurring throughout the set, this performance is a classic. While remaining absolutely faithful to the printed page, it seems to have been improvised on the spot - a rare achievement in the recording studio. The Bagatelles are notable for the way Brendel immediately divines the sense of these often baffling utterances and if I didn't laugh out loud during the "Kind willst" variations, as Brendel says one should, I certainly enjoyed their vitality.
The highlight of the second Beethoven CD is the "Eroica" Variations. Beethoven here exploits a whole range of pianistic devices not to be found in the Sonatas and Brendel gives each one its full measure while maintaining an imperious sweep to the whole. At this point some negative reactions begin to creep in, not so much in the rather staid G major Rondo as in the Quintet. Brendel has never done a great deal of chamber music and one wonders if the ill-tuned, imprecise and acid-toned playing of this group put him off for life. Not too much should be made of the fact that he plays more like a concerto soloist than a chamber player, for who can say how he would have reacted to musicians on his own level. The B flat Rondo has plenty of vitality though Boettcher's orchestra seem insecure at the start. One suspects they were sight-reading, for they can be heard getting the hang of the syncopated rhythms as the piece goes on.
Much to my surprise, I didn't get much enjoyment from the Schubert items. If the later Brendel penetrated the further reaches of Schubert's psychology with almost morbid narcissism, this Wanderer is upbeat to a fault. It is certainly vital, and the airless recording allows occasional hints that he may be shaping the quieter movements sensitively (the early stereo recordings are often worse than the later mono ones) but rhythmic drive seems to mean a hearty bash on the first beat of every bar. This may be the recording again, but on an off-day Brendel can do this. (A bumptious little girl-prodigy who asked him after a recital in Costa Rica if he believed in going through the tone got the severe answer, "When I don't like a piano I bash it"). And if the Three Pieces are not especially insightful either, the Dvorak Dances are delightful. (Walter Klien was another Vox legend who many musicians judged to be on a level with Brendel. But no major contract came along and a Vox legend he remains). The A flat Polka in particular almost shook my conviction that these pieces are better heard on the orchestra.
And now for some of the most enthralling Liszt-playing ever committed to disc. Distler proposes a trick on your friends. "Take the Liszt/Weber Oberon Overture, add 78-RPM surface scratch, and claim Brendel's reading to be a long-lost Benno Moiseiwitsch or Gregori Ginzburg recording. Your friends might believe you." Frankly, the jangly recording, which seems to have been made on a battered old upright in somebody's cupboard under the stairs, sounds quite ghastly enough without doing that, but the playing is certainly awe-inspiring, and the Verdi and Wagner transcriptions are no less so, the latter seething with a tension which makes the 1986 remake sound almost pedantic by comparison. The "Bénédiction" is full of poetry and fine detail and, much though I enjoyed the recent Lipatti reissue of the Sonetto 104, I have to say I've heard greater ardour and sweep in this piece only from Horowitz. "La Campanella" finds Brendel positively relishing the virtuoso opportunities on offer.
Brendel and Gielen have recently returned to the Schoenberg. This mono recording sounds remarkably well, not least, I imagine, because of the wonderfully translucent textures that Gielen drew from the orchestra. A finely balanced Schoenberg performance must be a record producer's dream (usually conductor and orchestra, especially in those days, just left the engineers to sort the mess out). I always return to this work hoping that this time I'll like it. The beginning really does have you thinking that the Schoenberg who wanted to be one of those composers whose tunes everyone whistles in the street, "like Tchaikovsky, but a bit better than Tchaikovsky, for heaven's sake, just a little bit", is really going to make it this time. And the opening can rarely have sounded as attractive as it does here. But later the composer's theories get the better of him and you'd have to be a three-headed monster to whistle most of it. Still, this performance argues the case better than most.
Prokofiev's unfussy brand of modernism should be more attractive, but the problem here is a scruffily under-rehearsed orchestra and a heavy-handed conductor. Nor does Brendel really supply the Russian circus act that is required. The moral seems to be that he will happily walk the virtuosic tight-rope when convinced there is a musical justification for doing so, and he is able to find such justification in even the supposedly "tawdry" Liszt pieces which close this last disc (more fabulous playing), but has no interest in doing it for its own sake. Though he has not returned to the Stravinsky it appears to engage him more and as I said earlier, it's pretty enthralling.
Brendel has always left me in two minds. Such public performances as I have attended left me disappointed, and his high reputation in Britain is not universal. By and large he has left Italy cold, for example. His later discs alternate the wonderful with the mannered. I am now convinced at last that he is to be numbered among the greats, and a lot of the evidence is gathered together in this set.
Christopher Howell
Two Essays supplied by Vox Music Group
VOX MUSIC GROUP
Distributed by Intercontinental Record & Cassette Inc.
95 Oser Avenue, Suite E, Hauppauge, NY 11788 USA
Tel: 631-231-7171 Fax: 631-231-8550
info@voxcd.com www.voxcd.com
A Portrait of the Artist as a Young Man
Harris Goldsmith
To judge from its rubric, this richly deserved retrospective could aptly be described as A Portrait of the Artist as a Young Man. Mr Brendel's discography fired its opening salvo with what might now seem a surprising and uncharacteristic piece: With Prokofiev's then infrequently heard Fifth Piano Concerto - a substantial composition to be sure, but certainly at a far remove from the protagonist's accustomed bailiwick (the recording, made in 1955 for the small independent Period label (SPL 599), shared its vinyl - these were of course in the days of mono lp - with Prokofiev played by different artists). High Fidelity's resident reviewer, Alfred Frankenstein, had high praise for the concerto and its performance; also finding the sound reproduction far superior to its discmates.
My own tenure with High Fidelity began with the March 1960 issue but this writer's first direct awareness of Brendel came with the Vox release that juxtaposed Schubert's Wanderer Fantasy with Liszt's amplification of the same for piano and orchestra (now available on CD3X 3041). When that record was sent to me for review, I mentioned it to a dear friend and burgeoning piano student who had just returned to New York after spending time as a Fullbright Scholar. Speaking of Brendel (who he had just heard in Europe), my friend cited the then up-and-coming Austrian pianist's technique and musical rectitude, likening his interpretive style to Rudolf Serkin when he first came to public note as Adolf Busch's sonata partner and son-in-law. With that Schubert/Liszt apéritif, bolstered with my friend's encomium, I was eager and ready to partake in a substantial meal, if not a banquet.
As it happened, the main course was not long in arriving. Vox Records' shrewd impresario, George Mendelssohn auspiciously signed Brendel to record a complete cycle, no less, of Beethoven's piano music. "Alfred Brendel", I wrote glowingly of Volume One (a Vox Box devoted to most of the variations, now available on CD3X 3017), "would seem to be an A & R man's dream pianist. He is young, his repertoire is vast (already he has shown himself to admirable advantage in Mussorgsky, Balakirev, Prokofiev, Liszt, Schubert, Dvorak and Mozart), and - most importantly - his pianism conveys enormous vitality and enthusiasm. The possessor of truly virtuoso technical equipment, Brendel is also happily blessed with a notably strong rhythmic propulsiveness and an adventurous capacity for exploring unfamiliar paths. Not a particularly 'pretty' pianist, this young man has assimilated many of the most admirable traits of his celebrated teacher, Edwin Fischer-most notably a respect for the music at hand and disinclination to project the 'originality' of his views on it simply for the sake of being different. But Brendel has pollinated his mentors sobriety with impetuosity and ardor. He is most definitely a mid-twentieth-century pianist, and his interpretations have the life and animated tension of the contemporary school. There is no prissiness here; rather, there is fire, brio, and understanding."
This further exposure to, and scrutiny of, Mr Brendel's work in turn revealed an interesting dichotomy and synthesis: The aforementioned analogy with the younger Rudolf Serkin was an apt comparison and his disinterest in being a "pretty pianist" placed his wiry, highly defined tonal linearity unmistakably in Serkin's camp, and at a comfortable remove from Fisher's relaxed "Romantic" style and expansive girth of sonority. But in important other ways, many things about Brendel's musical persona such as his willingness to eschew puristic absolute metrical strictness and allegiance to the cult of urtext, were more redolent of Richter than Serkin. Also, Brendel's occasional method of achieving his effects with the sustaining pedal rather than by using finger-legato would seem to be a reincarnation of Ferruccio Busoni and other artists of a long bygone "Tradition". Agree or disagree with his iconoclastic precepts, Brendel's art gives us much food for thought.
After his launch with the variations, Brendel continued his Beethovenian odyssey with the sonatas. It is only natural that he would have wanted to tackle the last sonatas first; but considered in retrospect, I am a bit sorry he didn't wait a bit longer. Some of these earlier recordings were hindered by less that state-of-the-art engineering. I daresay that these distinctly unlovely-sounding, closely microphoned and acerbic, non-cantabile performances of Op. 106, 109, 110 and 111 caricatured Brendel's admirable intentions in an unflattering way, ("Who wants an Op. 110 played on the glockenspiel?", I wrote facetiously at the time).
The second instalment containing the middle-period sonatas brought a marked advance in fidelity, showing Brendel's thoughtful, sympathetic interpretations in a far more flattering light. Especially noteworthy in the selective anthology are the lithe, coloristic, delicately nuanced account of the "Tempest" Sonata, Op. 21 No. 2 and the expansively genial "Lebewohl" where Brendel introduces a few Backhaus-like anticipations with his left hand; uncharacteristically but not obtrusively).
The Eroica Variations is a performance that builds and projects. Contrapuntal textures are miraculously clear, there is plenty of rhetorical emphasis, and also that necessary touch of recklessness to differentiate Beethoven's particular brand of keyboard virtuoso from, say, Liszt's or Weber's. Slower-paced than Schnabel' famous recording, Brendel's account tends to be Olympian while the former's was mercurial, but both readings have the essential Promethean quality. The other well-known set of Variations in this album, the 32 in C minor, fare less well. Here, I feel, Brendel's is a shade too rigid in his approach. True, the work is actually a chaconne, and it should build continuously, but Brendel carries the strictness of tempo to excess. Even when a climactic variation indicates a quickening of pulse, the pianist completely resists an acceleration. This is the only lace where Brendel seems overly teutonic and, as a result, the music sounds stolid, But even here his playing has integrity and structure.
The aforementioned Schubert Wanderer Fantasy is heard in this cornucopia, its originally reverberant sound given a new lease of life with its conscientious digital restoration. Included here also is one of the Drei Klavierstiucke, D 946 while Brendel's complete Schubert oeuvre is packaged in the aforementioned otherwise available 3 CD set with the Moments Musicaux, D. 780, both sets of Impromptus, D. 899 and 935, and the three four-hand masterpieces, the Grand Duo D. 812, the Lebensturme D. 947 and the F minor Fantasy, D. 940, all with the admirable French artist Evelyne Crochet. I tend to prefer these more direct, economical readings to his fustian remakes on Philips. Brendel's reputation as a Schubertian is plainly evident in these works.
An important duet partnership was forged with the Walter Klien. The Brahms Hungarian Dances are a mite generic and unsmiling as the elderly mono sound contributes to the lack of intimacy. On the other hand, the Dvorak Slavonic Dances benefit from more open stereo separation, and are wonderfully communicative. These two works are available complete on CDX 5176 and three works of Mozart, the Two Piano Sonata K. 448, the Two Piano Concerto K. 365 and the Fugue K. 426 are shapely. (CDX 5177)
One of the CDs in this set is devoted to concerted works of Haydn and Mozart. Brendel's mercurial, fast-paced version of Haydn's ubiquitously popular Piano Concerto in D Major and his commensurately refined and elegant account of Mozart's D major Concert Rondo. K. 382 )in actuality, no "Rondo" at all but an extended Theme with Variations!) come off splendidly, alertly supported by Paul Angerer and the Viennese musicians who so often were brought together at the time for recordings. The Brendel/Angerer performance of Mozart's K. 595, too, has substantial points in its favor: the stylish pianist fills in some of the places the composer left in skeletal form; and the conductor takes care to restore the seven missing bars (47 through 53) that Toscanini discovered in the manuscript of the concerto's first movement introduction when he visited Salzburg in 1936. On the other hand, I am a shade less happy with an overly staid, foursquare tempo for that selfsame Allegro; and an ensemble which sounds a bit lackadaisical and underrehearsed. Incidentally, my favorite Brendel Mozart Concerto recording form the Vox period was his imposingly majestic account of K. 503 (CDX 5178)
Brendel was-from square one-a devout Lisztian and true believer. His sturdy, intellectualized way with that complex composer (much of it inherently showing a "Jekyll-Hyde" Duality) has always had a salubrious effect. Characteristically, he takes the high road, again and again in these Opera Paraphrases, Short Pieces and Etudes. I was especially enthralled with his dynamic account of Weber's Overture to Oberon: His adroit pacing, his unfailingly architectonic timing of details and dramatic events gives a Toscanini-like impact to his marvelous true-to-the-original transcription (an uncanny facsimile of the orchestral original).
With the final sixth CD, devoted to Schoenberg, Prokofiev, Stravinsky, and Liszt's Eleventh Hungarian Rhapsody, we take leave of the Viennese Classics. The 1957 version of Schoenberg's Piano Concerto with Michael Gielen offers a strong performance, exceptional well reproduced for its time. And if there is nothing especially idiomatic or "Russian" about Brendel's way with the Stravinsky Petrouchka Suite, (currently available on VOX 7203),there is plenty of honest, unpretentious virtuosity readily on tap that Brendel never revisited on records
Brendelian Thoughts and Afterthoughts
Jed Distler
Alfred Brendel celebrates his seventieth birthday year in 2001, a milestone observed in part by the present retrospective of the pianist's earliest recordings for the Vox label. At this point in his more than half century before the public, Brendel is generally considered his generation's premier exponent of the so-called central German/Austrian piano canon. Since his international career blossomed in the early seventies, Brendel's busy concert and recording schedule has focused on music by Beethoven, Mozart, and Schubert, followed closely by Brahms and Schumann. This is precisely the "musician-first-pianist-second" literature associated with Artur Schnabel and Rudolf Serkin, pianists to whom Brendel is often compared. Brendel's latter-day repertoire also extends into the music of Liszt, select Busoni pieces, plus Second Viennese school staples like the Berg Sonata and Schoenberg Concerto. Until the late seventies, Brendel avoided Bach on the piano. There's also an impressive broadcast performance of the Bartok First Concerto (also a one-time Serkin specialty) with the Chicago Symphony under Bruno Maderna, but no studio-recorded Bartok with Brendel.
In his younger years, of course, Brendel covered a wider repertoire range, out of both curiosity and arguably, necessity. An obscure composer named Werner Thärichen heard Brendel perform a concerto by Ernst Krenek at the Salzburg Festival. Would Brendel learn Thärichen's own concerto? Brendel accepted the offer sight unseen, largely because he'd be premiering it with Herbert von Karajan conducting the Berlin Philharmonic. The concert turned out to be the only time Brendel and Karajan worked together, and, according to the pianist, one of the few occasions he performed a work with which he could not identify. On the other hand, Brendel, in his early twenties, made the first commercial recording of Busoni¹s formidable Fantasia Contrappuntistica, beating out Busoni pupil Egon Petri's better-known recording by several years. No identity crisis here, although it's a pity that Brendel never revisited this work later on in the studio.
Like Schnabel and Serkin, Brendel is perceived as an intellectual pianist, who scrutinizes a composer's text for what it says as well as what it implies. The results are borne out not only through numerous recordings and re-recordings of, say, Beethoven and Schubert sonatas or Mozart concerti, but also via essays, interviews, and television films. As a scholar and musical thinker, Brendel is as articulate away from the keyboard as sitting behind it. Perhaps Brendel's "intellectual" imprimatur and professorial demeanor also have something to do with his disheveled hair, thick eyeglasses, and slight stoop that diminishes a tall frame. His stage presence exhudes no charm, playfulness or twinkle. The idea of music as entertainment is as far removed from a Brendel concert as Horowitz's Carmen Variations are to Bach's Art of the Fugue.
Offstage, however, Brendel could not have been more gracious, witty, and animated when we met at a reception following an all-Roger Sessions's program. He made some very astute comments about the music, which didn¹t surprise me. In fact, I confess I've sometimes preferred Brendel's verbal descriptions of musical works to his actual performances of them! Declaring Beethoven's "Tempest" sonata (Op. 31 No. 2) to be one of the most perfect of the composer's thirty-two, Brendel likens the work to "a marvelous fresco," with an absolutely white movement in the middle of two absolutely black ones. Yet I couldn't reconcile such vivid imagery with the pianist's rather static traversal of the slow movement as played in a video about Beethoven's piano music. The same film shows Brendel playing the hurling opening of Beethoven's "Hammerklavier Sonata" with a metronome ticking away, set to the composer's precipitous tempo indication. Brendel likened the resultant tempo to "silent movie music." To my ears, it wasn't the tempo that caused the pianist to scramble. Out of curiosity I pulled down Peter Serkin's recording from my shelves. The younger pianist not only managed to play the notes at Beethoven's tempo, but imbue them with fluidity, shape and urgency as well. Yet I vividly recall another film where Brendel spun out the opening of the C Minor Op. 111's Arietta with hushed concentration, ravishing tone, and acute timing.
My off-again, on-again reactions to Brendel's recordings were compounded by numerous recitals I heard him give in Carnegie Hall from the late 1980's to date. A thoughtfully detailed, technically spotless Diabelli Variations radiated little tonal allure or joy. I hemmed and hawed as I described the performance to my college piano teacher. He interrupted me. "Jed, face facts. The man is dull." I interviewed a highly regarded Liszt specialist who, like Jorge Bolet in a interview for Fanfare, disparaged Brendel's Liszt playing. As a critic and a musician, however, I try to put my own ears ahead of received opinion. On the same concert as the aforementioned Diabelli Variations, Brendel played the living daylights out of Liszt¹s Weinen, Klagen Variations. He pushed its aching chromaticisms to their demonic edge, while generating climaxes that nearly swallowed up Carnegie Hall. Brendel was playing the venue's acoustics as much as he was playing the piano. Imagine Clark Kent emerging from the corner phone booth as Superman, except that this Superman left his glasses on! Soon after that concert, I heard the most intense, swashbuckling Liszt Totentanz of my entire listening experience. After it finished, Brendel's name was announced. You can imagine my surprise. And I imagine you'll be surprised (or maybe not) to hear how well the youthful Brendel equates himself with the criminal difficulties and stylistic challenges of Liszt's operatic transcriptions. Here's a sure-fire way to fool your pianophile friends. Take the Liszt/Weber Oberon Overture, add 78-RPM surface scratch, and claim Brendel¹s reading to be a long-lost Benno Moiseiwitsch or Gregori Ginzburg recording. Your friends might believe you.
Some of Brendel's Schubert and Beethoven Sonata performances strike me as finicky and unduly arch, or rhythmically tense and unyielding. But let's face facts, the man can surprise you. Close miking abets the intimacy and lyrical warmth of Brendel's Beethoven E Minor Sonata Op. 90 in the Vox recording, and I've long preferred the uncluttered simplicity of his Vox Schubert Impromptus to his more studied Philips remakes. In concert, Brendel played the D. 899 Impromptus as a group, proceeding from one selection to another with nary a break, as if he was unearthing a hidden sonata. Did he plan it that way, or was this conception hatched on the spot, so to speak? Brendel is a pianist from whom I never really know what to expect, except that his interpretations are never halfway measures. He's a worker of unquestionable integrity. He takes trouble. One suspects that he fights for every note he plays in hot pursuit of an ideal. Hopefully this illuminating set of recordings, with its generous helping of rare and long-unavailable items, will add dimension and scope to what we know of this musician who plays the piano. However Alfred Brendel may broach his discographical past, I'm sure he'll gracefully accept this collection as a 70th birthday gift.
Christopher Howell
<!- paste above here ->