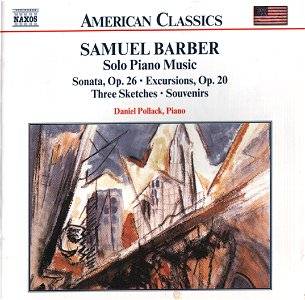 Piano Sonata (1949)
Excursions (1942-44)
Nocturne (1959)
Three Sketches (1923-24)
Interlude I (1931)
Ballade (1977)
Souvenirs (1952)
This is a generous collection and one without competition in the span of works recorded. Of course the Sonata has been much recorded but to date the above works have not been collected together on a single disc. Pollack (b. 1935) is fully the equal of the demands of this music. He has imagination, delicacy and steel piston-stroke power in the sonata - a work I have never really warmed to though the chill is lifted by some Rachmaninov-style romance in the finale. No doubt he would find worthy comparison with Horowitz, Van Cliburn and Joanna MacGregor in the Sonata but heard here one can hardly imagine the sonata better presented. I was particularly taken with the power of Pollack's rendering of the finale.
The Excursions veer between Boogie-Woogie, a Bluesy Clair-de-Lune, a very lovely Allegretto of Latino-caste and a fiddle and mouth-organ style Allegro molto. The brief Nocturne is in homage to John Field. Interlude I (cloudy introspection) is dedicated to fellow Curtis student, Jeanne Behrend. The Ballade's restless depression (written reluctantly to a commission and heavy with the depression that afflicted Barber in the late 1970s) is a work which seems to inhabit the swampy reaches of some misty river - a work memorable for its drooping note sequence. The Three Sketches: encompass a simple love song in tempo di valse - a reticent and unconfident song it is too; an even gentler essay dedicated to Barber's childhood Steinway and a Minuet based on Beethoven's Minuet No. 2.
I am very partial to the orchestral version of Souvenirs written for the ballet as late as 1952. It is a celebration of light music from around the turn of the century. Its grandeur verges on the deliberately tawdry but it is grandeur nonetheless and you can sample this to the full (short of the orchestral version) in the Hesitation Tango - the climax of which rains down thunder and stormy romance. This contrasts with a scatty two-step, a jerky circus polka of a Schottische and a totally irresistible Galop - all flickering, glinting, sparking lights. Good though Pollack is I will still go for the orchestral version!
The excellent (English only) notes (by the Ledins - artistic consultants to this admirable enterprise) represent a substantial essay on the composer's piano music.
Recommended.
Reviewer
Rob Barnett