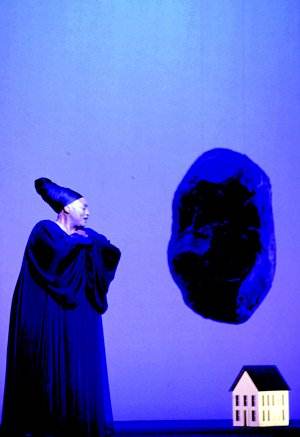 A much anticipated concert, featuring the grand soprano Jessye Norman singing one of Schubert's great masterpieces and with the famed abstract stage designer, Robert Wilson providing the stark and magnificent setting, it seemed certain to be one of the most discussed events of the season - if not the decade. Pierre Bergé, the former head of the fashion house Yves Saint Laurent and, during the Mitterand presidency, the chief at the Opéra de Paris, organized this series of concerts and induced his old colleague, Saint Laurent, to do the gown for the great diva. This is the kind of brilliant Parisian self-congratulatory spectacle that garners press attention and fashion conscious audiences.
It was indeed a splendid audience - I sat behind Samuel Ramey - and all the "beau monde" were present. Out of the corner of my eye, I did catch a glimpse of a quiet, slightly plump young man with wire-rimmed glasses in the highest balcony. Could this be the ghost of the composer - what's his name? - who did the incidental music for this splendid event?
Part of the original mix for this gala series was the renowned conductor, Myung-Whun Chung, who was to play the piano. Apparently Chung bailed out of this project when the time requirements for the staging of this epic became known. Perhaps he imagined that the rehearsals were for only the music. Maybe he was surprised to learn that the piano was moved off the stage and into the orchestra pit so as not to interfere with the lighting effects and extraordinary tableaux created for the stage and Miss Norman. It was good luck that Jessye Norman's regular accompanist, Mark Markham, was available to fill in downstairs in the pit.
For much of the evening this great soprano was operating on auto-pilot, bringing neither much interpretation nor expression to this crown jewel of the leider repertory. At the song "Der Post" (No. 15 of 24), she apparently forgot where she was and started finally to sing. It was only then that you recognised the extraordinary interpretative skill and talent that had been hiding somewhere within the fabric of the deep blue gown.
It was indicated in the program that this performance was being recorded on video to be shown at a date to be determined on the website, Andante.com. Rather than waiting, I will just listen to my current favourite Winterreise again, the recent recording with the intelligent young German baritone, Dietrich Henschel. I will have to do my own imagery.
During the rapturous applause our diva was staggered with the weight of uncounted bouquets of flowers. I glanced at the upper balcony and the young man with wire-rimmed glasses was no longer to be seen.
Frank Cadenhead
---