Carl Philipp Emanuel BACH (1714-1788) Organ Sonatas - Iain Quinn (organ) rec. 2014 NAXOS [MR] Bright and cheerful organ music from Bach's second son given spring-like freshness and vitality by Quinn's delightfully articulate fingers.
Heinrich Ignaz Franz BIBER (1644-1704) Rosary Sonatas - Alice Piérot (violin) Les Veilleurs de Nuit rec. 2002 ALPHA [RK] Listeners who enjoy a more fevered approach should look elsewhere, but many will find satisfaction in her even-tempered take on this music.
François COUPERIN (1668-1733) L'Apothéose de Lully, Leçons de Ténèbres - Katherine Watson, Anna Dennis (sopranos) Arcangelo/Jonathan Cohen (harpsichord) rec. 2013/14 HYPERION [SSi] An excellent recording of the chamber version of the L'Apothéose de Lully, with a recording of the Leçons de Ténèbres, which whilst it may not be my favourite, is very good.
François-Joseph GOSSEC (1773-1829) Symphonies - Andrea Keller (violin) Martin Sandhoff (flute) Concerto Köln/Werner Ehrhardt rec. 2003 CAPRICCIO [RB] Lively music and lively music-making drawing on an amiable personality able to mine serene dignity and regal grace.
Orlandus LASSUS (1530/1532-1594) Magnificat - Die Singphoniker rec. 2014 CPO [JV] Like the first Lassus disc of the Singphoniker, this new release deserves a positive reception.
Alma MAHLER (1879-1964) Lieder und Gesänge Patrizia MONTANARO (b. 1956) Canto di Penelope - Catharina Kroeger (soprano) Monica Lonero (piano) rec. 2014 BRILLIANT CLASSICS [GF] Good to have Alma Mahler's songs available at an affordable price.
Sergei RACHMANINOFF (1873-1973) Piano Concertos Nos 2 & 3 - Khatia Buniatishvili (piano) Czech PO/Paavo Järvi rec. 2016 SONY [NB] This disc was less challenging or remarkable than I had been expecting.
Decades - A Century of Song Vol. 2: 1820-1830 - John Mark Ainsley(tenor) Sarah Connolly (mezzo) Christopher Maltman (baritone) Malcolm Martineau (piano) rec. 2015/16 VIVAT [JQ] The second instalment in a perceptively assembled and uncommonly interesting survey of art songs.
Nikolaus Harnoncourt - Opera Collection Ludwig van BEETHOVEN (1770-1827) Fidelio Carl Maria von WEBER (1786-1826) Der Freischütz Robert SCHUMANN (1810-1856) Genoveva - O & Ch Zurich Opera House rec. 1999-2008 ARTHAUS MUSIK Blu-ray [ST] All told this makes for an economical way of collecting these three productions, and you could have far worse unifying figures than Harnoncourt.

RECORDING OF THE MONTH Camilla Tilling (soprano) Loves me … loves me not - Musica Saeculorum/Philipp von Steinaecker rec. 2015 BIS SACD [MC] One of the finest albums of its kind and has my highest possible endorsement.
NEW & RECENT ARTICLES
[New] National Discography updates by Mike Herman
British Symphonies
French Symphonies
Previous updates
British & Commonwealth Concertos
British Orchestral Works
[New] Second Thoughts and Short Reviews: Spring 2017-2 by Brian Wilson & Dan Morgan
[New] Forgotten Artists: Carlo Vidusso by Chris Howell
Listening Report April 2017 by John Quinn
NOTICES
English Music Festival 2017 programme
In order to persuade more of you to make a donation to MusicWeb International, we are giving away CDs. Click the Donate button top right for more details
Publishing schedule
Monday: Other reviews (nostalgia, books, other music) ~ Friday: Articles.
Latest Jazz reviews posted weekly
Live performance reviews posted daily at Seen and Heard
Shopping on-line? Help us by doing it through the MusicWeb sales page.
---

ArkivMusic has more than 10,000 titles in its ArkivCD reissue program. These are recordings that have previously been out of print or otherwise unavailable.
---
MusicWeb - The International Web Site - Founder:
Len Mullenger [UK],
Founding Editor:
Rob Barnett [UK],
Regular Reviewers
(April 2016): Steve Arloff [UK], Stephen Barber [UK], Terry Barfoot [UK], David Barker [New Zealand], Rob Barnett [UK], Nick Barnard [UK], Dave Billinge [UK], Philip Borg-Wheeler [UK], Marc Bridle [UK], Colin Clarke [UK], Dominy Clements [Netherlands], Michael Cookson [UK], Hubert Culot [Belgium], Robert Farr [UK], Göran Forsling [Sweden], John France [UK], Pal C Godfrey [UK], Stephen Greenbank [UK], Michael Greenhalgh [UK], Nigel Harris [UK], William Hedley [France], Gary Higginson [UK], Christopher Howell [Italy], Des Hutchinson [Australia], Neil Horner [UK], Richard Kraus [USA], William Kreindler [USA], Ian Lace [UK], Oleg Ledeniov [USA], Jens Laursen [Austia], Em Marshall-Luck [UK], Bruce McCollum [USA], Rob Maynard [UK], , Ralph Moore [UK], Dan Morgan [UK], Margarida Mota-Bull [UK], Gwyn Parry-Jones [UK], Tully Potter [UK], Glyn Pursglove [UK], John Quinn [UK], Brian Reinhart [USA], Marc Rochester [UK], Curtis Rogers [UK], Stuart Sillitoe [UK], Bob Stevenson [UK], Simon Thompson [UK], Steve Vasta [USA], Johan van Veen [Netherlands], Raymond Walker [UK], Jonathan Welsh [UK], Roy Westbrook [UK], John Whitmore [UK], Michael Wilkinson [UK], Brian Wilson [UK], Jonathan Woolf [UK] Leslie Wright [USA]. A complete list of contributors can be seen
here
Disclaimer
Any opinions expressed in reviews or articles on this site are those of the author and do not necessarily represent the views of the site owner, Len Mullenger or the Editors. Reviewers and authors retain copyright in their work unless it has been paid for or commissioned by the site owner.
Founder: Len Mullenger 1995

MusicWeb International is a registered Trade Mark 2265784; MCPS/PRS Online Exploitation Licence LE000498.

Discs for review may be sent to:
Len Mullenger
MusicWeb International, 95 Arnold Avenue, Coventry, CV3 5ND, UK.
Ph. 07913 999009 (M)

MusicWeb Visitor Loyalty
In 12 months
96,000 visitors visited MusicWeb more than 200 times
in addition another
56,000 visited more than 100 times
63,000 more than 50 times (approx once a week)
67,000 more than 25 times
59,000 more than 15 times
60,000 more than 10 times (approx once a month)



Gerard Hoffnung CDs

Donate and get a free CD
These prices cannot last!
Compare Toccata discs
Presto £13.50 +£2 pp
Amazon £15.53 post free
MusicWeb £10.50 post free
New Releases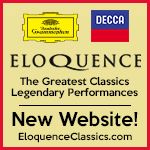 Follow us on Twitter
Editorial Board
MusicWeb International
Founding Editor
Rob Barnett
Seen & Heard
Editor Emeritus
Bill Kenny
Editor in Chief
Vacant
MusicWeb Webmaster
David Barker
MusicWeb Founder
Len Mullenger